Rent a car and explore Oahu on your own.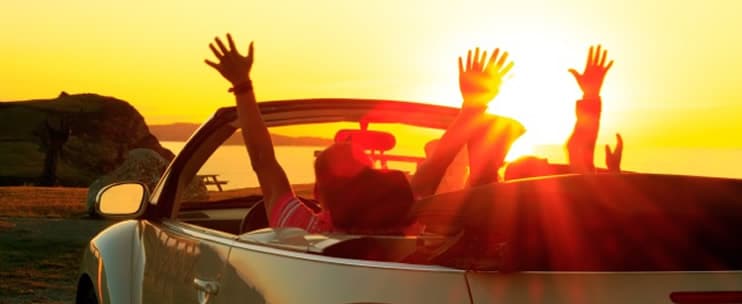 Oahu car rentals are available at the Honolulu International Airport, at two Waikiki locations, or at the Disney Aulani Resort in the Kapolei area. Save money on your Oahu car rentals today!
Whether you are booking an Oahu car rental for a day to explore the island or you are staying outside of Waikiki and need a car rental for most or all of your trip, you can book your Hawaii car rental with Hawaii Discount.
To the right under "Select an Activity" you'll find the Oahu car rental pages based on the location you are looking to rent the vehicle from.
If you are renting during certain dates you will need to call us to confirm the rates have not changed. You'll find a list of these dates on the rental page for the location you have chosen to the right under Select An Activity. The car rental agency provider does change the rates depending on the time of the year you are renting a vehicle.
Other Important Notes About Car Rentals
*Fees that will be collected by the agency directly when you pick up your rental (you will not see these fees in your cart and they are approximate charges):
-$4.50 per day Customer Facility Charge
-Sales Tax of 4.712%
-Vehicle Registration Fee that varies per vehicle but is less than 3%
-A Concession Recovery Fee of 11.11%
Optional insurance for the rental vehicle can be purchased at the rental agency for an additional $26.99 per day.
An additional driver can be added to your account if desired for an additional $9.99 per day.
If you rent a car on a weekly basis, you cannot return it early or you will be charged the daily rate.
If you are under 25 years old there is an additional charge per day of $25. Drivers between 21 and 25 cannot rent 4-wheel drive vehicles. Alamo Car Rentals does not permit anyone under 21 to drive a rental vehicle.
If you would like to drop your rental car off at a location that is different than the one where it was picked up from, then there is an additional Drop Fee accessed at the rental agency.
A GPS unit is available for $12.99 per day, $69.65 per week, $179.99 is max.
 Infant and child toddler seats are available for $10.99 per day.
Honolulu County Tax is .0546%. The Airport Fee is 11.11%.