Get a glimpse into the fascinating world of sharks. Join the crew of North Shore Shark Adventures aboard the Kailolo II for an experience of a lifetime.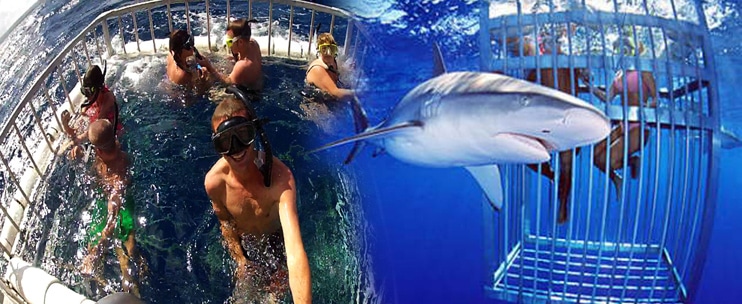 This shark cage diving tour departs from Haleiwa Boat Harbor. On the way out to the offshore shark grounds, you may see dolphins and green sea turtles. About three miles out the shark cage is placed in the water. Put on your mask and snorkel, climb into the cage and get face to face with sharks.
The most common shark species in this area are Galapagos sharks, grey reef sharks and sandbar sharks, ranging in size from 5 to 15 feet. Occasionally tiger sharks and hammerhead sharks have checked out the shark cage as well. Two of the cage's four sides have large Plexiglas windows. Bring an underwater camera. The pictures you'll take on this exciting tour you'll want to show your friends at home. Those who do not wish to participate can watch the sharks from the boat and pay a reduced price!
Tour overview
Custom aluminum boats, the 36-foot KAIOU, and the 42-foot ABUNAI, which include a canopy for shade and cushioned seating for comfort
Tour duration: 2 hours
No diving experience required
Snorkel and mask will be provided, but guests may also bring their own
Shark cage dive takes place about 3 miles offshore in water with visibility of 200 feet or more
Guaranteed shark encounter or you get your money back
Roundtrip transportation from Waikiki is only available for the 7:00 am, 9:00 am and 11:00 am tours
Please note: Infants are allowed on this tour. However, we must have a credit card number to put on file. If for some reason the infant does not attend, a $85 charge is applied. You are also required to call to make that reservation.
Special Instructions
Where and When:Haleiwa Harbor Slip 35
If you're driving out yourself: Drive time from Waikiki to Haleiwa Harbor is about 1.5 hours.
If you selected roundtrip transportation from Waikiki (additional fee applies): Pick-up times from Waikiki hotels are at approximately 7:00 am, 9:00 am and 11:00 am.
Restrictions: If booking an infant (2 and under) a credit card number is required on file. If for some reason the infant does not attend a $85.00 charge is applied. Please also call for reservations with infants attending.
Special Notes: Military discount only applies to those who are active. This does not include retired or ex-military. Active military / Kama'aina discount is also eligible for students. Must be able to show high school or college ID.
Operation Days: Operates daily
Duration: 2 hours
Capacity: 6
Equipment: Kailolo II, a 42-foot aluminum boat with a swim step on the transom of the boat
Get More Information For Your Private Event