Oahu's north shore is every snorkeler's dream.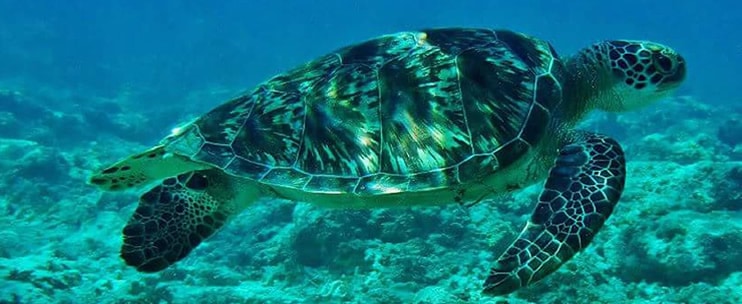 Not only are its waters so clear, warm, and pristine, but the island's underwater views and abundant marine life are definitely something else, too. Fortunately for you, there are reliable tour operators such as North Shore Shark Adventures that can accompany you as you explore and delight in Oahu's untainted and spectacular seas! Safely operating and has given the best underwater adventures to travellers since 2001, North Shore Shark Adventures offers the Turtle Snorkel Tour–a fun 2-hour snorkel tour with Hawaii's precious green sea turtles and, of course, a whole lot more!
North Shore Shark Adventures' Turtle Snorkel Tour departs from Haleiwa Harbor via the 36-foot Kai Ou or the 42-foot Abunai. Both are well-maintained and high-powered vessels, installed with cushioned seats for passenger comfort. 
Thus, during the cruise to the spots where a great number of turtles frequent, you and your companions will surely have a relaxing and comfortable time relishing the Hawaiian sun, the warm breeze, and the spectacular views above water. Upon arrival at the turtle site, and if weather and water conditions permit, your snorkeling adventure shall begin! North Shore Shark Adventures will provide snorkel gear, but you are, of course, free to bring your own. Once you have the proper gear on, and once the crew has given the necessary pre-snorkel dive briefing and instructions, get into the water and be one with nature! You will most certainly have an amazing time getting up close with lots of honu, or green sea turtles, and many other sea creatures such as different species of reef fish. Another amazing experience is your stop-over at a turtle cleaning station, where you will take pleasure in the turtles' graceful movements and the wonders of how nature and marine life work. The views are absolutely breathtaking here, too. No wonder this was the exact location where the popular TV series "Lost" was filmed!
North Shore Shark Adventures' Turtle Snorkel Tour lasts for approximately two hours, and trust us, this is going to be the best two hours of your stay in Oahu. With the incredible views and the equally incredible animal encounter experience that Oahu's north shore offers, this is surely what will complete your Hawaiian getaway!
Tour Highlights:
A relaxing boat cruise along Oahu's breathtaking north shore

An up-close encounter with Hawaiian green sea turtles and other marine organisms

A snorkel dive at a prime spot in Oahu, which is also a turtle cleaning station!
Special Instructions:
Check-in is at Haleiwa Small Boat Harbor, located at 66-105 Haleiwa Rd., Haleiwa, HI 96712.

Make sure to check in at least 30 minutes prior to your scheduled tour time.

Round-trip transportation from select Waikiki points is also available, but for an additional charge. If you wish to avail of this add-on, kindly indicate in your booking.

Mask, snorkel, and fins, as well as cold drinking water will be provided on board. You are free to bring your own snorkel gear.

This tour lasts for approximately two hours.

This tour operates daily from May 15 to September 15.

This tour can accommodate up to 15 passengers.