Come aboard the Ho'o Nanea, a spacious sailing Catamaran, and enjoy a whale watch cruise along Oahu's scenic North Shore.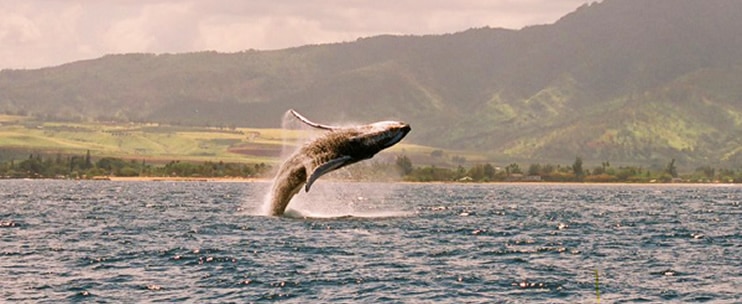 catamaran is just the right size to keep you close to the ocean and also big enough to be a safe and stable viewing platform.
The whales do not get frightened or disturbed by our boat because most of the time we are under sail. When we do motor, the small outboard engines are very quiet and unobtrusive. Our underwater hydrophone lets you hear the singing, clicking and moaning that goes on between the groups of humpbacks. It is truly an amazing experience!
Tour Highlights
Whale watch cruise along Oahu's North Shore
See humpback whales frolic in the water
Plenty of great photo opportunities
Special Instructions
Where and When:

Morning tour: 9:30 am – 12:00 pm
Afternoon tour: 12:30 pm – 3:00 pm
Check in 30 minutes prior to departure at North Shore Catamaran Charters, Haleiwa Small Boat Harbor on the North Shore of Oahu.
Requirements:

There are no specific restrictions for this activity.
Operation Days:

Operates daily from December to Mid May
Duration:

2.5 hours
Equipment:

Ho'o Nanea, a 40-foot catamaran, can accommodate up to 20 passengers.