One of Big Island's natural treasures is the Waipi'o Valley, also referred to as the "Valley of the Kings".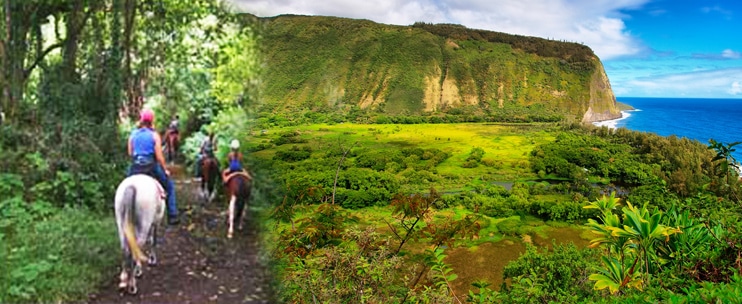 Meaning curved water in the Hawaiian language, Waipi'o is not just a place of exquisite Hawaiian countryside beauty, but also of great significance in the history of the Island, as it was considered the permanent home for the royalty during the time of ancient Hawaiians. It was greatly destroyed by a devastating tsunami thereafter, but fortunately, the Waipi'o Valley was able to preserve its natural charm and beauty, and is now considered one of the most popular tourist destinations in the Big Island. If you want to explore the splendor of this place, and at the same time have a thrilling horseback riding adventure, come and join Na'alapa Stables' Waipi'o Valley Adventure!
The Na'alapa Stables has been providing fun horseback riding adventures to tourists, and even interested locals, for around 40 years now. Established in the early 1980s, Na'alapa Stables' riding tours let its guests take an unforgettable sightseeing journey through the Big Island's countryside, with the beautiful ocean views in the distance. For this tour in particular, Na'alapa Stables' Waipi'o Valley Adventure is a fun sightseeing and riding excursion through a lush tropical paradise of jungle trails, freshwater streams, vast fields, waterfalls, and incredible vistas–sights that Big Island first-timers probably never thought to have existed in the Island! 
Na'alapa Stables' Waipi'o Valley Adventure is a 2.5-hour ride, where riders are treated to the stunning scenery and fascinating history of the Valley. While the ride includes a hike up the valley and a trek through streams and some rocky areas, it is nonetheless a safe adventure even for beginners and young riders. This is owing to the fact that first, Na'alapa Stables has gentle and well-trained horses, and, similarly, it also has well-experienced staff and trail guides who will ensure your utmost safety and enjoyment throughout the duration of the tour. Na'alapa Stables' Waipi'o Valley Adventure is great for any riding skill level, and, in fact, welcomes riders as young as 8 years old. Thus, if you are looking for a unique and exciting adventure and a great sightseeing experience at the same time for the whole family to enjoy, Na'alapa Stables' Waipi'o Valley Adventure is definitely the way to go!
If you prefer to kickstart your day with this adventure, you can opt to book the 2.5-hour morning ride, which starts at 9:00 AM. Those who prefer not to wake up early for a tour, Na'alapa Stables' Waipi'o Valley Adventure also offers an afternoon ride, which lasts from 1:00 to 3:30 PM. Either of these two tour times guarantees the best sights and the most unforgettable horseback riding adventure in the Big Island!
Na'alapa Stables' Waipi'o Valley Adventure accommodates a minimum of two riders and a maximum of 12 riders per trip, so whether you are travelling with a big group, or are just in the company of someone or a few others, you can easily go and have this ultimate Big Island adventure! Go and book for you and your travel buddies now!
Na'alapa Stables' Waipi'o Valley Adventure Tour Highlights:
Tour the scenic Waipi'o Valley, rich with lush greenery and fascinating history
Ride along jungle trails, vast fields, and freshwater streams
Enjoy panoramic views of the Hawaiian countryside with the ocean in the distance
Ride well-trained and maintained horses and be led by experienced trail guides
Na'alapa Stables' Waipi'o Valley Adventure Special Instructions:
The morning ride departs at 9:30 AM, so check in by 9:00 AM. 
The afternoon ride departs at 1:00 PM, so check in by 12:30 PM.
Check in at Waipio Valley Artworks, located at 48-5416 Kukuihaele Rd., Honokaa, HI.
The following are not allowed to ride:

Children below 8 years old
Adults above 70 years old
Riders above 200 lbs
Pregnant women
Those assessed to not be in good general health

All those who are allowed to join must sign a waiver.
Tour operates every Monday to Saturday.
This tour requires at least 2 riders to book, and a maximum of 12 riders per trip.
ALL FEES INCLUDED
Operates daily
If booking Friday night, please call for availability.
Reception Plans require 24 hours notice to book.
Please see our Holiday Cruises for Valentines, Easter, Father's Day, July 4th, & New Year's Eve.
Special Instruction
Where and When: Morning Ride: Check in at 9:00 am. Ride time 9:30 am to 12:00 pm
Afternoon Ride: Check in at 12:30 pm. Ride time 1:00 pm to 3:30 pm
Check-in Location: Waipio Valley Artworks, 48-5416 Kukuihaele Rd, Honokaa, HI 96727 View Map
From the check-in location, participants are transported in a 4-wheel drive van to the stable area in the valley.
Directions: From Honokaa take Hwy 240 to Waipio Lookout. Turn right just before lookout and proceed down hill to Waipio Valley Artworks on left. Drive time is about 2 hours from Kona and about 1.5 hours from Kohala resorts or Hilo.
Restrictions: Minimum Age: 8 years
Maximum Age: 75 years
Maximum Weight: 200 lbs (90 kg).
Participants should be in good general health.
Not recommended for elderly, disabled, obese, or pregnant women.
All participants must sign a waiver.
Operation Days: Monday – Saturday
Duration: 2.5 hours
Vendor: Na'alapa Stables
Island: Big Island
Capacity: 12