Are you up for nail-biting adventures? Outfitters Kauai brings you an adrenaline15-mile kayak tour on the Na Pali Coast Sea, with the towering 2,000-foot sea cliffs as backdrop. Plus, you catch a glimpse of some marine life, including sea turtles and dolphins.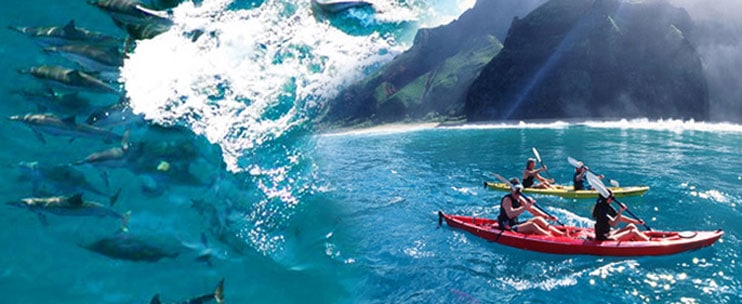 Explore the beautiful island of Kauai through the sea and get ready to live life to the edge!
An extraordinary natural beauty, Na Pali Coast spans 17 miles along Kauai's North Shore. When you look around, you could see the towering cliffs rising above the pacific ocean, lush green valleys, sea caves, and cascading waterfalls leaving you breathless! That explains its name "Na" that means "the" and "Pali," which is "cliffs" when translated in English. 
Upon checking-in, you will receive a short briefing on safety, basic instructions on kayaking, and outfitting of necessary gear. You will then ride a comfortable van towards the launch site at Haena, an equally enchanting place with so much to offer, including interesting legend and lore. You will start paddling here for an hour before reaching the famous sea caves of Na Pali. If the ocean condition is calm, you will enter some of them and witness indescribable blue-colored glow from the caves' open ceiling, as well as the perfect hue of purple and red along the tidelines. You will, then, raft your kayaks for a refreshing beverage and snack.
You will continue paddling another few miles before reaching your next destination for lunch and some activities, which is the Miloli'i – an ancient Hawaiian fishing community. Did you know that Miloli'i Beach is accessible only by kayaking during the summer months when the ocean condition is calmer? You will even have a dramatic entrance because you will enter a small channel through the reef, a barrier that protects this area. When you pass through it, you must angle your vessel, pointing the nose towards the left side of the beach when facing the shore from the ocean.
There is a campground, as well as picnic tables with shades for kayakers and campers. Not a lot of people come here, that is why it is almost untouched. While exploring, your guide will prepare your delicious lunch, including turkey, sandwich, and vegetables. If you have some particular food allergies, you are encouraged to notify them earlier for possible options. Have you brought your cameras? Because you don't want to miss capturing all these fascinating panoramas right in your eyes. You might even spot monk seals and sea turtles playing inside the shallow pools in the reef. If you could hear cries echoing, these must be the monk seal babies barking. 
Before heading back to Polihale in the afternoon, where your van awaits for your ride back to Poipu, you will go for another 5-mile kayak on calmer water.
Tour Highlights
15-mile paddle along the entire stretch of the Na Pali Coast on Kauai's north shore 

See majestic views of 2,000-foot sea cliffs and secluded beaches

Eat delicious lunch at one of Hawaii's untouched beaches

Enter Na Pali's incredible sea caves (if ocean and weather conditions permit)

Chance to encounter marine life, including sea turtles and monk seals
Tour Inclusions
Deluxe two-person kayak, open-cockpit rudder sea kayak

Dry bag/day pack

Life vest

Lunch, snacks, and beverages

Local taxes

Delicious lunch: Turkey or veggie sandwich with a build-your-own buffet of assorted vegetables, pasta salad, brownie, Clif bars and cold drinks (bottled water and Hawaiian Sun fruit drinks)
Note: Advance notice is encouraged if you have food restrictions for arrangement.
Special Instructions
Check-in time and location:

6:00 am at Outfitters Kauai, 2827A Poipu Rd, Poipu, HI 96756. Tour time is from 6:00 to 6:30 am and return to Poipu at around 3:00 pm.
Restrictions:

Participants must be at least 16 years old and are able to swim and be physically fit. This is a strenuous open ocean kayak tour.
Note: First time kayakers may join if they are physically fit. This tour is not suitable for individuals prone to sea sickness. 
Operations:

Tuesday and Thursday (This activity is offered only from June to Mid-September)

Duration:

Approximately 12 hours
Equipment:

Outfitters Kauai uses tandem, open-cockpit, or, sit-on-top type, self-bailing kayaks with foot pedal controlled rudders to facilitate safety and ease of operation. You'll be provided a lightweight fiberglass paddle with a tether, life vest and dry bag.