Did you know that there are hidden unique twin islands offshore at one of the world's most beautiful beaches - Lanikai Beach?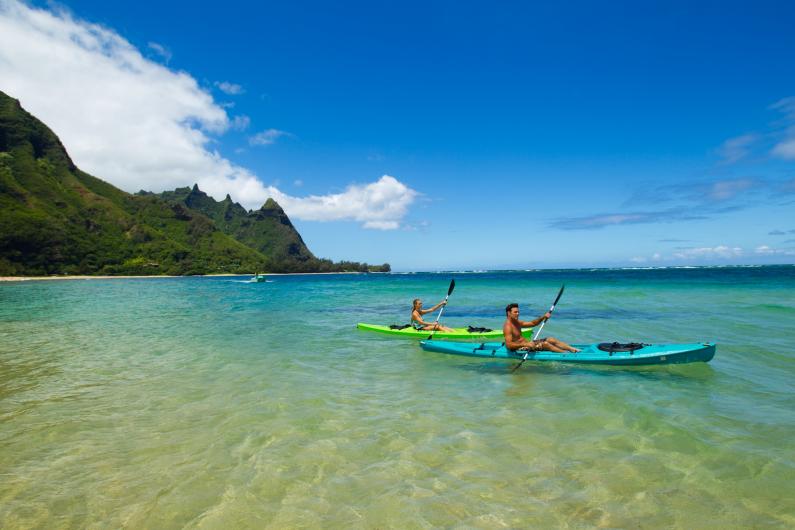 Called Mokulua Island, the two small islands are Mokulua Nui or Moku Nui, which is a volcanic cone with twin peaks as high as 225 feet or 69 meters in the northern side; and Mokulua Iki or Moku Iki that is a smaller elevation with its maximum peak at 150 feet or 46 meters in the southern part. Both are protected seabird sanctuaries, where many birds nest in the ground holes of the island.
You will witness all of these unimaginable views, beautiful scenes, and many more with Mokulua Island Tour, offered by TwoGood Kayaks Hawaii. This 5-hour guided tour is led by a naturalist and expert paddler, who takes you to the island through kayaking while ensuring your safety. Whether you are a beginner or a pro, this is a must-try adventure, as well as a perfect way to explore the island.
Like other eco tours offered by TwoGood Kayaks Hawaii, there is free roundtrip transportation from Waikiki. You will be picked up by a comfortable van from your hotel in the morning, and be dropped off in the afternoon. The exact time and location and other important information will be specified in your voucher upon booking. If you want to look around on your way to the check-in area, you can rent a car and drive by yourself at your own pace, as long as you will check-in on time.
After a short briefing on safety and basic instructions on kayaking, you will start your adventure at the Kailua Beach, and paddle towards your destination that is 45 minutes to one hour paddle away. Along the way, you will encounter one of the most special residents in the area – the Hawaiian green sea turtles, also known as "Honu." You will also listen to some interesting facts about the Hawaiian history, marine life, and other geological formations on the island from your knowledgeable guide throughout the tour.
When you arrive at Mokulua Island, you will land with your safe and stable sit-on-top kayak on the picture perfect Moku Nui for your activities. You can simply relax if you want to savor the peaceful moment while watching the stunning coastal views in front of you. Or maybe swim in its soft, white sandy beach if you feel like getting soaked. If you want to explore further, follow the shoreline to the right, which is the harder route or to the left that is the easier way, to reach a dramatic cliff-backed cove with a U-shaped inlet on the back part of the island. Looking down at its crystal clear blue waters, you can't just resist jumping right on. You can also snorkel to watch sea turtles and a variety of colorful fish. When you go for a short hike (20-25 minutes), you will discover a hidden gem – the Queen's Bath, a natural tide pool.
Right on this beautiful island, you will eat your picnic-style lunch with the group. After then, you will paddle and stop by another spectacular beach for some more snorkeling before you paddle again and head back to Kailua Beach.
TOUR HIGHLIGHTS
Guided 45 minutes to an hour of kayaking tour with a lifeguard-certified and expert paddler tour guide to Moku Nui Island

See a natural tide pool

Visit a hidden cove

Relax on a white sandy beach

Snorkel in crystal clear waters

Chance to see a variety of marine life, including tropical fish, Hawaiian monk seals, and turtles
TOUR INCLUSIONS
Kayak and tour guide

Life jacket, dry bag, seatbacks

Snorkeling gear (snorkel, mask and fins)

Picnic-style lunch (French-style sub sandwich, chips and a drink)

Roundtrip transportation from Waikiki
ADDITIONAL INSTRUCTIONS
Pick-up time:

7:45 am to 8:15 am from Monday to Friday and 7:15 am to 7:45 am on Saturday
Check-in time: 8:15 am (130 Kailua Road, Kailua Beach Adventures Beachside Center)
Return to Waikiki: Around 4:00 pm
Operations:

Monday to Saturday

Duration:

5 hours