Experience a fascinating plane tour in the skies above Oahu!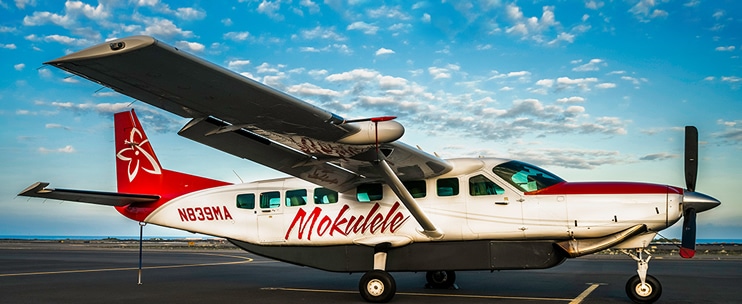 You'll get picked up at your Waikiki hotel and taken to Honolulu Airport, from where you'll enjoy an air tour that takes you around the island. Enjoy great aerial views of Honolulu and Waikiki Beach, Hanauma Bay (Oahu's top snorkeling spot) and the world-famous big wave surfing beaches on the North Shore.
Tour Highlights:
Honolulu downtown
Waikiki Beach
Diamond Head Crater
Hanauma Bay
North Shore of Oahu
Special Instructions
Where and When
Complimentary roundtrip transportation from Waikiki hotels is available. The exact pick-up time will be emailed with your reservation.
Check in at 12:00 pm. Tour departs at 12:30 pm. Tour returns at approximately 1:15 pm. Check in at the Honolulu Airport, Terminal 3, Mokulele ticket counter at 3073 Aolele St, Honolulu, HI 96819 View Map
Restrictions
Maximum weight per person: 350 lbs (158 kg)
Passengers must be booked under their name as it appears on their ID.
Checked baggage is not permitted.
Mokulele has a 72 HOUR CANCELLATION POLICY. Refunds within that time will only be issued for cancellations due to weather or mechanical issues. TOUR IS SUBJECT TO WEATHER. On days that the weather is inclement on more than 25% of the tour route prior to departure, the tour may be canceled with options for reschedules or refunds or guest may be given the option to still go and see as much as possible. Weather patterns can change rapidly. Should they change mid-tour the tour will continue and guests will be shown as much as possible.
Special Notes
As per FAA regulations the aircraft flies no lower than 1,500 feet during the tour.
Operation Days
Monday, Wednesday & Friday
Duration
40-45 minutes
Capacity
9 seats per aircraft
Equipment
Mokulele Airlines flies the Cessna 208B Caravan. This aircraft offers each guest large viewing windows for amazing views from both sides of the aircraft. Every seat is a window seat. Noise cancelling headphones are provided in each seat with tour narration and island music to enhance your air tour experience. The aircraft has air-conditioning and leather interiors.