Do you dare to paddle ten miles on an open ocean? What if your every effort will be rewarded with relaxing and jaw-dropping views you can only experience in Hawaii?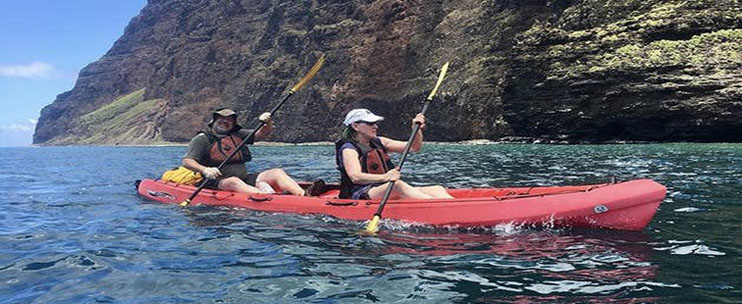 Nothing compares to an exhilarating kayak along the spectacular Na Pali Coast, one of the most beautiful beaches in the world, with the scenic 2000-foot sea cliffs in the background! Join Outfitters Kauai in a one-of-a-kind experience as you discover hidden treasures of the island.
Prior to check-in, make sure to bring some essentials for this trip, including swimsuits, dry clothes to have something to change into after your tour, towels, sun glasses, hat, light footwear with straps, and reef-safe sunscreen. With all the beautiful views that you're going to see, a waterproof or underwater camera is a must! After a short briefing on safety measures, basic instructions on kayaking, and outfitting of gear, you are ready for almost 10 hours of fun in the Hawaiian waters!
You begin your journey with a comfortable van ride from the check-in location in Poipu to the launch site at Polihale Beach on the west shore. From here, you will paddle five miles heading towards Miloli'i Beach that is only accessible by kayaking. Did you know that this all-time favorite of kayakers and campers is protected by a barrier reef? Who wouldn't fall in love with a remote, quiet, and unspoiled beach that promises serenity and intimacy with nature? Surrounded by soaring sea cliffs, you can hear its striking blue waves crashing with its fine white sand.
Before landing here, you will have a dramatic entrance because you have to pass a small channel through the reef. Not only tourists and locals love this area, but also monk seals and sea turtles. Young seals would often play and relax in the shallow pools inside the reef. When they cry, it can be heard echoing off at the back end of the beach through the towering cliffs. So, take this chance to explore and you might meet one of these sea creatures. Besides, kayaking in this area is only possible during the summer season when the water is calmer.
When you get here, you will eat your delicious picnic-style lunch that comes with cold beverages perfect for the tropical weather! There are some covered picnic tables, as well as some fire rings. After your meal, you can go for another exploration or simply relax while savoring the warm breeze of the wind while smelling the fresh ocean scent. There is fresh water available in Miloli'i Stream. To get there, face the ocean from the campground and walk to the left, towards Polihale. When the sand ends, climb over the rocks for about 100 feet and you will reach the stream mouth. When you look on the other side, you will see the Miloli'i Heiau, an ancient temple. 
In the afternoon after a fun day at the beach, you will paddle back to Polihale where your van awaits to drive you back to Poipu.
Tour Highlights
Paddle 10 miles along the south Na Pali Coastline back and forth Miloli'i Beach

See majestic views of 2,000-foot sea cliffs and secluded beaches

Eat delicious lunch at one of Hawaii's untouched beaches

Chance to encounter marine life, including sea turtles and monk seals
Tour Inclusions
Deluxe two-person kayak, open-cockpit rudder sea kayak

Dry bag/day pack

Life vest

Lunch, snacks, and beverages

Local taxes

Delicious lunch: Turkey or veggie sandwich with a build-your-own buffet of assorted vegetables, pasta salad, brownie, Clif bars and cold drinks (bottled water and Hawaiian Sun fruit drinks)
Note: Advance notice is encouraged if you have food restrictions for arrangement.
Special Instructions
Check-in time and location:

5:15 am at Outfitters Kauai, 2827A Poipu Rd, Poipu, HI 96756. Tour time is at 5:30 am and return to Poipu at around 3:00 pm.
Restrictions:

Participants must be at least 16 years old and are able to swim and be physically fit. This is a strenuous open ocean kayak tour.

Operations:

Tuesday and Thursday (This activity is offered only from Mid-May to September)

Duration:

Approximately 9.5 hours
Equipment:

Outfitters Kauai uses tandem, open-cockpit, or, sit-on-top type, self-bailing kayaks with foot pedal controlled rudders to facilitate safety and ease of operation. You'll be provided a lightweight fiberglass paddle with a tether, life vest and dry bag.