Warm Hawaiian waters are home to many of the world's natural wonders, but up close and personal with Humpback Whales off the coast of Makena is one we can't recommend highly enough.
From December 26th – March 31st each year, come kayak and watch the whales play, breach, and have their calves in the warm Hawaiian waters from a fun-packed 3-hour kayak snorkel adventure. Wintertime only!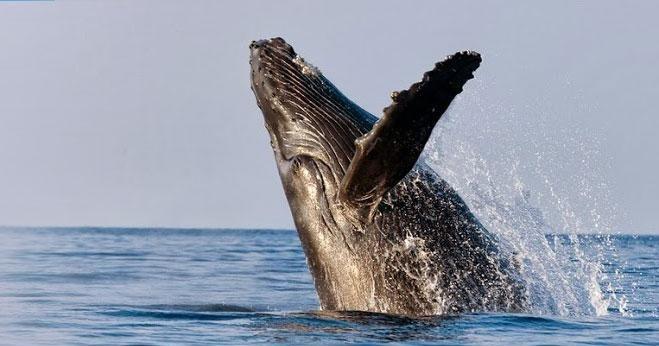 Destination vacation with whale watching and snorkeling
The winter season is the best time to spot Humpback Whales when they migrate from Alaska and bask in the Hawaiian warmth. The 3-hour kayak snorkel adventure offers a front-row view as these majestic creatures play, breach, and give birth to their calves.
This winter—book your trip today!
It's time for your Hawaiian vacation in December! So come out and do a 3-hour Whale Watch Kayak Snorkel Adventure with Makena Maui, Hawaii. Know that the humpback whales are close by, and we get up close to observe them as they play, jump out of the water, and give birth to their calves. We enjoy all sorts of snorkeling activities as well! And it doesn't stop there–you'll even be able to explore a fantastic secluded cove from this adventure. 
Take off or work every weekend with a Whale Watch excursion. You'll get up close to all kinds of creatures and find tranquility and beauty in an experience that will be yours only on Maui Eco Tours. Welcome aboard the Whale Watch Makena Maui, Hawaii! Explore the blue waters of the Bay in search of these mammals with our knowledgeable guide. Experience all types of water activity through kayaking and snorkeling with this joyful excursion. Join us for a walk on the wild side by checking out humpback whales, spinner dolphins, tropical fish, and other life as we go on an incredible adventure from 7 am to 10:30 am! You'll never forget what it's like to feel a whale beneath your feet or get up close to its blowhole while exploring breathtaking scenery in this wilderness setting. Be sure not to miss out on one of Maui's most popular tours today!
Whale Watch Makena Maui, Hawaii, is the only way to have a complete-time guide with intimate knowledge of these pristine waters. With morning departures for those five and older, this stop on your vacation will get you up close with incredible sunsets, wild sea life, and most importantly, one of our planet's most giant mammals, whales!
See their blowing spouts up close as they surface near us. Hear their songs in crystal clear water that is clean & healthy enough to drink from. Imagine what it would be like to look them eye-to-eye as they waddle closer into the Bay. Glide over the surface of the water on our small, quiet kayaks. Feel your muscles work to propel you forward–– each stroke becoming more graceful with time as well as stronger— feel the warmth of the sun – watch for whales and dolphins leaping in front of you from just beneath the water's surface. Join us and become one with nature because mother earth needs her young ones too!