Paddleboard over the pristine Wailea Coastline off Makena Landing in the heart of "Turtle Town." Then, swim with turtles and explore the beautiful underwater world around Maui's South Shore. Our 2-hour tour includes a snorkel lesson for beginners as well as fruit to snack on while we paddle around "Hawaiian Turtle Town." You'll never forget your first-time snorkeling experience!
In this 2 hour tour, you'll not only learn to stand up paddleboard on the pristine Wailea Coastline off Makena Landing in the heart of "Turtle Town," but you're also given a fresh fruit picnic  "on the ocean" and a guided snorkel around looking for turtles or "HONU." 
Get out and explore the seas with our SUP "Turtle Town" Snorkel Makena Landing – Wailea/Makena. Taste the adventure of a lifetime without ever getting your feet wet! Beginners will learn to Stand Up Paddleboard and snorkel simultaneously, combining two favorite activities into one epic journey on our 2-hour ride. During this experience, you'll stop for fresh fruit on an ocean picnic before heading back to shore, where we'll look for Hawaiian Green Sea Turtles in their natural habitat. Your instructor will give an educational lecture about sea turtles while scanning the sea lettuce beds for these fantastic creatures in an Eco-friendly environment that encourages coral reef restoration.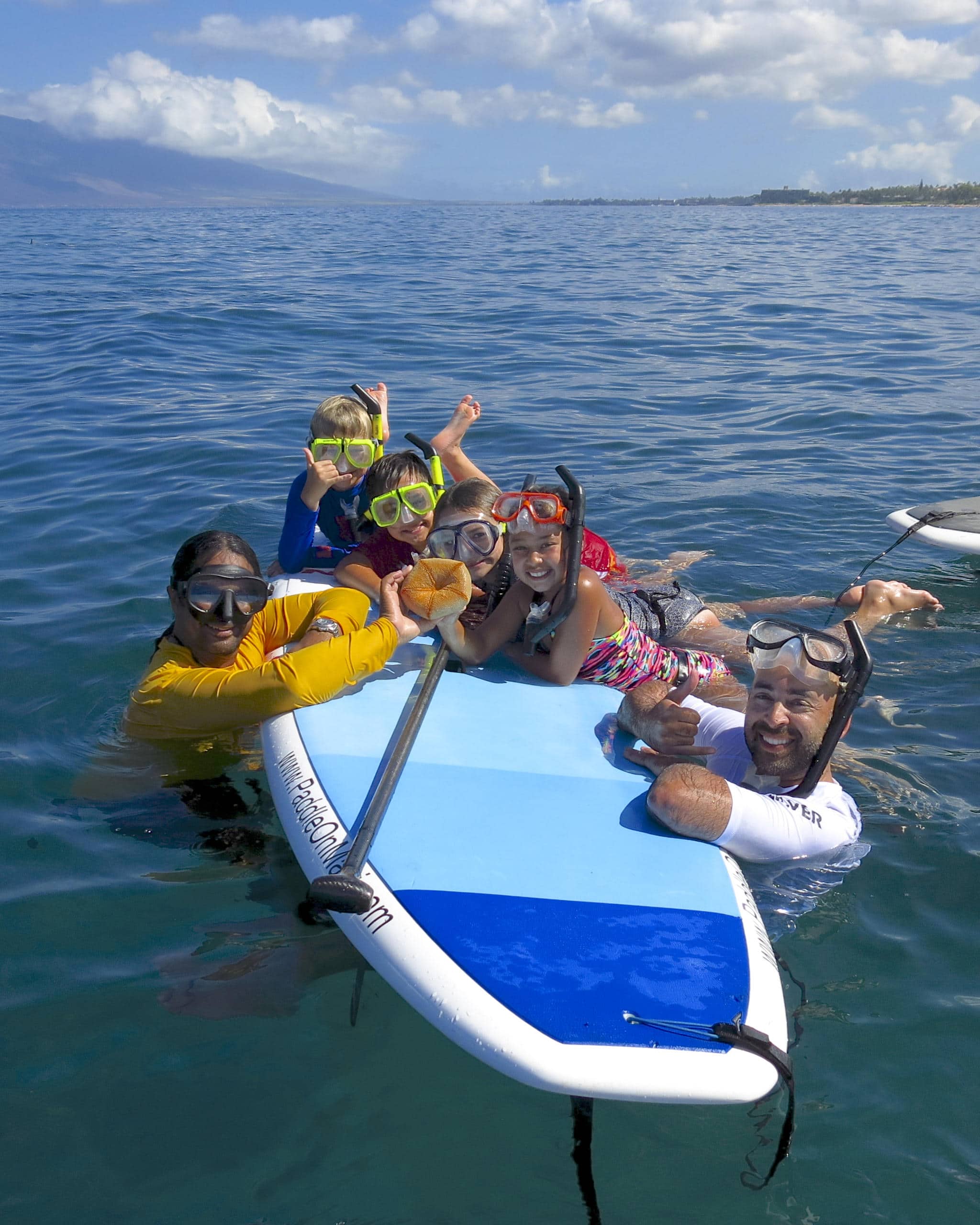 Are you ready for your vacation? Want to experience the real Makena, how Hawaii was meant to be seen – from land and sea. The SUP "Turtle Town" Snorkel offers an excellent vantage point of natural beauty in a safe and exciting environment. This is a perfect option for beginners and children; learn about paddling techniques, currents, take turns (safely) navigating from land to water on our beginner lesson or have it all done by one of our experienced guides/instructors who will show what's up with safety in mind. Two hours includes snorkeling time plus fresh fruit "on ocean" picnic lunch! Aloha!
What could be better? An excellent, unique family paddle tour with one of our Guides from Turtle Town. 

It's the perfect way to enjoy safety and security while adventurers of all ages get a chance to Paddle! 

Why go anywhere else when you can have your little one on the front of their own SUP board leading the way?
OPEN UP A NEW WORLD OF ADVENTURE AS YOUR FAMILY EXPLORES THE NATURAL BEAUTIES OF TURTLE TOWN! 
With Makana Landing SUP Tours, Paddleboarders glide silently over the crystal-clear water of Makena while scanning for turtle nests and feeding grounds. Expert Ocean Guides take safety very seriously, which will allow you to participate in this Family adventure. Children sit upfront on a small paddleboard with their Guide to watch your every move as they journey through pristine waters. Combined with our two companies, we have over 100 years of experience operating top-rated ocean tours. Onboard all day- long are kayaks, snorkel gear & complimentary refreshments. 
With a family vacation, it's the little things that make all the difference. Keeping your small children safe and happy while you enjoy a fantastic paddle through the heart of Turtle Town is one of those things! No need for fins as we'll have our Paddleboards to hold on to! Great way to be safe and secure while checking out the reef and Ocean Life with your Expert Ocean Guide!