Discover the underwater world in Maui, Hawaii, with a Two-Hour Scoot Dive. Take pictures of artwork created by many species of fish before you. Viewing seabeds and coral reefs is an experience that can only be described as miraculous. Find out what incredible sights could await you on this two-hour scooter tour.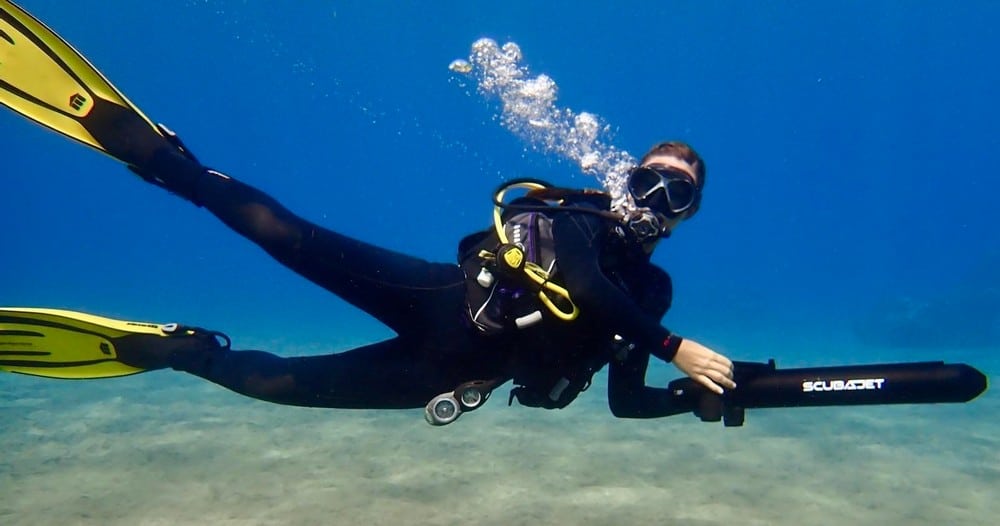 Complete your diving experience with gorgeous photos to help remind you how wonderful it felt to witness the beauty of these vibrant natural wonders firsthand. The ScubaJet is an innovative device that can be used both on the surface and underwater. The lightweight design means divers of all shapes and sizes can carry it easily through the dive site – meaning you'll become like one with the water's current for incredible maneuverability. There's nowhere better than Hawaii, with sea creatures everywhere to hop aboard this cutting-edge driving innovation.
The Scubajet transforms your day from ordinary to extraordinary in just minutes as you glide over a coral reef or rock formations, free from picking up heavy gear once you're in Maui Cenote. Our Maui scooter diving packages include everything you need to explore reefs, shipwrecks, and wrecks. We also have underwater photography that will help capture the sights and wonders of your sea explorations.
All hands down, Maui is a world-class destination for scooter diving. There's so much to see and do, such as zip-lining, honeymoon resorts, and viewing whales each winter!
Armor Divers of Hawaii specializes in certified dive tours on our beautiful Island. Join us today for your chance to snorkel with sea turtles or pufferfish and even get up close with some reef sharks if you're lucky.  Releasing these animals from the grips of fishing hooks never gets old either!
Experience the cool ocean water in Lahaina! Maui Scooter Diving Logistics makes booking a scooter dive easy. You will want to bring towels and plenty of water with you. With one dive, you will finish up around 11 am. If you complete an additional dive, you will finish around 1:30 pm. A second dive is $99 per person. Get your vacation started with Maui Scooter Diving Logistics. What could be better? A day of outdoor recreation and an adventure! We have all the tools for everyone with water experience or not. Maui Scooter Diving, LLC is committed to safety- we promise a great time with our comprehensive service at rates well below resorts. You'll leave feeling refreshed and invigorated because there's no place like Maui.
Maui's Single Greatest Experience. Whether diving with us for the first time or moving up to a certified dive, Maui Scooter Diving Logistics is the best in Hawaii. With our uniquely designed kayak, we can pick up divers from where they're vacationing on the Island, including hotel beaches in Kaanapali, Kihei, or Lahaina. The unique design of our scooters allows you complete independence from coming ashore while maintaining zero compression and not causing harm to fragile ecosystems that may exist underwater near shorelines as other dive boats would have done before manufacturers innovated via cutting edge propulsion tools like jet skis. 
Submerge into a whole new world with ScubaJet's impeccable customer service during your favorite vacation destination in Hawaii today!