Happy trails, you all! The road-bike extraordinaire has arrived. Trail ready and time to hit the open roads, this bike is decked out with a custom FOX Nude shock, SRAM Eagle gearing, and an HMF carbon fiber frame. Is it competitive in Marathon distances and all levels of stage races – jack of all trades? More like King of the hill.  
Hit the trails and forget about the day's stresses: The Contessa Spark is here to ensure that all of those worries melt away with every pedal stroke. Custom FOX Nude shock, an SRAM Eagle drivetrain, our Patented TwinLoc Suspension System in combination with Traction Control means you've got three travel/geometry settings constantly optimized for your ride–so no matter which challenge presents itself on your day's itinerary, it's as good as conquered.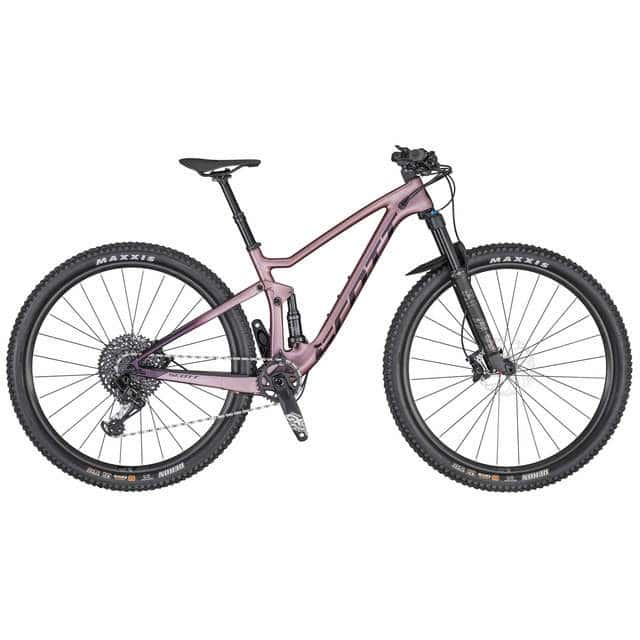 Imagine that your ideal vacation is the one where you can also take your bike. Hiking trails in the morning. Beach in the afternoon. Race all day, and then party (or find a new adventure) at night. We created this bike to give you the freedom to ride anywhere anytime—from a multi-day epic ride on gravel or pavement to an all-day marathon. With our proprietary TwinLoc suspension technology activated via handlebar remote, along with geometry settings designed for efficiency and comfort throughout hours of riding, it's perfect for any adventuresome rider who wants to experience every minute out there while cycling.
Practical trail riding bike for any woman looking to enjoy the trails
Perfect for training or leisure, this ladies' mountain bike is equipped with light and a rigid frame. The SRAM Eagle drivetrain lets riders take on all trails with ease-traversing gears and 32 speeds at your fingertips. At the same time, the suspension adjusts automatically to tackle everything from smooth rolling terrain to bumps galore.
This bike is the perfect companion for long day rides or even a marathon racer. The light carbon fiber frame is easy to pedal, and the patented TwinLoc suspension system provides up to three travel/geometry settings so you can focus on the ride. 
A bike that will take the weight off of your shoulders, letting you roll with the waves all day–don't go too fast! You can be carefree and stroll down any trail, light as a feather. Be prepared for adventures on the go with the SCOTT Contessa Spark 910. You don't need to get lost in a trail for fun – explore new trails around your neighborhood, do some racing, or try marathon mountain biking over the weekend. With three travel/geometry settings and impressive features like SRAM Eagle drivetrain, Carbon Fiber HMF mainframe, and Alloy swingarm, it's never been this easy to make every ride better. 
It doesn't matter which trail you head down. It'll be a vacation. Head to Hawaii and bike across the islands on The S – Scott Contessa Spark 910. This versatile mountain bike features an HMF Carbon Fiber mainframe with an Alloy swingarm and custom FOX Nude shock that will keep you rolling even after 30 miles of rough terrain. To get your muscles even more relaxed, you can hop on our patented TwinLoc Suspension System, in combination with Traction Control, to give yourself three travel/geometry settings for suspension optimization. We always want riders out there to have as much fun as possible.
Have a question? Give us a call. We'll be happy to answer it (and make adjustments).