Setting out for a weekend camping with friends, but still want to introduce some competitive spirit into your outing? Bring along the SCOTT Aspect 940 mountain bike on your bike rack. The lightweight aluminum frame means you can quickly switch from KOM hunting to running down a single track with just one vehicle load and minimal setup. The lockout mechanism for the fork, disc brakes, and Syncros components make it perfect for the novice or budget conscious mountain biker looking to get their first hardtail. Create memories that last through those dusty trails by taking advantage of this limited-time offer. The S – Scott Aspect 940 Mountain Bike has a lightweight and efficient design that will take you rolling up the mountain like it was your day at summer camp.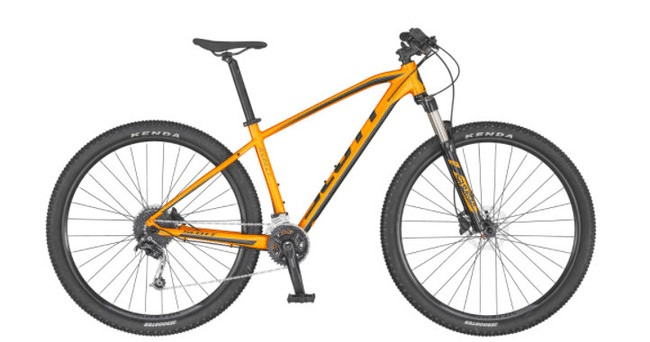 It's time to hit the open road and start exploring your wild side. Forget about miles of flat highways. Nothing feels more exhilarating than a thrilling downhill high-speed ride on a mountain bike! Experience it for yourself with the SCOTT Aspect 940 Mountain Bike. We'll make sure that you've been taken care of as soon as you arrive here at our bike shop – all we need is just a little bit of information from you, and then we will have someone ready to help select the perfect one for you. Give us your name, email, phone number, and when we can expect to hear back from you so that they know what size wheel or style frame would be best suited for your needs before coming in today.
You don't have to break the bank to enjoy some excellent mountain biking. This SCOTT Aspect 940 is built with a lockout fork, disc brakes, and Syncros components–the perfect bike for the mountain biker on a budget or someone just learning how to bike in general. Reserve yours now. It's time to get off the beaten path and explore the new worlds out there. Ready for an adventure? The SCOTT Aspect 940 is your ticket to fun. Quickly load up your gear with its removable rear rack, then enjoy lightness and efficiency on every mountain you summit! Keep it all in stride, including short travel forks, Syncros components, and a smooth disc brake system. With simple features but plenty of character – this bike is all about building memories rather than breaking the bank.
Whatever life throws your way, let SCOTT help you stay afloat! With the latest lockout mechanism for the fork and disc brakes to offer you peace of mind, pumping out action-adventure and escape from reality is now nothing more than a bicycle ride away. Enjoy this versatile bike that can hit any curve with a Syncros components package while rocking an eye-catching coat of red color-matched paint job. Imagine pedaling to the top of a mountain, scanning your surroundings with ignorant awe, and exhaling deeply. The carefree weightlessness you're feeling right now is exactly what this bike can deliver. So get on it, and see for yourself how far 940 miles has never taken anyone.