Semi-Private Stand Up Paddle Boarding Lessons on Maui
Learn to stand up paddleboard in a private, semi-private, or group setting with beachfront rentals at bargain prices! Start on the east coast to release pent up frustrations and get into the relaxing groove of Maui's largest island, then hit the waves for advanced tricks with a hand from our experienced instructors who know just where you want to go —whether it's surfing or playing with dolphins—all in less than one hour.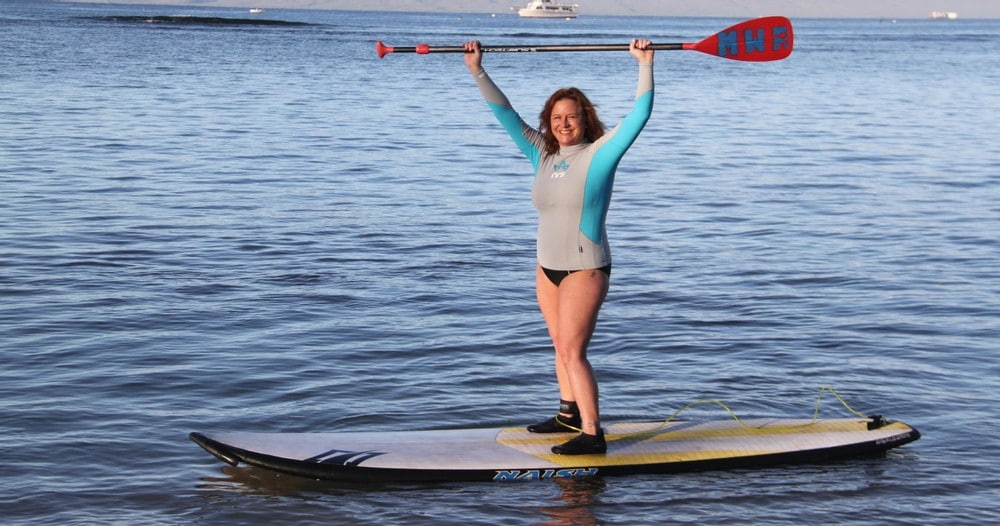 No waves, no problem!
Stand-up paddleboarding is the new sport. Up to date and as easy as riding a bike! Come join us for an "Experience Like No Other" Private or Semi-Private SUP lesson on the always beautiful shores of Maui at One Wailea Place in Kihei. You'll enjoy beginner's instruction while outfitted with all needed gear -SUP boards, life jackets, paddles, and more.
Shop now for tropical relaxation on the water! Enjoy time with friends and family while you paddle your way to wave-drowned bliss. Semi-Private Stand Up Paddle Boarding Lessons are perfect for groups looking for a lesson that will allow them to partner up while still getting personalized tutorials from our private instructors. Private lessons are available too, allowing surfers of any skill level to work on their skills with one of our pros. In short, we have SUP Lessons for all levels of experience!
Private & Semi-Private Stand Up Paddle Boarding Lesson Kihei, Maui.
Learn the Hawaiian Style of SUP!
Private and Semi-private paddleboard lessons will help you get up on your board and start catching waves. This is a new way to see some excellent waves in Hawaii! Classes are available for all levels of skill and ability. We've got different packages that meet any budget, from a private lesson with unlimited time on the water to semi-private lessons with 2 – 6 students per class. Our stand-up paddleboards come standard with soft foam rails, so there are no more bruised elbows. Have fun while improving balance or teaching someone else how to have it!
Let us teach you how to surf the waves without even getting wet! With our Private & Semi-Private SUP Lessons, we will teach you what it means to be a pro. Knowledgeable, certified instructors teach all lessons on the beautiful shores of Maui. It is also great for those looking for a more challenging private task or working on their skills with individualized attention. Spend a day on the water with us! Feel the rhythm of the waves beneath your feet and soak up some of the island's year-round sunshine. Walk across the soft sand, feel that salt air on your skin, and let Kihei Boat Tours be your guide to Maui life's sweetest reasons for living. It is paradise, after all!