Get a load of this! If you are looking for the most insane boat in Hawaii, look no further. This is where customers will have the opportunity to get wet and wild with their friends, doing 360 spins, sharp turns, slides, and more. A full refund can be given up to 72 hours before the reservation, but note that if cancellation happens within 72 hours, the customer is charged 100% of the total due. Escape every day with a one-hour Private Charter on 'Insane.' This custom-built aluminum twin-turbocharged Yanmar diesel twin Hamilton jet drives – no props, No rudders of shafts smooth bottom eco-friendly boat will skip across the water at 360 spins per hour. Hop aboard for 1 hour of wet and wild fun. There's only one like it in Maui County and Hawaii! Escape your life with this Insane experience today.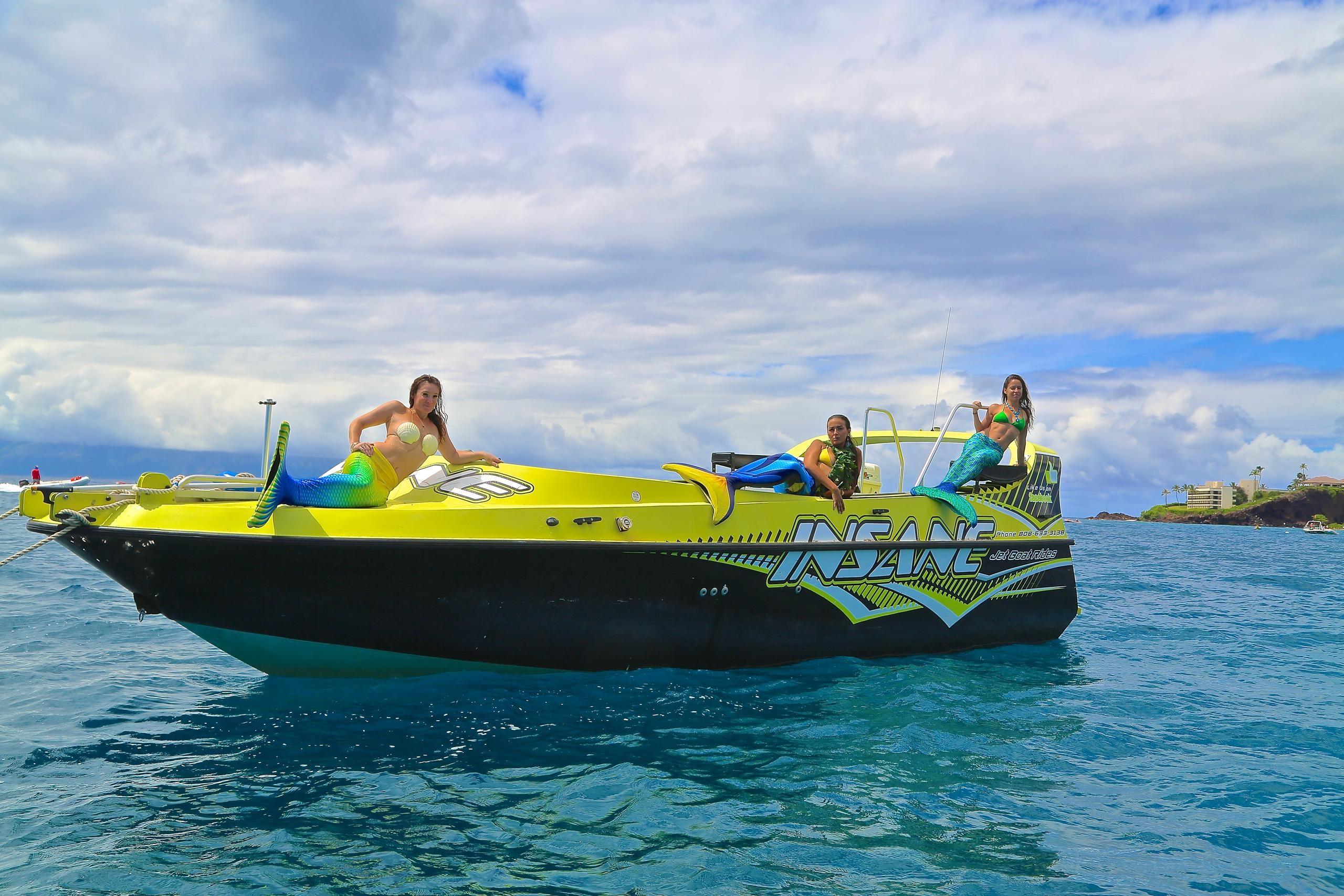 This is your chance to live the dream of outrunning a giant inflatable dog – Jawz right on your tail as you drive by surfing or grabbing an exhilarating 360 spin doing the loopy-loop for that perfect snapshot. With no props and absolutely zero salts, this unique eco-friendly boat guarantees you'll be twisting and turning around with all kinds of excitement. What starts at a mellow pace will leave your heart racing. It's time to escape life's boring routines and have some "Insane" fun water sports action today… it's easy peasy lemon squeezy. A custom-built all-aluminum twin-turbocharged Yanmar diesel twin Hamilton jet drives- no props, No rudders of shafts, smooth bottom, the most maneuverable eco-friendly boat that skips across the surface of waters doing 360 spins, sharp turns, and dead stops. Hop aboard for 1 hour of wet and wild fun. Experience this one of a kind in Maui County and the state of Hawaii.
Ever wanted to pretend you were James Bond? Well, add this day to your bucket list. You may be thinking, "Is this some prank" but don't worry, it's the real deal! After a brief safety briefing and instructions on handling y flares or inflating rafts in case we capsize, we will start our engines for the wildest ride of your life! If you need any changes, just let us know, and with 1 hour's notice, a minimum difference is FREE. 
If you're looking for the perfect way to spend your day on Maui, look no further. Charter Insane today and enjoy a private tour of some of the most breathtaking sights near Wailea Resort. The team at Private Whales has designed this customized experience just for you! Show off your skills behind the wheel or ride shotgun with our captain while cruising out in the open ocean waters. With speeds reaching up to 50 mph, it will feel like flying through the air on water.
On late nights, when all the activity on the water has died down, and people are getting back to their hotel rooms for bed after a long day at work or entertainment, there's an event happening few know about—an evil and crazy one that takes place between nine and midnight every weeknight. The size of an eight-person private limo boat, it is only 16 feet long by 5 ft wide but hosts a lot of insanity.