Sail away to magical moments on the sea with your friends and family! Our newest ship, Sea Maui III, is a 65ft luxury catamaran that can accommodate 110 guests. We offer pupus (appetizers), a full open bar, and a champagne toast at sunset from our excellent vantage point atop Honolua Bay. Experience the humbling views of Maui's coastline as you sail along while sipping unique cocktails in high spirits! Sail into feeling like the captain of your lifelong adventure when you find serenity with us. Leave your worries behind when you step onboard the Sea Maui III at sunset on our Premium Sunset Cocktail Cruise. You'll enjoy elevated pupus. Food passed to you while cruising through the ocean air-catching views of paradise beaches and calmer waves beneath you, all under the guiding hand of a skilled chef during these magical hours of twilight. Enjoy as we sail together over lush green islands that will surround us in beauty for what might be some of your most treasured memories – ones that come with drinks from an open bar! It's time to set sail upon the shimmering Pacific Ocean and find out why Maui is one of those rare destinations that leave such a lasting impression.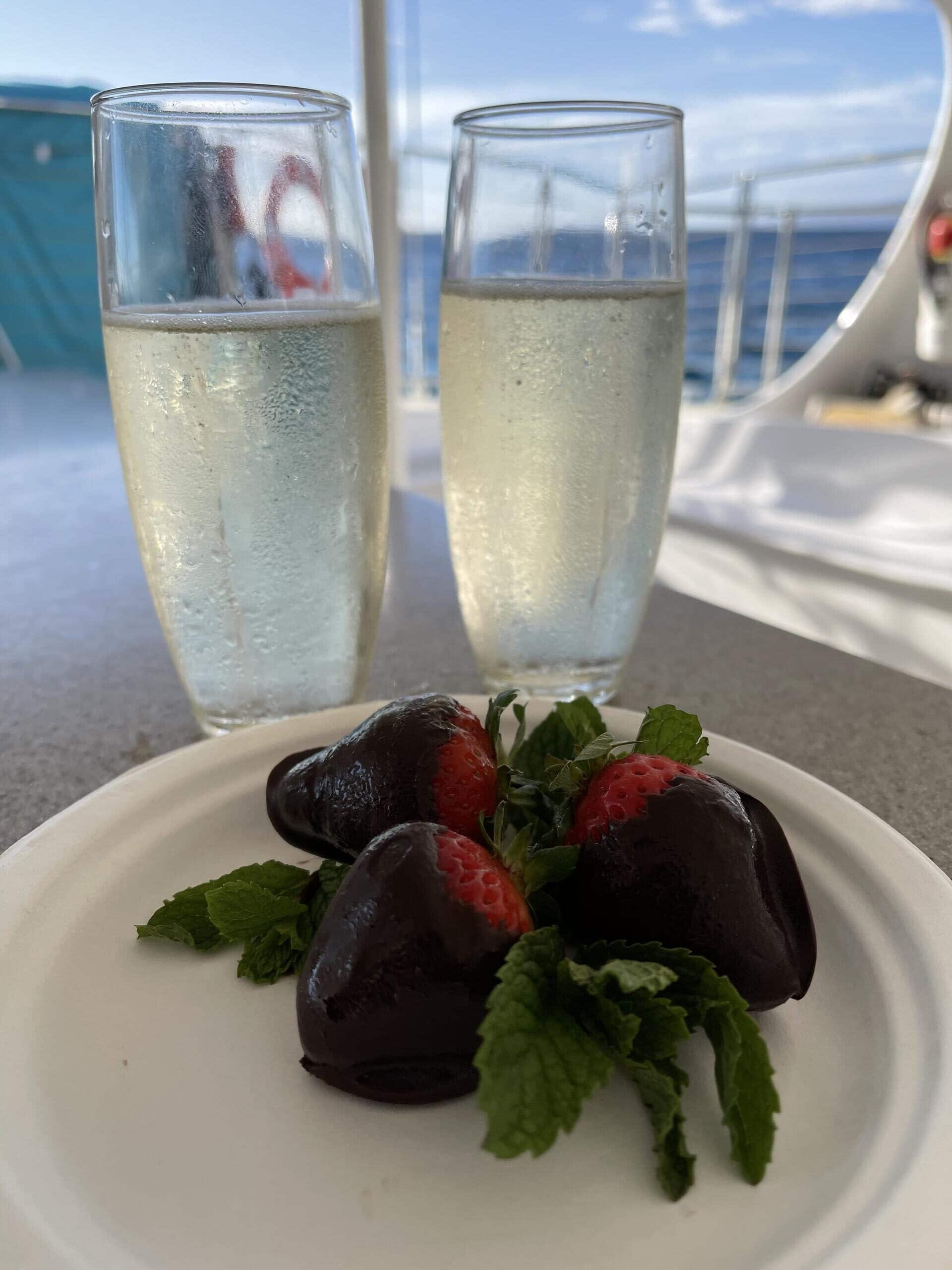 Recline and relax as The Sea Maui IV navigates its way to the sunset, sea sparkling beneath you. Into the horizon, your mind races with thoughts of new beginnings as you lean back into worn-out pillows. You can't help but feel as if this is where the magic happens. Keep an eye on the sky, for it will turn colors in ways that will make coral beds blush. What better sight than one of the most magical sunsets that Hawaii has to offer! Sip on champagne, watch lanu'au fires burn below as we approach our journey's end at Lanai Lookout, known by many around Kaho'olawe Island who know Hawaiians residing there refer to such a view from afar " History, thrill and adventure all come to life aboard the Sea Maui III on our Premium Sunset Cocktail Cruise. Forget about your worries from back home as you relax with a cocktail in one hand and the lapping of waves against the deck beneath your feet. It's a moment for yourself that belongs only to you onboard our luxury catamaran sailing under the glowing sunset – so take it slow, breathe deep, and savor every minute of this ocean experience we've created just for you.
A tropical vacation in a cocktail glass!
Sea Maui's #1 best-selling Sunset Cruise is the perfect way to enjoy your last moments of discovery with friends and family. It takes place on our new larger vessel and includes elevated pupus (appetizers), a full open bar, and a champagne toast at sunset! Leave behind the hustle and bustle of land when you're welcomed on board our newest vessel- the 65ft luxury catamaran Sea Maui III. Feel mana from the ocean (traditional Polynesian word for power) as it gently moves beneath you while sailing off into miles upon miles of beautiful water views during magic hours. This ocean experience will not be forgotten as you enjoy unmatched panoramic views from atop. Take a break from the beach. Ride away on our newest vessel – 55ft luxury catamaran, Sea Maui III. This ocean experience will not be forgotten as you enjoy delicious pupus (appetizers), cool drinks, and an open bar while sailing with the tradewinds for views of Maui and its surrounding islands during the sunset magic hours. These memories are perfect!