PADI Scuba Diver Maui is a one-day scuba diving course that offers a great introduction to the sport of scuba diving. The class consists of four hours of theory and pool training before moving to the ocean for two dives, with a maximum depth of 40 feet. 
Within this one day, you will learn basic principles and skills, such as how to use your equipment, breathe underwater, buoyancy control exercises in the water column, and more. You can earn your PADI Scuba Diver certification for just $199 with our company.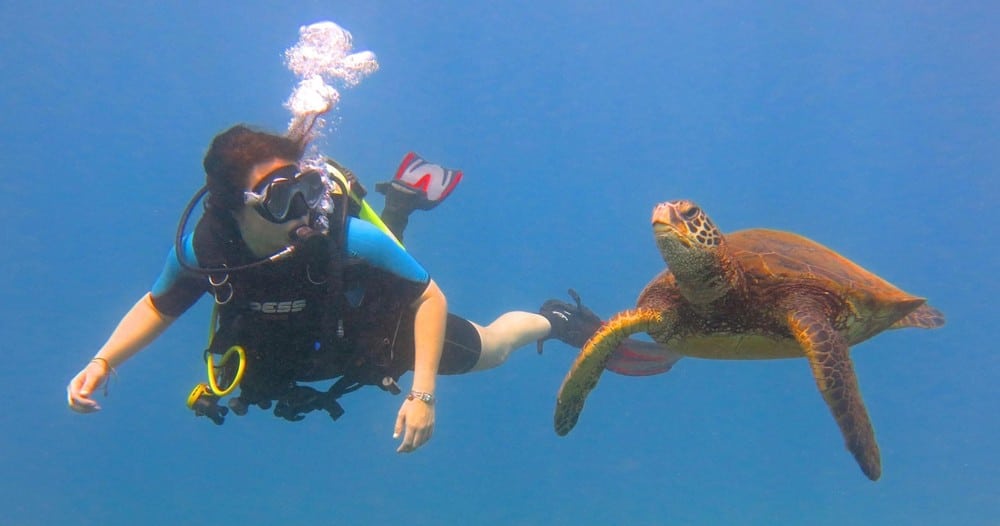 The PADI Scuba Diver Maui course is a one-day experience that introduces the scuba diving world. This course is designed for people who want to get their feet wet and see if they like it! The Scuba Diver Maui Course includes:
Basic instruction in all four significant areas of scuba diving (preparation, equipment, dive skills, and underwater behavior)

A review of basic math formulas  and physics principles  that are used in learning about water and buoyancy

Pool sessions with exercises on breathing techniques, clearing the mask, descent control, and ascent techniques

A shallow water session where you'll learn to use your new skills under supervision before practicing.
PADI Scuba Diver Maui is a beginner course that will forever make you a scuba diver. You'll earn your PADI Scuba Diver certification in 1-2 days and enjoy plenty of time to explore the stunning coral reefs. The company offers three sections: first, complete chapters 1, 2, & 3 in the PADI Open Water manual and take three quizzes; second, practice skills in shallow water and on the surface to improve your confidence; the third section consists of completing three dives for 10 minutes each at depths up to 40 feet maximum depth under direct supervision from an instructor or assistant instructor. 
Banyan Tree Divers Scuba offers the most affordable PADI certification courses in Maui, Hawaii. You need no previous scuba diving experience necessary to earn your PADI Scuba Diver certification. So get excited to begin your scuba adventure with Banyan Tree Divers Scuba. You are about to become a member of the scuba diving community. Your next step is the PADI Open Water Diver certification. Then you can continue exploring other areas of interest in this beautiful world below water with more advanced dive certifications such as Advanced Adventurer or Rescue diver. With over 30 years of experience, Banyan Tree Divers Scuba knows how to make every beginner feel comfortable while learning how to dive.
PADI Scuba Diver Maui is a PADI 5 star resort and the only PADI Dive Resort in Maui. We offer dive courses, snorkel gear rental, liveaboard trips, kayaking tours, surfing lessons, and more. Our instructors are all certified divers with many years of experience teaching scuba diving to beginners on beautiful beaches in Hawaii.
PADI Scuba Diver Maui offers a fun and memorable scuba diving experience for beginner divers. This certification is perfect if you only have one day to explore the underwater world. Contact us today!