PADI Advanced Open Water Diver Maui is a two-day course that teaches you everything you need to know about scuba diving. The system includes five dives in Maui, new skills like deep and night diving, and rental equipment. This experience is perfect for those who have already completed the PADI Open Water Diver Course or want to learn more in their first time traveling abroad. PADI Advanced Open Water Diver Maui is a scuba diving certification course. PADI, the world's leading underwater diver training organization and creator of this program, offers divers an exciting way to explore new dive sites in Hawaii. This course can be completed in 2 days and consists of 5 dives with three additional elective dives available for an additional fee (not included). Participants will learn new skills such as navigation, safety procedures, equipment use, and maintenance. The minimum age requirement for this program is 12 years old or older because participants must have mastered basic swimming skills before starting the class. Night-time diving is also an optional extra at no cost if you decide to keep going after completing your open water certification.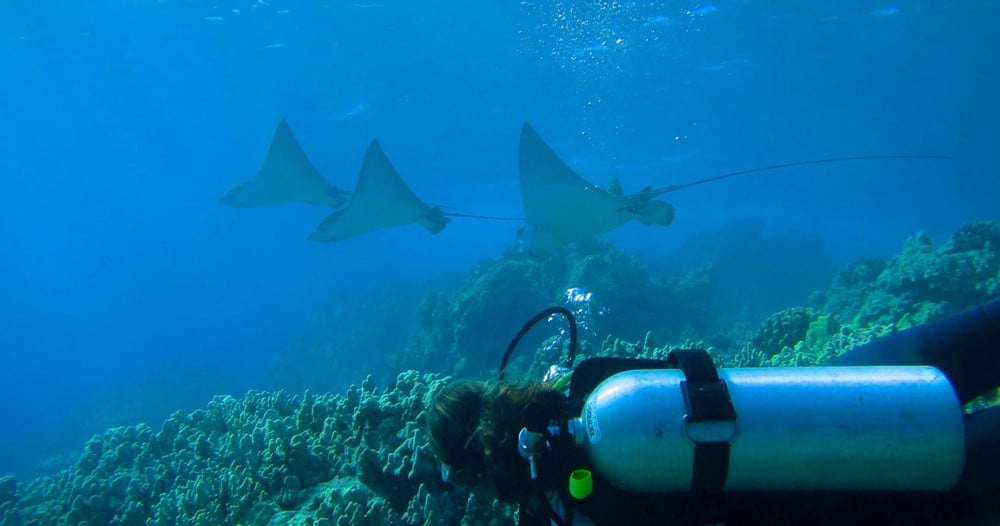 For most of us, scuba diving in Maui becomes an addiction. After completing the Open Water Diver certification, many divers choose to explore various specialty dives the advanced scuba world offers. The PADI Advanced Diver certification will not only make you more confident underwater, but it will also introduce you to a variety of new Adventure scuba dives, such as Deep, Navigation, Photography, Wreck Peak Performance Buoyancy, and a long list of additional electives.
PADI's Advanced Scuba diver course is designed for anyone who wants to take their skills further into deep water and learn how they can enjoy this unique environment with confidence. 
Why take an ordinary vacation when you can be a PADI Advanced Open Water Diver Maui? This certification will give you the confidence to explore new depths and expand your scuba horizons. You'll travel with our expert instructor to 5 different sites around Maui, swimming with turtles and tropical fish in pristine coral reefs or exploring sunken ships on the ocean floor. Then return home knowing that you're ready for anything.
An Open Water Diver Maui is the perfect opportunity to learn how to scuba dive and gain a new skill in an exciting environment. The PADI Advanced Open Water diver certification includes five Adventure Dives over 2-3 days, and you can do them all or choose just three. You will have deep dives, navigation dives, and your choice of three elective dives that include Peak Performance Buoyancy, Underwater Naturalist (the best for underwater photography), Scooter diving (fast like riding a bike), Night Diving. Maui offers some of the world's most beautiful reefs with four different ecosystems, including coral gardens where fish are plentiful.
Get in on the fun and excitement of scuba diving with PADI Advanced Open Water Diver Maui! Diving is an adventure for anyone who enjoys exploring, learning new things, and pushing their limits. And it's not just an excellent experience for you—your whole family can get involved too.
PADI Advanced Open Water Dive Maui offers guided dives in beautiful locations around the island. Our friendly instructors will teach you how to gear up safely, identify marine life, explore shipwrecks and reefs, take photos underwater with your GoPro camera (additional fee), or even swim through an underwater cave system. PADI Advanced Open Water Diver Maui is a company that provides scuba diving excursions in Maui. They have been teaching people to dive for over 30 years and accommodate any skill level, from beginner to advanced. Their instructors will teach you how to use the gear, navigate underwater, and ensure you're safe throughout your entire visit. So if you want an exhilarating experience that will take your breath away, come on down!