Stand-Up Paddleboarding will awaken your senses to the sights, sounds, and smells of Maui. A complete morning experience is a paddle tour that covers two goals: first, watch the sunrise over the Haleakala crater from Wailea; then enjoy a yoga practice at Makena Landing with views of Sugar Beach in the backdrop.
To view your favorite attractions up close while out on the water, choose our 3 Hour Shawl Sunset Tour where you get more time to roam around Maui's coastline for an effortless adventure with this choice. 
For those who love an early start, we offer Sunrise SUP Yoga classes led by certified instructors exclusive for booking on Maui before 9 am! You'll be led through yoga poses and meditations atop. The Paddle Makena Landing – Wailea/Makena Tour package includes a sunrise paddle and guided Yoga class at Haleakala Crater.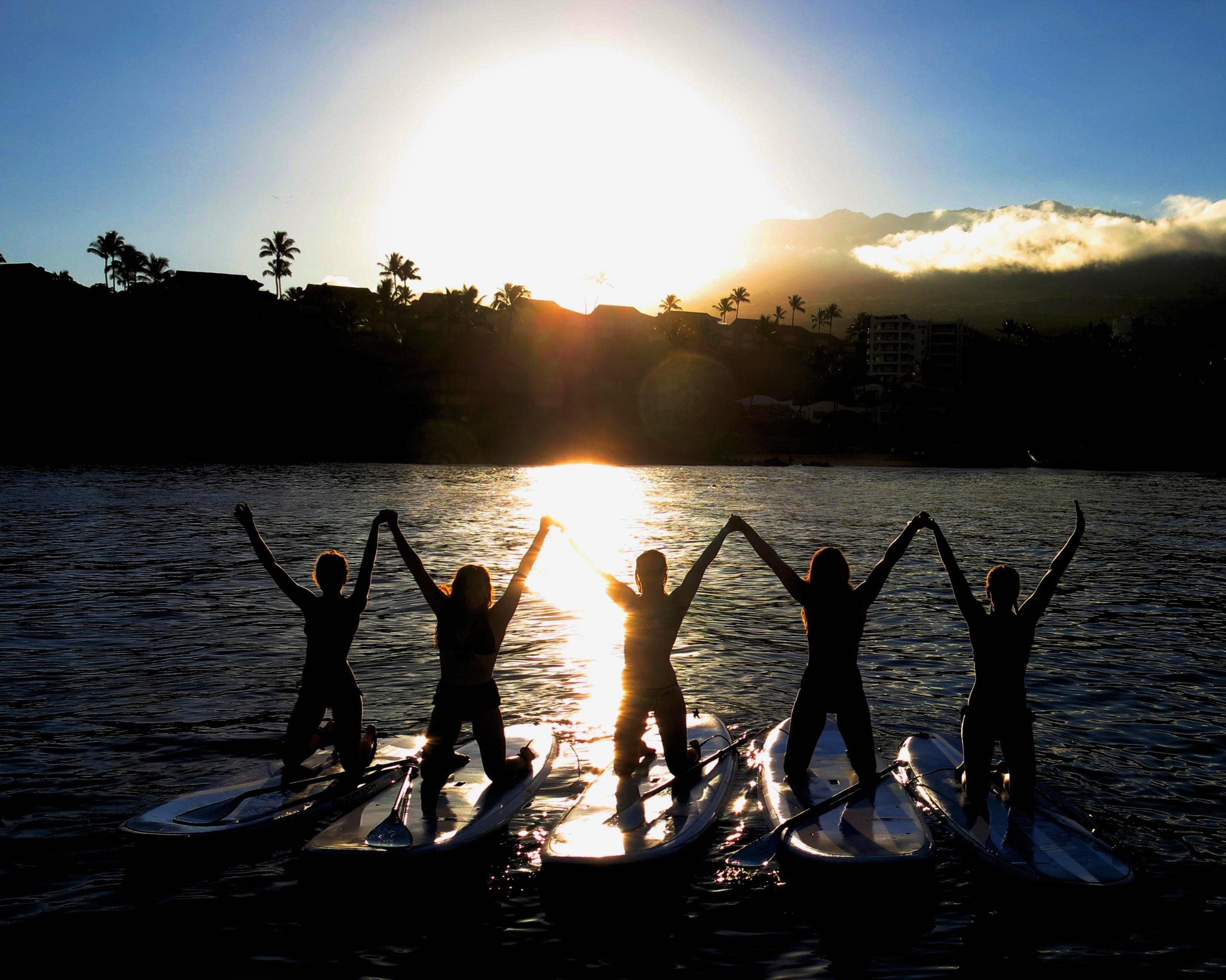 Featuring stunning scenery, you can explore the peaceful water and take in breathtaking views of the Maui coastline with this adventurous morning SUP experience that starts on land before heading out to sea! Our experienced instructors will teach you how to Stand-Up Paddleboard before stepping into yoga practice together, ensuring your first-time SUP is an unforgettable one. After all those sun salutations, we are going to burn off some calories as we head over to our yummy snack break at Dole Plantation for a refreshing juice or smoothie. Winds light as we paddle in silence, absorbing the colors from the sky that change with each breath. As we arrive onshore, our bodies begin to stretch, and our minds prepare for another day of mindfulness. Maybe you want a morning meditation or maybe not — either way, Celebration Paddle Board Tours offers special meditation sessions for those who are looking to start their day in this sinful peaceful manner.
Please help yourself to a moment of tranquility and find your Zen on the pristine shores as you join us for our amazing Sunrise Paddle tour! 
You will be surrounded by nature's most delicate beauty, with the water sparkling like crystal from deep within the underground sea. Lying peacefully in this tranquil ocean-scape–even before the sun has officially risen–you can find stillness and peace as we do SUP yoga together to experience all that an "Om Tour" has to offer! To top it off, sunrise is one of Maui's most achingly beautiful moments: see for yourself. 
How would you like to find your Zen on a morning SUP yoga tour? We'll start by paddling out from our starting point at Wailea Resort, and as sunrise begins to come upon the horizon, we will be greeted with mesmerizing views of the Haleakala volcano. Sunrise SUP Yoga is guided through the movements with instruction, making it perfect for beginners or those who want an accessible introduction and expand their skills.
Your experience will include: losing yourself watching the colors of Maui's ever-changing sky while learning about life on these pristine waters in this beautiful part of the world. The minimum age requirement is ten years old and suitable for kids 8+ years olds who can swim well. Want to see what the sun looks like with a little more than pink and purple? Say "OM" on your way into the day with this sunrise tour.