You can't go wrong with this new, exciting Tour! Our knowledgeable guides will show you the ageless beauty that spans the coast of Maui. Fun things to do when you get there include exploring gold mines, waterfalls, and lava tubes in a 4-wheel drive vehicle! Get ready to be transported with this 9 hour, four-stop tour that will take you from Haleakala National Park down to Maui's breathtaking Hana Rainforest. The scenic stretch for this Tour is over 400 miles. It lets your eyes wander off on their own as they explore abandoned sugar cane mills, hidden waterfalls, and picturesque local villages. We arrange transportation for the day while also providing a light breakfast snack of muffins or banana bread before taking off at 8 AM.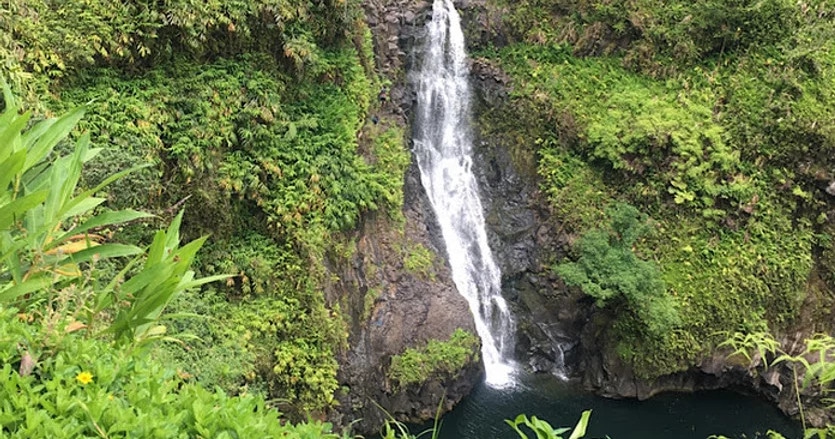 Start your Haleakala adventure with a cruise through historic Paia town and learn about life in old Hawaii. As we take you on a journey to our hometown on the far eastern slopes of Haleakala, where the ride, the thrill, and the beauty never ends. Enjoy scenic ocean views and rugged coastlines as we traverse one of the top 5 most beautiful drives in the world.
Climb aboard for this magical Hana & Beyond Tour that will drop you off at an ancient Hawaiian farming site set upon craggy lava rock formations while enjoying great food along with countless opportunities for wildlife viewing. We'll show you "a little community built upon an ancient lava flow" where cultural traditions still fully exist. Journey to the best of old Hawaii! Sail through a quaint, pastel-colored mountain town and visit picturesque black sand beaches on our Hana & Beyond Tour. Along the way, learn about life in old Hawaii as we show you hidden gems and the real deal from behind these island shores. This Tour is for everyone; locals, visitors curious about "old-time" Hawaiians, budding historians, anyone who wants to make some new memories during their stay on this beautiful island. 
Get ready to set out on a journey through the lush rainforests and waterfalls of Maui with Hana & Beyond. Experience what only a few can claim:
Soaking in stunning pools

Taking photos at historic sites

Exploring lava tubes

Taking in some of the most breathtaking views from the slopes of Haleakala
Explore ʻāina (land) like you never have before as your guide chats away while driving this one-lane kua aina road; then dive into all the natural beauty that is Maui. Hurry up! Our Tour is filling up quickly." The Hana Highway is one of the most scenic drives in all of Hawaiʻi. Visit incredible waterfalls, take a dip in some refreshing pools and explore historic caves before taking to the sun-drenched beaches for an afternoon of swimming. Plus, see rainforests vanish as you leave Hana town on your way Beyond Hana to enjoy lunch at Waiʻānapanapa State Park or trek along a picturesque coastal road with peekaboo views of Haleakala Crater, where residents say life happens slower in this South Maui backcountry region.
Wake up in paradise and spend the day 8,000 feet above sea level exploring a hidden valley of cascading waterfalls before rushing down to Hana Bay for your final swimming experience on this breathtaking Tour.
Paddle along with us as we go among pristine beaches that overlook crystal-clear pools, ancient Hawaiian battlefields where canoes were used to attack an unsuspecting army sneakily; secret fishing caves set high atop 500ft cliffs where only you will know exactly what'll be at the end of your outing into the nature-rich wonderland. If you're interested in seeing the best views of what Hawaiʻi has to offer while also experiencing the locals and their culture, this Tour is for you. Immerse yourself in nature through beautiful greeneries and waterfalls.