It doesn't get any better than this when dolphin-watching and snorkeling are packed into one trip. For those who want a quick but memorable day adventure on the water, there's no better choice. Get ready to explore some of the most beautiful and pristine snorkeling in Maui. We'll take this 4.5 hour trip aboard our ocean raft, where you can get close with dolphins on your whale watch or relax on deck with your favorite beverage as we cruise lazily through miles of azure-blue waters off the coast of Lanai. Along the way, meet a fascinating array of marine life: giant pen corals, tropical fish, sea turtles, graceful manta rays gliding seamlessly below us at eye level—to name a few! Diving mask? Check! Snorkel gear? Check! Underwater camera for underwater photo ops? Check?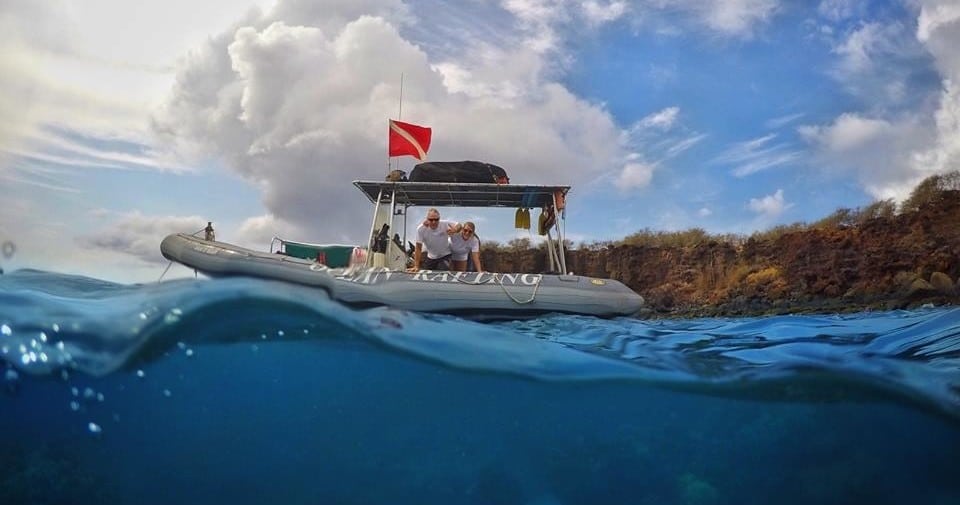 Snorkel with cute dolphins in waters so clear you could see the giant turtles if they were swimming by!
This half-day trip will take you to some of the most pristine, untouched, and beautiful snorkeling spots we've got on this island. You'll be aboard our ocean raft, being briefed about etiquette before heading into the water with your diving mask on. These adventures include at least 2-3 unique snorkeling destinations where we promise nothing but good times for all skills levels. We can also spot dolphins (if they come by), which is a scarce opportunity offered only through Hawai'i tours like ours!
Get up close and personal with some of the most crucial sea creatures in the Pacific. On this 4.5 hour morning snorkeling + dolphin adventure, we'll explore some of Maui's best-kept secrets for those hungry for a deeper understanding of what makes Maui such an epic vacation destination. Our captain is well-versed in both navigation and ecology, making sure you are fully immersed (literally) in your experience as you glide over broad currents filled with coral reefs full of turtles, manta rays, honu (Hawaiian green sea turtle), and even sometimes spinner dolphins – all while taking it easy on a luxurious ocean raft that will ensure your air is ever so fresh.
Ready to take a break from your everyday life? Visit Maui and see sights you would need weeks of vacation to see in one day! Do you like dolphins, whales, or coral reefs? Guess what?! The beautiful islands of Lanai offer all of those. Today on our Half Day Snorkeling Trip, we will venture out into the open ocean for four hours on an adventure that will leave everyone smiling with memories to last. Don't forget your gear because if spotted dolphins happen to swim by while we are exploring our underwater world, we have free canopies available at the beach, snorkel rentals, and plenty more signs that make sure once again "Aloha is here."
You don't have to choose between a half-day submarine ride from Maui or a full-day dolphin snorkeling adventure. This all-inclusive trip combines the best of both North and South seasons with continental breakfast, snacks, water, juice, and soda. Snorkel close to sea turtles or explore reefs teeming with tropical fish! Brave southbound currents while wearing fins and flotation (boogie boards) that will take you past rows of coral. We provide headwear like masks and goggles for your underwater viewing pleasure!