Now you can experience Maui underwater without getting wet!
You'll board the Reef Dancer for our "Ultimate Underwater Viewing Adventure and Dive Show." Departing from Lahaina Harbor, the Reef Dancer tours the only barrier reef in Maui. You'll have the opportunity to see various kinds of coral and reef fish, such as the Humuhumunukunukuapua'a, Hawaii's state fish.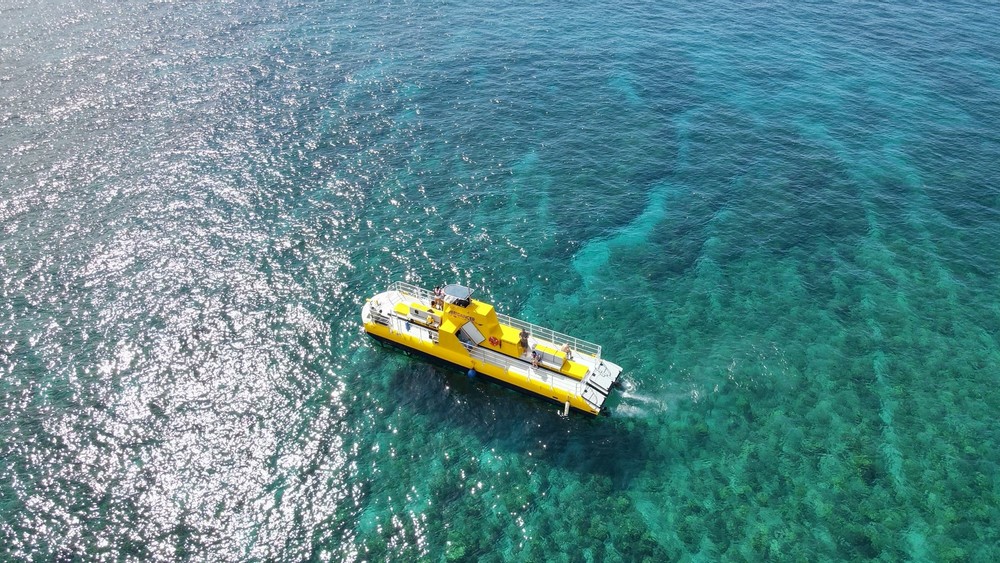 See the underwater world of Maui without getting wet! Find out why divers and snorkelers all over the world are so jealous. Get up close to coral, watch schools of fish swim by your view window, and experience it like no other. Truly one of the best ways to see our Living Ocean is from this beautiful vessel with a touch of luxury at its helm. Book today for an unforgettable adventure around Maui's only barrier reef. Experience Maui underwater without getting wet1. Experience the tropical ocean right in front of you at an affordable price! You'll have the opportunity to see colorful coral and fish up close during this "underwater viewing adventure."
Your journey begins on the Reef Dancer as you hear your skipper tell tales of his time as an urchin diver in Honolua Bay. You forget that water is all around you, viewing Maui's best and most vibrant reef from inside a custom-designed underwater cabin while cruising along coastlines with views of whales breaching and dolphins playing. Celebrate your adventurous spirit with a one-hour daytime or evening dive show, a tour of Maui's marine life, and an underwater viewing adventure! We'll take you out to Molokini Crater for an unforgettable look at the beautiful reef. With windows provided on all sides of our boat, you can enjoy an incredible view as we head towards our destination. Once there, we'll lower a glass-bottomed submarine into the ocean so that you have lots of time to be nosey and watch fish swim around outside while admiring their beauty from inside your tiny aquarium. 
A complete underwater adventure: views of exotic fish, Hawaiian mother-of-pearl shells, and colorful tropical reef formations–all in a comfortable air-conditioned cabin. It includes free fish ID cards and postcards so you can learn more about your friends below the water's surface. Bring everyone on board for this 1-hour tour to West Maui, or spend some time admiring the view from up top. Visitors can enjoy an instructional briefing about the country's newest national monument at Papahānaumokuākea. Marine National Monument before departing on their adventure!
Tour the world of Maui's reef with a professional guide. This 1-hour tour will give you and your family an air-conditioned space in which to sit, chill out, and enjoy spectacular views of West Maui's mountains while listening to our experienced marine biologist narrator tell you about your surroundings. Then enjoy an entertaining dive show featuring exotic animals from the deep that we'll bring right up to your window! On the way back into Lahaina Harbor, take advantage of great photo ops on high spirits covered top deck–no long lines at Waikiki Beach here.