Nothing compares to an authentic luau right at the foot of Black Rock or Puʻu Kekaʻa, the famous cliff diving point in Maui.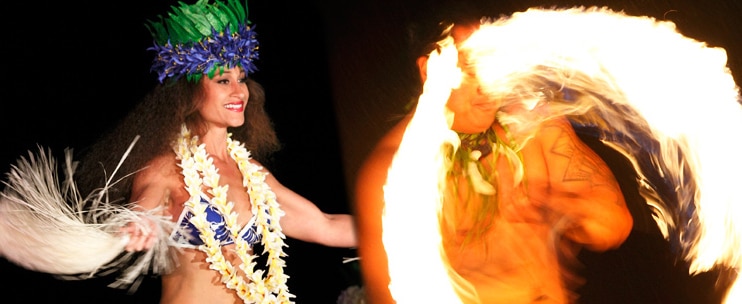 Held at the beachfront of the beautiful Kaanapali Beach, Maui Nui Luau shares the history, music, and dance of the island, spearheaded by the world-renowned Polynesian entertainment producer, Tihati Productions. Join Maui Nui Luau for a remarkable evening that you will never forget!
Also known as "The Valley Isle," Maui is the second-largest Hawaiian island known for world-famous beaches, migrating gigantic humpback whales during the winter season, spectacular sunset and sunrise, mouthwatering farm-to-table cuisine, and many more! Named from the legendary Hawaiian demigod Maui who is said to have lifted the heavens from the earth so that man could walk tall, the island is truly a piece of paradise with so much to offer, including the one-of-a-kind Maui Nui Luau.
Upon arrival, you will be welcomed with a warm fresh flower lei greeting, just like how the ancient Hawaiians taught the younger generations towards visitors. You will also receive a refreshing Hawaiian Mai Tai or Blue Hawaiian cocktail. Just as the sun hides from the most stunning beaches in the world, Maui Nui Luau also begins, giving you an extraordinary experience. A cliff ceremony happens, wherein they light the torches to ignite the celebration before an exceptional cliff dive to the Puʻu Kekaʻa. Before the delightful eat-all-you-can dinner, immerse yourself in traditional Hawaiian activities where you can learn games, arts, and crafts.
One of the highlights of most luaus is the imu ceremony or the uncovering of the kalua pig from the underground oven or imu. Maui Nui Luau takes pride in replicating exactly how the early Hawaiians did the imu ceremony during their feasts and festivities. You will witness how your delicious roasted pig was cooked, along with narration and ritual from a local. When it's time for dinner, the pork will be shredded and served along with other dishes, including Waipoli greens, Poi, Lomi Lomi salmon, local style fried rice, potato macaroni salad, desserts, and many more. 
When your plates are clean, prepare for an extraordinary show that makes you hold onto your seats! Drumbeats start to fill the air, which makes the vibe even livelier. Be entertained with the presentation of the famous Hawaiian wedding song Ke Kali Nei Au dance. Meaning "Waiting for Thee," which was written by Charles King to his operetta prince in Hawaii in 1926, the song is not only for weddings but also to remember the vast history of Hawaii.
In addition to exciting presentations showcasing Maui and other Hawaiian islands, you also get to watch performances featuring other Polynesian islands. Sit back and relax as you watch the multi-talented performers demonstrate the exotic and romantic Tumi Iti Ame dance of the Tuamotus. As a grand finale, you will witness a thrilling and hair-raising Samoan fire-knife dance that will truly mesmerize you! Watch as the performer demonstrates the real meaning of the dance, displaying athleticism, fire, and danger as he twirls, toss, catch, and throw a flaming machete at unimaginable speeds. With Maui Nui Luau, you don't only go home with a full stomach but also with a joyful heart.
Maui Nui Luau Packages
STANDARD SEATING
Receive a fresh flower lei

Witness an authentic imu ceremony

All-you-can-eat buffet

NOT first or second-row seating
PREFERRED SEATING
First or second-row seating

First queue for the all-you-can-eat buffet

Receive a fresh flower lei

Witness an authentic imu ceremony
Maui Nui Luau Highlights
Fresh flower lei greeting (if flowers are not available, a wooden necklace will be used as a substitute), Mai Tai and Blue Hawaii cocktail

Cliff Dive Ceremony – completed at 5:45 pm (time subject to change seasonally)

Imu ceremony – Hawaiian underground oven cooking

Kapa and bookmark making, Rosette Hair Piece, Temporary Polynesian Tatau, Ihe Pahe'e (spear sliding), Ulu Maika (stone rolling)
*Activities may be subject to change without notice.
Casual hulas and storytelling

Polynesian crafters

All-you-can-eat luau buffet

Complimentary Bar – Alcoholic & Non-Alcoholic Beverages 
*Guests must have proper ID, showing they are 21+ years of age.
Pareo fashion show

Tihati Polynesian Revue Spectacular
Maui Nui Luau Menu
Waipoli Greens: Ranch, Papaya Seed Dressing GF NF SF V

Maui Gold Pineapple, Li Hing Mui GF NF SF DF V

Lomi Lomi Salmon GF NF SF DF

Potato Macaroni Salad NF SF V

Pohole Fern Salad NF SF DF V

Poi GF NF SF DF V

Cucumber Namasu GF NF SF DF V

Poke'

NF SF DF

Local Style Fried Rice NF DF

Steamed Molokai Sweet Potato, Coconut Butter Glaze GF NF SF V

P.O.G BBQ Chicken GF SF NF DF

Steamed Opakapaka, Asian Aromatic Relish NF DF

Teriyaki Steak SF NF DF

Vegetable Yakisoba NF DF

Kalua Pig GF SF NF DF
Maui Nui Luau Desserts
Chocolate Haupia Bar SF NF V

Macadamia Chantilly Cake SF V

Moloka'i Sweet Potato Crunch SF V
*Note: Menu is subject to change based on seasonality.
Gluten-free=GF

Shellfish-free=SF

Nut-free=NF

Vegetarian=V
Special Instructions
Check-in Location and Time:

Preferred Guest Seating opens at 4:30 pm (may change seasonally) and Standard Guest Seating opens at 4:45 pm (may change seasonally). Check-in is at the Sheraton Maui Resort, Sheraton Maui Resort. 
*Note: Validated parking is $2 that is paid directly to the parking attendant upon exiting. Valet parking is available at $5 per car.
Restrictions:

There are no specific restrictions for this activity. Please call ahead of time if anyone in your party has special needs.

Special Notes:

Guests in the preferred seating section attending with an infant (ages 0-5): If the child does not need a seat then there is no additional fee.

Operations:

Monday, Wednesday, and Friday

Duration:

5:30 pm to 8:30 pm