One of the advantages of choosing Maui as your travel destination among the major islands of Hawaii is its proximity to Lanai. An untainted and inhabited island in Hawaii, Lanai is a beautiful spot just a few miles from the west side of Maui, especially popular among divers and snorkelers.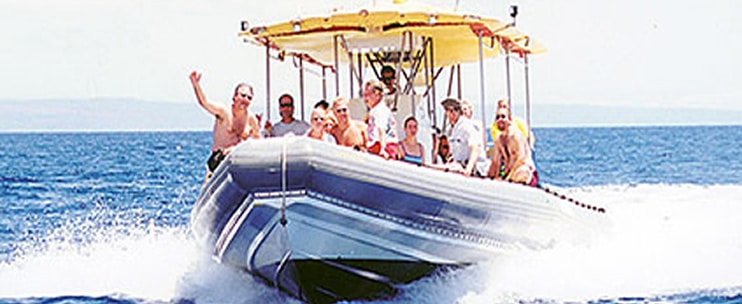 This island is home to pristine reefs and a wide range of sea creatures, and luckily for you, renowned tour operators such as Maui Adventure Cruises lets you explore this lovely Maui tour spot! Come and see why this island is a favorite among adventurers and explorers with the Lanai Deluxe Landing Adventure!
This tour departs from Lahaina Harbor, where you and your tour group will meet up and check in. During check-in, you will be served some hot coffee and fresh fruit juices to kick off the tour! Just before departure, each guest will also be provided with a cooler bag packed with a mouthwatering savory wrap and sides of chips and cookies—all inclusive of the tour price and which you can enjoy any time during the cruise. Truly, Maui Adventure Cruises' Lanai Deluxe Landing Adventure is a deluxe tour package that treats its guests to only the best service and inclusions!
With waters so clean and pristine, Lanai, unsurprisingly, is home to different species of fish, turtles, dolphins, and other marine organisms, many of which are endemic to Hawaii. Thus, during your stopover at one of the prime snorkel sites in Lanai, you will definitely have a delightful time getting close with these precious sea creatures! Maui Adventure Cruises' Lanai Deluxe Landing Adventure includes at least one off-shore snorkel site in the tour, in addition to a landing at Manele Harbor where you can choose to snorkel and swim some more. Apart from snorkeling, during this landing, you can also opt to walk to Hulopo'e Beach and Bay Marine Reserve, or hike to Sweetheart Rock, or just wade in the tide pools—the choice is yours!
As this tour package totals to 7 hours of tour time, you will certainly enjoy exploring Lanai and doing these thrilling activities. Truly the perfect way to level up your Maui getaway!
Do not miss out on this Lanai adventure of a lifetime! It's not every day that you get to go on a vacation in Maui, so you better make the most out of it by booking Maui Adventure Cruises' Lanai Deluxe Landing Adventure now!
Tour Highlights:
A relaxing sightseeing cruise to Lanai 

A snorkeling adventure in at least one off-short snorkel site 

An up close encounter with a wide range of marine life 

An opportunity to go on a quick Lanai hike

Plenty of photo opportunities above and below water

Coffee, fresh juices, light snacks, and packed lunch that guests can enjoy on-board
 NOTE: Food options are subject to change without prior notice. Maui Adventure Cruises also reserves the right to amend tour inclusions in light of the COVID-19 safety measures and protocols in place at the time of the tour.
Special Instructions:
Check-in time is at 9:00 AM. Make sure to check in early as the tour will depart promptly at 9:30 AM.

Check in a Lahaina Harbor, Slip #11.

The following are the requirements and restrictions to join this activity:

All guests must at least be 5 years old.

Pregnant women are not allowed to participate.

Those with neck or back problems or any serious health concern or those who have recently had surgery are also discouraged to participate.

For everyone's safety and protection against COVID-19, all guests and crew are required to wear a mask at all times, except during swimming/snorkeling, eating, and drinking.

While this tour does not require any prior knowledge on snorkeling or advanced snorkeling skills, it is advisable that participants are comfortable to swim in open water. 

As of this time, operation days are Mondays, Wednesdays, and Fridays.

Tour duration is approximately 7 hours. Tour is set to return at around 4:00 PM.