TGI Friday! Make your Friday night extraordinary as you watch the Hawaiian skies light up with a shade of mesmerizing bright-colored sparks after enjoying a sumptuous island-style dinner.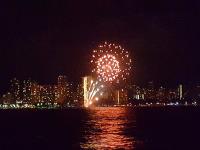 All of these happen in a modern boat while sailing on the pristine Pacific waters. Makani Catamaran, one of the finest sailboats in Hawaii, presents the Friday Night Fireworks Sail where you could enjoy 2 hours of adventure-style fine dining, sunset gazing, picture taking, drinking your favorite beverage, and watching spectacular fireworks. And if luck cooperates (which usually does), you could have a glimpse of some marine lives showcasing their swimming skills like sea turtles, whales and dolphins in the moonlight.
Featuring a cozy covered cabin seating area, full bar, two large freshwater restrooms, Bose surround sound system, pilothouse seating, LCD TV, sunbathing net areas, and a viewing deck (which is probably the most special spot on the boat), the Makani Catamaran is perfectly built for your authentic and most exciting sailing experience. Here's a fun fact that is worth sharing: did you know that it was the Polynesians who first developed the catamaran-style boats, which also played a vital role in exploring the Pacific, including Hawaii? Well it's good to know that you are a part of this exploration, isn't it? So, what are you waiting for? Book your tickets now and come aboard!
Friday Night Fireworks Sail: What to Expect?
As a part of your package, a bus picks you up from your hotel (major Waikiki hotels only) at around 5:30 pm so, make sure to be ready before this time. You can wear anything you want, as long as you're comfortable. Just ensure that you bring a light jacket to warm you from the cold winds in the sea and you might as well wear solid shoes with rubber soles to avoid slipping on the outer decks of the yacht. If you're driving your own or rented car, check-in at the Kewalo Harbor at least 30 minutes before it departs at 6:00. Please note that the parking fee applies.
A small group of crew greets and welcomes you aboard as soon as you step on the boat. They are friendly and accommodating, always looking at your needs while sharing some stories about the Pacific. The Makani Catamaran departs at exactly 6:00 pm and at the same time, the staff starts giving away a complementary drink (alcoholic or non-alcoholic). The fully-stocked bar also starts to open, where you could order any drinks you prefer at reasonable prices. Some people ask if they get motion sickness. Thankfully, catamarans have two hulls with unique benefits which are stability and speed. You can actually go faster with less rocking. But if you're still a bit hesitant, please visit a doctor for some great tips. Anyhow, the crew does everything to prevent seasickness and helps if you do get it. Sounds funny but they have "buckets" prepared.
A few minutes in the water, they start calling for dinner. Here, you could enjoy plenty of choices, whether you're a vegan or meat lover. Enjoy steamed white rice with island-style beef with vegetables, and chicken like Pacific Islanders do. Roasted Red Potato Salad with hints of Olive Oil & Dijon is also available, along with curry tofu and vegetable wraps. Satisfy your sweet cravings with Macadamia nut chocolate chip cookies, which are full of Hawaiian Macadamia nuts. What a delightful treat, indeed! 
After Dinner Splurge
While the lower cabin is so inviting that you want to hang out more and drink the night away, more people spend most of their time in the upper deck, where they walk around and see all the beautiful things surrounding them – the Waikiki shoreline, the Diamond Head, the sunset and don't forget, the fireworks! Do you remember the movie "Titanic" when Jack let Rose stand in the railing of the ship, grabbing her arms, extending them out where she said, "I'm flying"? Guess what? You can imitate this, standing at the very end of the hull and taking a Titanic photo. 
If you want to get splashed, which kids usually enjoy, you can stay on the nets and feel a few drops of Pacific water on your skin. On the upper deck, you'll get to see turtles bobbing up for air just a few feet away. On the other side of the hull, dolphins are swimming gracefully, looking like they want to befriend you. Across the bow, flying fish are crossing. Perhaps for hunting or getting away from a predator. The Captain makes sure to sail towards where these beautiful creatures are. You can also hang out with the Captain or crew for a meaningful conversation. So, you see. Everyone seems to find a perfect spot on the yacht where they see everything they want to see.
The Fireworks 
Celebrate your Makani Catamaran Friday Night Sail with a close-up view of the magnificent Fireworks show from the water. Watch the skies of Honolulu transform your evening into a magical moment and be reminded that life is full of so many beautiful things, after all.
TOUR HIGHLIGHTS:
Sail along the beautiful beach of Waikiki 

Magnificent views of the Aloha Friday Fireworks show

Opportunity to see a variety of marine life, including green sea turtles, dolphins and whales 

Sunset dining at a modern yacht on the sea

Postcard-worthy picture-taking opportunity
TOUR INCLUSIONS:
1 complementary drink (choice of alcoholic and non-alcoholic beverages) 

Roundtrip transportation (from Waikiki hotels)

Island-style dinner (with hot and cold selections)
DINNER SELECTIONS:
Island Style Chicken

Island-Style Beef & Vegetable Stir Fry with Sweet Onion, Zesty Carrots and Crisp Celery

Steamed White Rice

Curry Tofu & Vegetable Wraps

Roasted Red Potato Salad with Olive Oil & Dijon

Macadamia Nut Chocolate Chip Cookies