Witness expert hula, chanting and song by one of Hawaii's most talented performing troupes.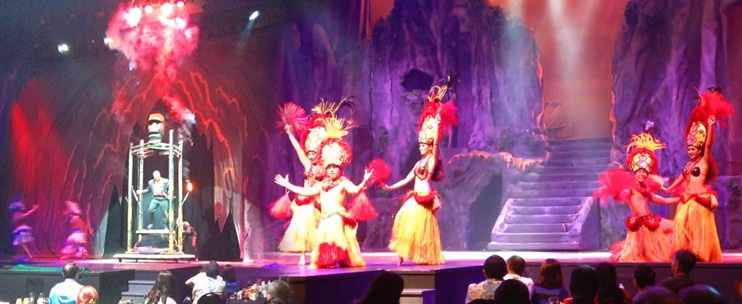 Sit mesmerized as they illustrate the history and lore of the Islands. Absorb this unique Polynesian experience conveyed with the magic of internationally acclaimed illusionist John Hirokawa, winner of the International Magicians Society "Most Original" Merlin Award – the Oscar of Magic. There's humor, nail-biting suspense, mystifying escapes and more to capture audiences of all ages!
Set in the comfort of Waikiki's premier dinner theater, Magic of Polynesia delivers on its billing as the Ultimate Stage Spectacular. It dazzles with light, sound and action from start to finish…from the primitive torches of a Polynesian fire dancer to the sophisticated special effects of lasers and sound when simulating a volcano erupting and other magical illusions.
This Cocktail Show package includes a cocktail from a wide variety of choices on our drink menu and an upgraded seat in the showroom.
Show Highlights
1.5-hour Polynesian magic show
Set in the comfort of Waikiki's premier dinner theater
Internationally acclaimed illusionist John Hirokawa
Learn about Polynesian culture and dances
One cocktail included
For a limited time choose the Free Dinner Promo price option to include a Bento Box style dinner.
You must select the Free Dinner Promo price description to be signed up for dinner.
Bento Box plate includes: Signature Hawaiian BBQ Chicken, Kalua Pork & Cabbage, Yakisoba Noodles, & Hawaiian Macadamia Nut Chocolate
Menu subject to change without notice.
Special Instructions
Where and When
Check in at 6:30 pm. Showtime 7:00 pm to 8:00 pm.
Waikiki Beachcomber Hotel (2300 Kalakaua Avenue) View Map
The Waikiki Beachcomber offers valet parking for $6 for 4 hours (rate subject to change).
Restrictions
There are no specific restrictions for this activity.
Special Notes
Sunday and Monday performances may feature a different illusionist.
Operation Days
Tuesday, Wednesday, Friday & Sunday