Enjoy a memorable evening with Kauai's newest luau right at the beautiful oceanfront at the Sheraton Kauai Coconut Beach Resort in Kapa'a, featuring the traditional music, dance, and cuisines of Hawaii and its neighboring Polynesian islands!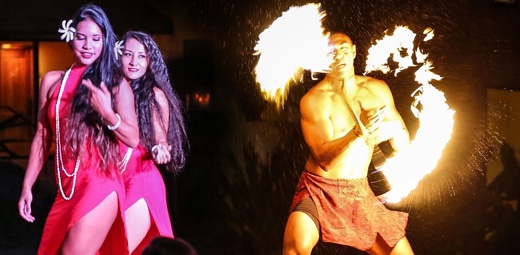 As they say, when attending a luau, make sure to arrive hungry because you will be feasting on an eat-all-you-can dinner. Along with it, some guests who want to get into the Aloha spirit don their most authentic Hawaiian wears, although it is never a requirement in luaus. The most important thing is you feel comfortable with the clothes you're wearing, and enjoy the event. But if you prefer to dress up for the night, you may simply wear a Hawaiian-designed polo shirt and shorts if you are a gentleman. For ladies: you can wear floral-designed skirts. For your footwear, slippers, sandals, or flip-flops are desirable. 
As soon as you arrive, you will be warmly welcomed by their friendly staff in their authentic, vibrant traditional Hawaiian outfits, and then escort you to the luau grounds right in front of the ancient royal surfing grounds. The event will start with a beautiful torch lighting ceremony, headed by men in loincloths. Ancient Hawaiians used torches as a light source when walking at night or fishing. In the 1950s, the manager of Coco Palms Hotel on Kauai, Grace Guslander, invented such a ritual, which is now common in many luaus. 
Once you are settled, watch their beautiful dancers perform the mesmerizing ancient dances or hula kahiko, led by one of Hawaii's best Kumu hula (hula masters) – Leilani Rivera Low. The early Hawaiians used hula dancing to tell stories. These days, it is usually paired with chants and contemporary music – either slow and sentimental in tempo or fast and energetic. It animates history, prophecy, genealogy, and the tales of those who lived in the past. You can order your favorite cocktail from the open bar while enjoying the show.
Luau Maka'iwa's mission is to tell the stories of Hawaii and the greater Polynesia through dances, music, and traditional dishes to the visitors. When it's time for dinner, you will feast on hot and cold menus with a wide range of selections, plus delightful desserts. The best thing about this luau is that if you follow a certain diet, they included options in the menu. While enjoying your meal, drumbeats fill the air just like how the Hawaiians and Polynesians did during festivities and feasts in the past.
After eating, brace yourself and prepare for a world-class show. Be mesmerized as the dancers demonstrate various dances of Hawaii and its neighboring islands. As a finale, hold your breath for a hair-raising Samoan fire-knife dance where the dancers set the stage on fire! Siva Afi or the Samoan fire-knife dance, originated in Samoa, incorporating a Samoan weapon nifo oti or war knife. The performers will twirl the blade with a cloth on both sides set on fire while they showcase acrobatic tricks at a speedy pace. With Luau Maka'iwa, you will not only go home with a full stomach but also with a joyful heart, as well as additional knowledge about the Polynesian cultures and traditions.
Luau Packages and Inclusions
STANDARD SEATING INCLUSIONS
Buffet dinner & luau show

Seating behind the VIP section

Seating is pre-assigned
VIP SEATING INCLUSIONS
Buffet dinner & luau show

Seating closer to the stage at round tables (tables seat 8 guests) 

Ladies receive a flower for their hair. Gentlemen receive a ti leaf lei.

Seating is pre-assigned
Luau Highlights
Enjoy a luau on ancient royal surfing grounds on Kauai's scenic east shore

Cocktail reception, followed by cultural and arts demonstrations

Option to buy an authentic, hand-crafted souvenir

Torch lighting ceremony

Delicious luau feast, featuring a wide variety of island-style delicacies

Spectacular Polynesian show with award-winning hula, as well as Tahitian, Maori, Tongan and Samoan dances
Luau Menu
HOT DISHES
Green Coconut Curry Mahi Mahi (Fresh Island Fish) *gf, df, pf, sff

Kalua Pork *gf, df, pf, sff

Huli Huli Chicken *df, pf, sff

Kauai Vegetable Chow Mein *df, pf, sff

Stir Fried Vegetable *df, pf, sff

Kaffir Lime Scented Calrose Rice *gf, df, pf, sff

Island Sweet Potato Hash *gf, df, pf, sff
COLD DISHES
Lomi Lomi Salmon *gf, df, pf, sff

Potato Mac Salad *pf, sff

Salad Bar

Poi *gf, df, pf, sff

Rolls *pf, sff
DESSERT
Papaya Mango Rice Pudding *pf, sff

Pineapple Upside Down Cake *pf, sff

Coconut Haupia *pf, sff

Coffee & Tea Station
OPEN BAR
Beer

Wine

Mai Tais

Soft Drinks
*Note: Gluten-free = gf, Dairy-free = df, Peanut-free = pf, Shellfish-free = sff
Special Instructions
Check-in Location and Time:

Check-in at 5:15 pm at the Sheraton Kauai Coconut Beach Resort (formerly Courtyard Kauai at Coconut Beach), 650 Aleka Loop, Kapaa, HI 96746. The luau grounds are located at the north side of the resort.
DIRECTIONS: From Princeville, head south on Highway 56. In Kapaa, go past McDonalds and turn left on Aleka Loop (Longs Drugs). Make the first left into Sheraton Kauai Coconut Beach Resort and follow signs to Luau parking.
From Poipu, head north on Highway 50 past Lihue to Highway 56 north. Cross over the Wailua River and go past Coconut Marketplace. Turn right on Aleka Loop at Longs Drugs. Make a left turn into Sheraton Kauai Coconut Beach Resort and follow signs to Luau parking.
*Note: Luau ends around 8:30 pm.
Restrictions:

There are no specific restrictions for this activity. Please contact us if anyone in your party has special needs.

Operations:

Thursday and Sunday
Duration: 3 hours