Nothing beats a luau in a picturesque location that provides a glimpse of the 1930s Hawaiian life with a 16,000 square-foot Tudor mansion nearby, which used to be a home for the most prominent families on the island.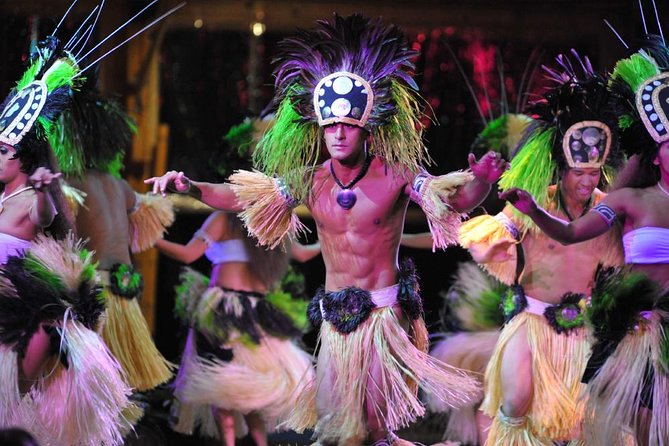 Are you spending a holiday in Kauai? Perhaps you are already here. Then Luau Kalamaku deserves the top spot on your must-see list for many reasons. First of all, it is nothing like the usual luaus that you have probably attended to. If this is your first time seeing a luau, then you are lucky because you will surely have a good time. Held at the historic and spectacular Kilohana Plantation just outside of Lihue, Luau Kalamaku features a world-class show with their multi-talented local performers. It is not named the "Best Luau Show" by the Lonely Planet for nothing. In addition, you can have an opportunity to enjoy a train ride through the plantation before the luau.
As soon as you arrive, you will be welcomed with a warm lei greeting just like ancient Hawaiians did to their guests in the past. If you selected the option for the train ride, travel back to the past as the railway ride takes you through the 105-acre plantation. Your friendly conductor leads you through historic plantation homes, a low land forest, and lets you see vast, endless fields of papaya, pineapple, banana, sugarcane, and taro. You will also get to feed a herd of cattle, sheep, and goats. Plus, you can watch their resident wildlife, including geese, horses, wild pigs, donkeys, and Clydesdales. So, if you travelled with your kids, this is a perfect chance for them to see such animals. You will return in time to witness the imu ceremony and the evening's presentations.
If you are into authentic traditional Hawaiian activities, you can participate in crafts, arts, games, or maybe visit Kilohana's mansion with unique shops and galleries. Before feasting, witness how the kalua pig is unearthed from the imu, an underground oven that early Hawaiians used to steam pigs and other dishes during festivities. Building an imu is time-consuming and a difficult task. Aside from digging two to four-foot deep pit, they have to make sure that the hole can accommodate the size of the pig, stones, and other vegetation. The goal is to make it compact after placing all the materials and ingredients. A large pig is estimated to be cooked after six to eight hours, in addition to the two to three hours of heating the stones before cooking. 
When it's time for dinner, you can have a taste of mouthwatering cuisine, including salads, fruits, desserts, teriyaki chicken, mahi-mahi, kalua pork, and many more while their performers will entertain you.
Following your meal, a 45-minute show begins as the dancers take the stage and mesmerize you with a one-of-a-kind performance of the ancient Hawaiian legend of Kalamaku or the "child of the new land." You will also watch the dangerous journey of Polynesians from Tahiti to Kauai. As a grand finale, brace yourself for a breath-stopping performance of the Samoan fire knife dancing as the stage is literally set on fire.
Luau Schedule
5:00-6:30: Enjoy craft demonstrations & Hawaiian games

5:30-6:10: Catch a ride on the Kauai Plantation Railway (additional charges apply)

5:00-7:30: Open bar

6:15-6:30: Imu ceremony

6:30-7:30: Dinner, dessert, coffee, live music, and traditional hula

7:30-8:15: Main show – Kalamaku

8:15-8:30: A photo session with the cast
Luau Highlights
Delicious Hawaiian luau buffet

Authentic award-winning Hawaiian show

Open Bar

Hawaiian Hula dances

Traditional fire knife dancing

Hawaiian crafts, arts
Luau Menu
STARTERS
Kauai Fresh Green Salad with Choice of Two Dressings: Romaine Lettuce, Organic Red Leaf, Cucumber, Tomato, and Red Radish VEGAN~GLUTEN FREE

Papaya Seed Dressing: Fresh Papaya, Papaya Seeds, Clover Honey, Mayonnaise, Li Hing Mui (Dried Plum), Lemon Juice, Salt and Pepper, Buttermilk (Eggs) VEGETARIAN~GLUTEN FREE

Balsamic Vinaigrette: Balsamic Vinegar, Olive Oil, Fresh Basil, Sugar, Aji Mirin (Rice Wine), Garlic, Black Pepper, Salt VEGETARIAN~GLUTEN FREE

Potato Macaroni Salad: Potatoes, Macaroni, Onion, Celery, Garlic, Green Onion, Mayonnaise, Green Peas, Salt and Pepper (Eggs) VEGETARIAN

Vegetarian Tofu Salad: Tofu, Fresh Tomato, Red Ogo, Maui Onion, Yamasa Shoyu, Powdered Ginger, Sugar, Aji-Mirin (Rice Wine, Glucose Syrup, Corn Syrup, Salt) and Sesame Oil VEGAN

Fresh Pineapple and Papaya Platter: Hawaiian Grown Pineapple, Locally Grown Sunrise Papaya VEGAN~GLUTEN FREE
ENTREES
Lomi Lomi Salmon: Tomatoes, Diced Salmon, Onions, Green Onions, Salt GLUTEN FREE

Taro Rolls: Taro, Wheat Flour, Yeast, Water, Food Color and Eggs, Served with Honey Butter VEGETARIAN

Vegetable Chow Mein: Chow Mein Egg Noodles, Bok Choy, Carrots, Celery, Onions, Bell Peppers, Wonbok, Garlic, Shoyu, Lemon Juice, Sambal (Chili Paste), Sesame Oil, Soybean Oil, Vegetable Base, Sugar VEGETARIAN

Steamed Jasmine Rice: Aromatic Thai Jasmine Rice, Star Anise, Salt, Water, Lemongrass VEGAN~GLUTEN FREE

Hawaiian Mashed Purple Sweet Potatoes: Kauai Grown Purple Sweet Potatoes, Butter, Coconut Milk, Half and Half, Nutmeg, Salt and Pepper VEGETARIAN ~GLUTEN FREE

Yellow Curry Ratatouille: Japanese Eggplant, Zucchini, Red Bell Pepper, Onion, Carrot, Baby Corn, Chinese Long Bean, Fresh Ginger, Lemongrass, Yellow Curry Paste, Fresh Garlic, Coconut Milk, Kaffir Lime Leaf and Thai Basil, Vegetable Base, Salt, Soybean Oil VEGETARIAN

Teriyaki Chicken: Marinated Chicken Thighs in Shoyu, Ginger, Garlic, Water, and Sugar. Top with Teri Glaze: Shoyu, Ginger, Garlic, Water, Sugar, and Cornstarch

Pan-Seared Mahi Mahi (Fish) with Tartar Sauce: Fillet of Mahi, Worcestershire Sauce (Distilled White Vinegar, Molasses, Water, Sugar, Onions, Anchovies, Salt, Garlic, Cloves, Tamarind Extract, Chili Pepper Extract), Salt, White Pepper, Flour, Lemon Juice, and Eggs

Kalua Pork: Whole Pig Roasted Underground in an Imu (Hawaiian Earth Oven) Wrapped in Banana Leaves, Salt, Liquid Smoke GLUTEN FREE
DESSERTS
Rice Pudding with Dark Rum Sauce: Pudding (White Rice, Condensed Sweetened Milk, Brown Sugar, Vanilla Extract, Unsalted Butter, Salt) VEGETARIAN

Rum Sauce: Water, Dark Rum, Unsalted Butter, Salt, Lemon Juice, Corn Starch, Brown Sugar VEGETARIAN~GLUTEN FREE

Haupia: Coconut Milk, Sugar, Salt, and Cornstarch VEGAN~GLUTEN FREE

Banana Cream Pie: Butter, Sweetened Coconut Flakes, Eggs, Salt, Sugar, Corn Starch, Half and Half, Vanilla, Crème de Banana, Egg Whites VEGETARIAN~GLUTEN FREE

Pineapple Upside Down Cake: Topping (Fresh Pineapple, Brown Sugar, Unsalted Butter, Dark Rum, Cornstarch), Cake Milk, Unsalted Butter, Eggs, All-Purpose Flour, Sugar, Baking Powder, and Salt, Comes with a Dollop of Whipped Cream VEGETARIAN
PLANTATION OWNER'S EVENING OPTION
This option is a combination of the Luau Kalamaku evening show and a True Taste of Kauai, a specialized dinner at Gaylord's Restaurant at Kilohana.
Schedule of the evening
5:00 pm: Fresh flower lei greeting & check-in at the plantation home
5:15 pm: Champagne reception
5:25 pm: Four-course dinner at Gaylord's Restaurant featuring signature items
6:45 pm: Shopping at the galleries and boutiques inside the plantation home
7:05 pm: Torchlit walk to the Luau Pavilion & stop at the Mango Bar for a Mai Tai or glass of wine
7:30 pm: Premium reserved seating at Kalamaku, the luau show
 Plantation Owner's Evening Dinner Menu (subject to change without notice):
Appetizer: Shrimp & Scallop Spring Rolls OR a Pickle Beet Salad

Salad Choice: Kilohana Garden Green Salad OR Island Caprese

Entree Choice: Sesame Seed Seared Fresh Catch OR Cumin and Coriander Scented Pork Tenderloin OR Vegetarian Special of the Evening

Choice of Dessert and Coffee: Banana Cream Pie OR Profiteroles with White Chocolate Gelato OR Mandarin Orange Anglaise, Kauai Coffee/Hot Tea
Special Instructions
Check-in Location and Time:

For the full luau, check-in is at 5:00 pm. For the Show Only option, check-in is at 7:00 pm. Luau Kalamaku is located on Highway 50. The address is 3-2087 Kaumualii Highway, Lihue, HI 96766.
DIRECTIONS: If you are on the south or west side of Kauai, head EAST. Kilohana Plantation is located directly after the Kauai Community College on the left-hand side of the road. Look for the white picket fence. The Luau is located next to the Kauai Plantation Railway station at the far left end of the parking lot.
Transportation add-on: Transportation is roundtrip and per person. Depending on the location, pick-up is between 3:30 pm and 5:00 pm. The exact times will be emailed to you. Transportation can be added to the Plantation Owner's Experience, but not the Show Only package.
Select the transportation option based upon the information below:
North/Central Service stops: Alii Kai Princeville, Aqua Kauai Beach, Best Western Plantation Hale, Cliffs at Princeville, Hanalei Bay Resort, Kauai Coast Resort, St. Regis Resort Kauai, Westin Villas, Waipouli Beach Resort.
Poipu Service stops: Embassy Vacation Resort Poipu, Grand Hyatt Kauai, Kiahuna Plantation & Bungalow, Lawai Beach Resort, Outrigger Kiahuna Plantation, Point at Poipu, Sheraton Kauai Resort, Suite Paradise.
*Note: If you are not staying at one of these locations, pick-up will be at the closest location to where you are staying.
Restrictions:

There are no specific restrictions for this activity.

Special Notes: A high chair and a mini plate are available upon request for infants. Please call beforehand if anyone in your party has special needs. If you require an ADA lift bus, we do require at least 48 hours' notice to secure availability.
Operations:

Tuesday and Friday

Duration:

3.5 hours

Capacity:

Approximately 700 guests