This is the perfect combo package for adventure seekers.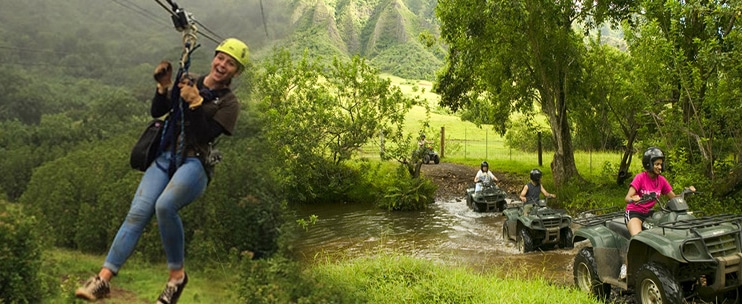 Experience the newest attraction at Kualoa Ranch, the 7-course Treetop Canopy Zipline Tour, and then venture deep into the jungle on UTVs as a driver or passenger! Your adventure begins at a scenic overlook within Ka'a'awa Valley. Enjoy a total of 7 zipline runs, each between 200 feet and up to a quarter mile in length, including 2 suspension bridges. Afterwards, hop on an UTV and drive up on mountain trails that pass World War II bunkers, through forests and into a green valley that's backed by the lush Ko'olau Mountains.
Tour Highlights
Enjoy 7 tandem zipline runs in total, ranging from 200 feet to a quarter mile in length
Zipline course includes 2 suspension bridges
Course features spectacular views of natural streams and native flora and fauna
Guided 1-hour UTV tour takes you to famous Hollywood blockbuster movie locations
Drive along mountain trails, through forests and enjoy scenic views of the ocean
Roundtrip transportation from Waikiki to Kualoa Ranch is available (choose this option in the shopping cart if you need transportation). Waikiki pick-up for any tour will be between 6:50 am and 7:30 am, or at 10:00 am. Please note the tour time when you book, as there may be a waiting period when you are at the ranch. Return times are available at 2:30 pm or 3:45 pm.
Special Instructions
Where and When
Check in is usually 45 minutes to 1 hour before tour time.
Kualoa Ranch is only 45 minutes from Waikiki. Take the H-1 Freeway west to the Likelike Highway, Route #63. Proceed up the Likelike Highway and through the Wilson Tunnel. Descend towards Kaneohe town and exit onto Kahekili Highway, Route #83, heading north. Continue along Kahekili Highway – note that the road becomes Kamehameha Highway as you pass the historic "Hygienic Store" in the village of Kahalu'u. In about 10 minutes you will see signs indicating you are approaching the Kualoa Ranch entrance which will be on your left as you round the curve past Mokoli'i Island (Chinaman's Hat).
View Map
Restrictions
All guests must attend a briefing and sign a liability waiver before tour begins.
Children under 18 must be accompanied by an adult on all tours.
Zipline Restrictions
Pregnant women or people who have had recent spinal injury (head, neck, back) or recent surgery may not participate in this tour. Any guests with injuries to the upper thigh, waist (above the hipbone) or shoulders should avoid this tour due to the harness.
Guests must be able to hike approx. 8-10 mins. across uneven terrain and gravel pathways. Hikes are usually in shaded areas
Height, waist & upper thigh sizes ensure proper fit of the harness.
Weight: 70 lbs to 280 lbs (30 kg to 127 kg)
Height: 4'8″ to 6'9″ (142 cm to 205 cm)
Waist: 22 in to 50 in (55 cm to 127 cm)
Upper Thigh: 18 in to 28 in (45 cm to 71 cm)
All guests must wear closed-toed shoes.
Long hair should be pulled back & loose jewelry or clothing should be avoided or tucked away. Harness straps are at the upper thighs, waist (above hipbones) and over each shoulder so guests should wear clothing that allow for these straps.
UTV Restrictions
All guests must attend a briefing and sign a liability waiver before tour begins.
Children under 18 must be accompanied by an adult at check in to sign the liability waiver.
Children under 13 must be accompanied by an adult on all tours.
Minimum driver age – 21
Minimum rider age -5
Maimum 6 guests per vehicle including the driver
No pregnant riders
All participants must be in good physical condition
All participants must wear covered (closed-toed) shoes. Long pants and sunscreen are recommended.
Special Notes
Kualoa Ranch Health and Safety Guidelines
All guests will be required to wear a face covering (i.e. mask/bandana) while on the property (including during tours). All guests will need to pass a mandatory temperature check & health screen at the ranch entrance to be allowed on the property (any temperature of 100.4 degrees or higher and/or those experiencing symptoms will not be allowed on the property at this time).
Operation Days
Operates daily, except 12/25 and 1/1
Please note that Waikiki transportation is not available until September!
Duration
Zipline tour: 2.5 hours
UTV tour: 1 hour