Saddle up and explore scenic forest trails at Kualoa Ranch, located in a lush valley on Oahu's windward coast.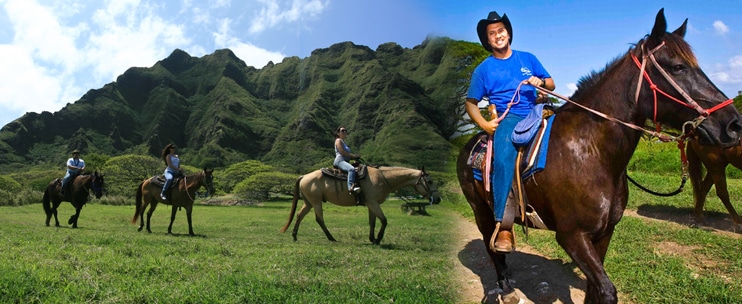 It is one of the most beautiful locations on the island. It is no wonder that so many Hollywood movies have been filmed here in the past, including Jurassic Park, Along Came Polly, Pearl Harbor, 50 First Dates, Godzilla and Lost.
The horses are very gentle and well-behaved. The 2-hour tour takes you deep into Ka'a'awa Valley, where you'll see various movie set locations. You'll also enjoy gorgeous views of lush forests, World War II bunkers, verdant cliff faces and the ocean.
Tour Highlights
Guided 2-hour horseback riding tour to the northern part of Kualoa Ranch
Ride deep into Ka'a'awa Valley, past World War II bunkers and through forested areas with views of the Kualoa Mountains and the ocean
Perfect horseback riding tour that lets you enjoy two hours in the saddle
Please note: Riders must be at least 10 years old to participate. All participants must wear covered (closed-toed) shoes, attend a briefing and sign a liability waiver. Long pants and sunscreen are recommended.
Special Instructions
Where and When:

Tour times: 8:30 am, 9:30 am, 9:45 am, 10:30 am, 12:00 pm, 12:30 pm, 1:30 pm and 2:30 pm

Check-in is 1 hour before the selected tour time.

Kualoa Ranch is only 45 minutes from Waikiki. Take the H-1 Freeway west to the Likelike Highway, Route #63. Proceed up the Likelike Highway and through the Wilson Tunnel. Descend towards Kaneohe town and exit onto Kahekili Highway, Route #83, heading north. Continue along Kahekili Highway – note that the road becomes Kamehameha Highway as you pass the historic "Hygienic Store" in the village of Kahalu`u. In about 10 minutes you will see signs indicating you are approaching the Kualoa Ranch entrance which will be on your left as you round the curve past Mokoli`i Island (Chinaman's Hat).
Restrictions:

All guests must attend a briefing and sign a liability waiver before tour begins.
Children under 18 must be accompanied by an adult at check in to sign the liability waiver.
Children under 13 must be accompanied by an adult on all tours.

Minimum age is 10 years old.
Minimum height is 4ft 6in (137 cm).
Maximum weight is 230 lbs (104 kg).
Covered shoes required.
Special Notes:

Kualoa Ranch Health and Safety Guidelines:
All guests will be required to wear a face covering (i.e. mask/bandana) while on the property (including during tours). All guests will need to pass a mandatory temperature check & health screen at the ranch entrance to be allowed on the property (any temperature of 100.4 degrees or higher and/or those experiencing symptoms will not be allowed on the property at this time).
Operation Days:

Thursday through Sunday
Closed on 12/25 and 1/1
Duration:

2 hours