Kualoa prides itself in 170 years of history, beauty, and adventure, as emphasized in itself tagline, and rightfully so, as these three things are what you will get to experience when you book any of its tours and activities.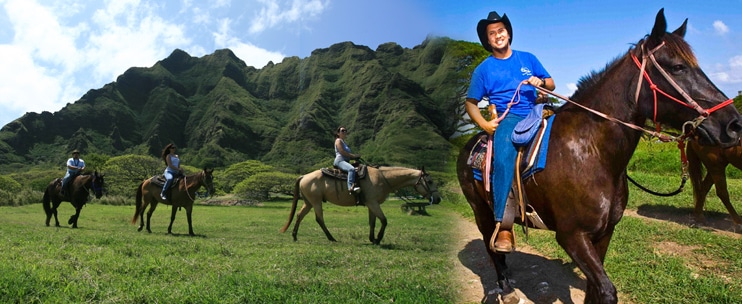 One of its most famous activities is the horseback riding adventure, which takes you to an exciting yet very relaxed ride through the lush greenery of Kualoa Ranch. Come and make your vacation in Oahu an awesome experience by booking Kualoa Ranch's 1 Hour Horseback Ride!
Established in 1850, Kualoa is an esteemed company that strives to enrich its visitors' experience by sharing with them the beauty of Kualoa' sacred lands and celebrating its rich history. What's great about Kualoa is that it does not only own and manage a vast land of lush green beauty that it gladly shares with you, it also advocates stewardship and environmental protection, which you will also get to learn about when you join any of Kualoa's tours. For this tour in particular, Kualoa Ranch's 1 Hour Horseback Ride lets you explore lush green landscapes, which are all beautiful but undiscovered spots on Kualoa Ranch, while riding majestic but very gentle horses.
Yes, these may not be the typical sights you imagined of a tropical paradise, but they are undoubtedly as spectacular and breathtaking–perfect for when you want a change of scenery away from the crowds of tourists hanging by the ocean! Kualoa Ranch's 1 Hour Horseback Ride is surely a peaceful way to enjoy a different side of the Island of Oahu!
Kualoa Ranch's 1 Hour Horseback Ride is a guided horseback riding tour, so you are sure to be in good hands with Kualoa's well-experienced tour guides. Your assigned guide will take you to the southern part of the ranch, and then to an 800-year old Hawaiian fish pond and to Chinaman's Hat (Mokoli'i Island), both stunning and well-preserved spots in the area. On the way, prepare to marvel at the panoramic views of the majestic cliffs and lush greenery, all so amazingly beautiful that they have been chosen as film locations many times! If you've seen Jurassic Park, Godzilla, and 50 First Dates, then you're in for a treat, as these are just some of the many films that have been shot in this breathtakingly stunning part of the Island. You will be amazed not only by how beautiful and peaceful these spots are, but also by how they are so well-kept and well-preserved. Truly, Kualoa Ranch's 1 Hour Horseback Ride will make you realize the charm and wonders of mother nature and the importance of taking great care of her. 
Kualoa Ranch's 1 Hour Horseback Ride is a surefire way to level up your experience in Oahu. It lets you go on an exciting horseback riding adventure, and, at the same time, lets you have a relaxing tour through the beautiful greenery of Kualoa Ranch–definitely a unique experience guests of all ages will enjoy!
Kualoa Ranch's 1 Hour Horseback Ride Tour Highlights
An hour of guided riding tour on Kualoa Ranch

Sightseeing through the southern part of the ranch, and to an 800-year old Hawaiian fishpond and the Mokoli'i Island

Horseback riding experience on gentle and well-behaved horses
Kualoa Ranch's 1 Hour Horseback Ride Special Instructions
Tour time is at 10:30 AM.

This tour operates from Monday to Saturday, except major holidays.

Make sure to check in at 9:30 AM for a briefing and document signing.

The following are not allowed to join the tour:

Children below 10 years old

Guests below 137 cm

Guests above 230 lbs

Pregnant women

Guests not in proper attire (closed shoes)

Roundtrip transportation with pick-up in Waikiki is available. Make sure to check with the staff regarding the details for this additional service.