What are your "to-do lists" when visiting the land of Aloha?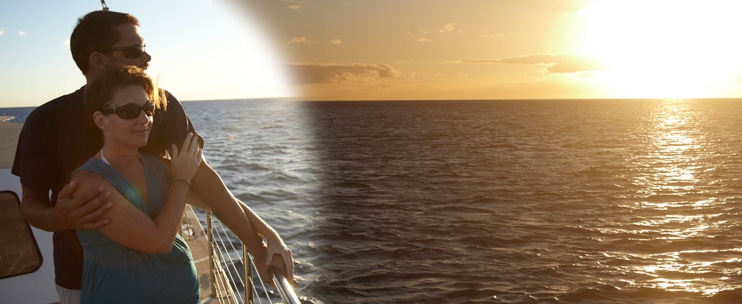 Are you a family with small kids? Or perhaps honeymooners, or groups of friends and colleagues wanting to experience an island-style relaxation? 
Well, put a check on Hawaii Nautical's Kona Sunset Sail. It is a 2-hour sea sightseeing, combined with a mouthwatering snack and cocktail party on board. Its state of the art catamaran Spirit of Aloha departs from the Anaehoomalu Bay, one of the most beautiful beaches in Big Island.  Let the romantic mood of Hawaiian waters sail your worries away and feel the tropical breeze of the Pacific Ocean while watching the picture-perfect sunset. Book your tickets now because they sell too fast!
How to Get to Anaehoomalu Bay?
Checking-in is easy. Get there at the check-in flag at least 20 minutes before the departure time, which changes depending on the season, usually at 5:00 or 5:30 pm. Anyway, this essential information is indicated in your confirmation email after booking.
If you're not familiar with the place (which we think you're not, especially if you're a visitor), set your GPS to "69-1081 Kuualii Place Waikoloa, Hawaii 96738." Upon arriving at the A-bay beach, park at the beach parking lot and head towards the middle. You can see an orange Hawaii Nautical check-in sign beside the two prominent coconut trees. The staff meets you there on a catamaran tender with a warm smile and leads the way.
What to Expect?
This trip requires you to wade through the water from a tender boat so you may come with your casual clothing that easily comes in contact with water. Your adventure starts at the beautiful and sandy A-bay beach, so wear shoes that you don't mind getting sandy.  Also, you need to remove your footwear when going to the shore from the beach.  Don't worry about a few carry-ons because the boat has a lot of spaces to store your things that will stay dry. In fact, Hawaii Nauticals is one of the cruise providers in Hawaii with large vessels. Plus, they follow federal guidelines that aim to protect the ocean and its marine mammals and wildlife.
Upon boarding, you can instantly see that the boat is well-maintained with a clean and beautiful cabin and deck. This 49-passenger catamaran features indoor seating with tables, full bar, top-notch surround sound system, shaded areas, him and her restrooms, and a fresh water shower. Guests choose to stay on the deck most of the time because they can clearly see the spectacular view. This is also an opportunity to sunbathe and relax under the afternoon sunshine. So settle where you're most comfortable with and brace yourself for an unforgettable sea trip.
As you sail along through the west side of Big Island's coast, you will be served two complimentary alcoholic beverages (beer or tropical cocktails). You can order from the bar at an affordable cost if you feel like sipping more. Meanwhile, for guests who prefer non-alcoholic drinks, don't be surprised if the crew keeps on pouring your cups with more soft drinks and juices because it's unlimited. Delicious, light snacks are also served, which you can eat throughout the cruise. era and capture the alluring blue ocean waters. At the same time, watch out for some beautiful fish swimming, green sea turtles gasping for air, or whales' head breaching. A lot of guests have had the luck to spot these sea creatures up close. So hopefully, luck stays on your side this time, too. After a few hours of enjoying the shore, finish off your trip with a satisfied heart and stomach, with the sunset as your witness.
TOUR INCLUSIONS:
With the Kona-Kohala coast in the background, ready your cam
2 Complimentary alcoholic beverages (beer and cocktails) and non-alcoholic drinks (soft drinks and juices)

Delicious pupus (appetizers) 

Cruise fee
Know Before Booking:
Exact check-in times will be in your confirmation email after booking. 

This trip operates seasonally as follows:
Summer

– Leaves the bay at 5:30 pm 

Winter

– Leaves the bay at 5:00 pm 
*Check-in at least 20 minutes before your scheduled cruise time.
Check-in is at the A-Bay beach. Head towards two prominent coconut trees where you can find the orange Hawaii Nautical check-in banner beside the two 

Wear any casual clothing and shoes that easily come in contact with water. You may bring a light jacket.