What's great about going on an eco-adventure is that you do not only get to appreciate the beauty of nature, but you also get to learn how to properly preserve and take good care of it, too.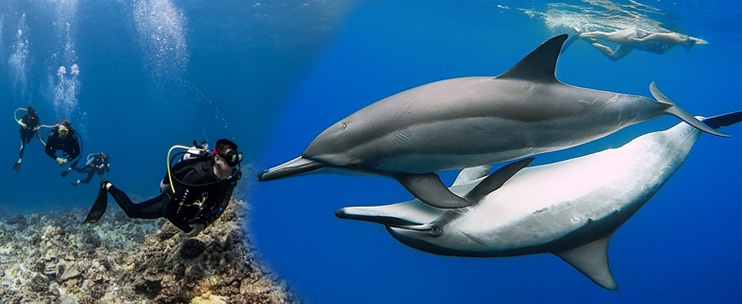 This, precisely, is what Kona Diving EcoAdventures prides itself in. One of the few tour operators on the island that guarantees an educational and insightful tour package in Big Island, Kona Diving is definitely what you need for an enjoyable and illuminating time at sea. For an entire morning of learning and fun under the sun, come and join Kona Diving EcoAdventures' Reef and Dolphin Snorkel Tour!
This eco-tour departs from Honokohau Harbor at 9:00 in the morning and brings you to awe-inspiring spots along Kona Coast that are teeming with a wide variety of marine life. These areas include Keahole Bay, Ho'ona Bay, and Kiholo Bay, just to name a few! These identified spots on Kona are mostly where Hawaiian spinner dolphins and many other marine organisms frequent, so you will most certainly have an exciting and captivating sea life encounter here. Prepare to see dolphins, green sea turtles, manta rays, and tropical reef fish up close and personal, as they swim freely and enjoy themselves in their beautiful natural habitat. This is a one-of-a-kind experience, no doubt!
As mentioned, Kona Diving EcoAdventures' Reef and Dolphin Snorkel Tour is not just an ordinary snorkeling excursion. To accompany you are Kona Diving's professional snorkel guides and expert marine naturalists, who will enlighten you about Hawaii's precious marine life and, more importantly, how to conserve and care for it and the ocean these sea creatures call home. These experts will share with you, too, the do's and don'ts on dolphin interaction, so that these precious marine mammals do not feel threatened and disturbed throughout the duration of your snorkel tour. Through Kona Diving EcoAdventures, both humans and animals are safe and satisfied!
Kona Diving EcoAdventures' Reef and Dolphin Snorkel Tour is an approximately 4-hour tour, with its end time at around 12:00 in the afternoon. While 4 hours does not seem that long, trust that this tour package is going to give you beautiful memories and learnings that will last you a lifetime.
TOUR HIGHLIGHTS
Indulge in the picturesque seas and coastline of Kona Coast, which offer plenty of photo opportunities

Watch Hawaiian dolphins jump and leap playfully into the air

Go snorkeling and get an up close encounter with dolphins and many other marine organisms like tropical reef fish, manta rays, green sea turtles, and a whole lot more!

Learn about Hawaii's abundant marine life through expert divers and naturalists on-board
TOUR INCLUSIONS
Kona Diving EcoAdventures' Reef and Dolphin Snorkel Tour is inclusive of the following:
High quality flotation devices and snorkel gear (Guests are free to bring their own gear.)

Light snacks and refreshments on-board: wraps, fresh fruits, soda, and water

An educational discussion on Hawaii's ocean and marine life *
* This includes instruction on how to properly swim with dolphins, wherein all snorkelers are expected to be gentle and be respectful of these creatures' personal space.
Special Instructions
Check-in time is 8:30 AM. Make sure to check in early as the tour will depart promptly as scheduled. 

Check in at Honokohau Harbor, Slip C-1. The landmark for Kona Diving EcoAdventures is the "Manta Ray Dives of Hawaii" sign. You may also look for Kona Diving's boat, The Manta, which you will find on the left of the boat ramp. 

The following are the requirements and restrictions to join this tour:

Snorkelers must be able to swim comfortably in open water.

This activity is recommended for guests at least 6 years old.

Snorkelers who are below 18 years old must be accompanied by a parent or guardian at all times.

Note that while dolphin sightings are common and very likely to occur in all tours, it is not always guaranteed. 

This tour operates daily.

Tour duration is approximately 3.5 to 4 hours. Tour is set to return to Honokohau Harbor at around 12:00 to 12:30 in the afternoon.

This tour utilizes a 40-foot catamaran, equipped with a swim platform, a hot water shower, an extra large ladder, and comfortable FlyBridge seats to give guests a 360-degree view of the ocean on the cruise.