Kona has been esteemed as one of the best locations for a dive, what with its clear waters, abundant marine life, and well-preserved coral and rock formations.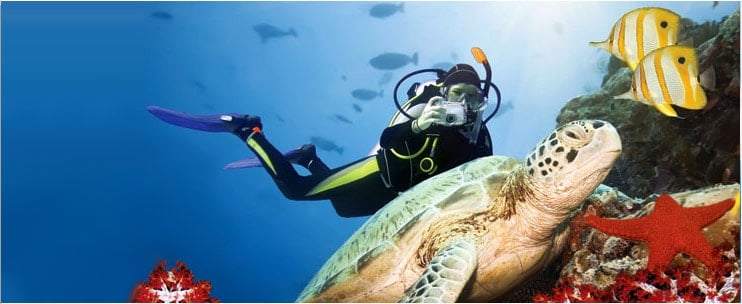 Certainly, there is no better way to make the most out of your trip to this part of Hawaii than by going on a scuba diving adventure! Come and join Kona Diving EcoAdventures for a fun-filled day of underwater exploration, animal encounter, and just pure, unforgettable fun!
Kona Diving EcoAdventures is a renowned tour operator in Kauai, which is run by an experienced and passionate team of professionals who will ensure your utmost safety and enjoyment throughout your booked tour. For the Dive Adventure in particular, you will be in the company of certified PADI instructors who are not only well equipped and competent divers but are also guaranteed ocean lovers and enthusiasts! With such skill and passion, you will most definitely have a safe and comfortable diving experience, and you will also get to learn scuba diving fundamentals and about the Hawaiian marine life, too. Kona Diving EcoAdventures' Dive Adventure offers an enjoyable and enlightening time, indeed!
What's also great about booking this tour is that you get to choose the two dive sites you want to go to and explore! While, of course, this is subject to the weather and water conditions on the day of your trip, the crew will surely consider your preference for the dive sites. As Kona is a place that prides itself in a great number of prime diving locations, you are sure to see the most breathtaking sights you could ever catch sight of! On top of these stunning underwater views, prepare to get up close with Kona's marine life–green sea turtles, spinner dolphins, eels, manta rays, colorful reef fish, and a whole lot more! 
Snorkelers, certified divers, Discover SCUBA Diving introductory divers, SCUBA refresher divers are all welcome to join Kona Diving EcoAdventures' Dive Adventure! Certainly, this is a Big Island adventure you wouldn't want to miss.
Tour Highlights:
A guided dive by certified PADI instructors and dive masters

A dive at two prime diving locations in Kona

A chance to go to your preferred dive sites!

A scuba diving experience with high-quality diving gear available for rent
Tour Inclusions:
Kona Diving EcoAdventures' Dive Adventure is inclusive of the following:
Wraps, fruits, drinks, and other light refreshments

Snorkel gear and flotation devices for those who opt to go snorkeling
Special Instructions:
Check-in time is at 8:30AM. 

Check in at Honokohau Harbor, Slip C-1. Look for a "Manta Ray Dives of Hawaii" sign. You may also look for the boat labelled "THE MANTA".

The following are the requirements and restrictions for this tour:
Participants must be at least 10 years old.

All diving options require certification, even SCUBA refresher divers must have valid diving certificates. Make sure to present your certification upon check-in.

Certified diver rates are exclusive for those with OPEN WATER Certification.
This tour operates daily.
Tour duration is around 4 hours. The tour will conclude at around 12:30PM.
You may visit our Big Island tour and packages here: Big Island Tours | Cheap Hawaiian Activities