When you're vacationing in paradise, breathtaking sights and spectacular views await you at any time of the day, even at night.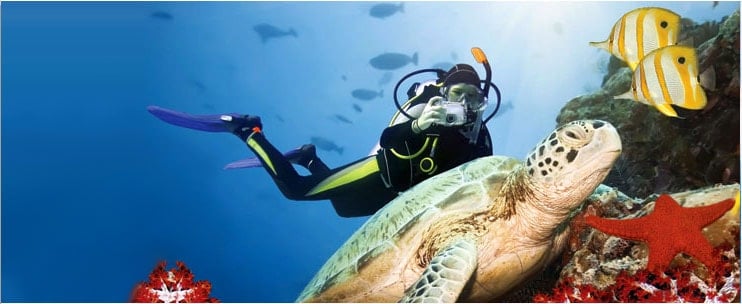 This, precisely, is what Kona Diving EcoAdventures' Blackwater Dive EcoAdventure offers–an evening of thrilling underwater exploration! Featuring the clear and calm Kona seas and the nocturnal marine animals lurking down under, this scuba diving adventure is one that you wouldn't want to pass up on!
Kona Diving EcoAdventures is a renowned tour operator in Kauai, which is run by an experienced and passionate team of professionals who will ensure your utmost safety and enjoyment throughout your booked tour. For the Blackwater Dive tour in particular, a unique nighttime adventure is in store for you! Just around two miles off Kona Coast is a great dive spot that goes 5,000 feet down. With each diver suspended from the boat up to 50 feet to drift with the current, Kona Diving EcoAdventures' Blackwater Dive EcoAdventure is an exhilarating dive exclusive for experienced divers. This tour is reserved for those who have had enough experience and number of dives, and if you qualify, you definitely should not miss out on this delightful opportunity.
Of course, an evening dive lets you get a glimpse of the undersea that you will not be able to experience at any other time of the day. At this time, sea creatures are showing behaviors distinct only during the night, with some of them preparing themselves for nighttime feeding. Catch sight of nocturnal animals emitting light energy, which gets more visible and vibrant as the night gets darker and the ocean gets deeper. This bioluminescence produced among jellyfish, bacteria, and other fish is truly a nature's wonder, and that which enables these living organisms to properly defend themselves, hunt for prey, and even find mates! Truly, this is a wonderful sight that will leave you amazed and speechless.
Experience underwater nightlife with Kona Diving EcoAdventures' Blackwater Dive EcoAdventure! This is a 2.5-hour tour that will most certainly complete your getaway to the Big Island!
Tour Inclusions:
Kona Diving EcoAdventures' Blackwater Dive EcoAdventure is inclusive of the following:
Wraps, fresh fruits, snacks, drinks, and other light refreshments

An oversized swim platform and hot fresh water showers 

The company of friendly, competent, and professional dive staff and crew
Special Instructions:
Depending on what month of the year you book this tour, it will depart at either 8:30 PM or 9:45 PM. The exact check-in time will be sent to you via e-mail.

Check in at Honokohau Harbor, Slip C-1. Look for a "Manta Ray Dives of Hawaii" sign. You may also look for the boat labelled "THE MANTA".

The following are the requirements and restrictions for this tour:
The minimum dive age is 10 years old.

All divers below 18 years old must be with a parent or legal guardian at all times during the tour.

Participants who are 65 years old and older must duly accomplish the PADI Medical Form.

All participants must know how to speak English. Otherwise, you must be accompanied by a proficient translator.

For the safety of all participants, only those whose weight is not beyond 280 pounds may be accommodated.

All participants must be able to swim for at least 50 yards unassisted.

All participants must also be able to climb the boat ladder to get out of the water.

All participants must have completed 50 dives, 10 night dives, and must have gone diving within the last 6 months to join.
Prior to booking this tour, make sure to read the PADI Discovery SCUBA Diving Participant Statement and PADI Medical Questionnaire, which may be accomplished here: 
PADI Discovery SCUBA Diving Participant Statement and PADI Medical Questionnaire
This tour operates every Thursdays and Sundays.
The duration of this tour is approximately 2 hours and 30 minutes.
Each booked tour may accommodate up to six passengers.