The Hawaiian sunset is, without a doubt, one of the most breathtakingly beautiful views there is.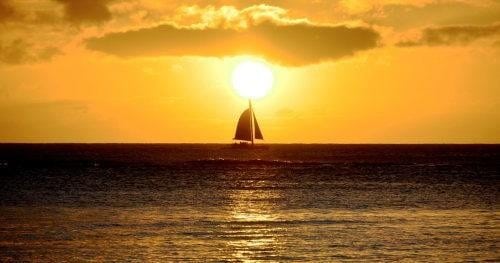 The colors of the Hawaiian sky just naturally intensify at this time of the day, with stunning hues of gold, orange, red, and pink setting it alight. In Oahu Island in particular, there are identified sunset spots where tourists, and even locals, love hanging around to capture the last moments of the day, as the night sky is about to set in. You can, however, choose to enjoy this stunning sunset sight while sailing along leeward Oahu's picturesque coastline and calm and clear waters — an even lovelier experience than just watching from afar on the beach or at a restaurant's viewdeck. For a unique sunset sailing experience, go and book Ko Olina Ocean Adventures' Sunset Sail!
 Ko Olina Ocean Adventures is one of the well-renowned tour operators on Oahu Island, so you can never go wrong with booking any of their package tours. Established two decades ago by two captains who shared the same love for the ocean and water adventures, Ko Olina Ocean Adventures now offers a variety of ocean activities for anyone and everyone to try out while vacationing in Oahu.
For this tour in particular, Ko Olina Ocean Adventures' Sunset Sail utilizes a beautiful 53-feet Gold Coast Catamaran called the Holole' A Kai. The Holole' A Kai is well-equipped with a cushioned suntan deck, a teak bar, and clean restrooms, so you and your companions are guaranteed a comfortable cruise during the sail. The phrase 'Holole' A Kai' in fact literally means 'to sail freely' in Hawaiian, and this is exactly what you will do and feel when you book this sunset sailing package tour. Free yourselves from all the stress, negativity, and all your worries, and just sail away along leeward Oahu's panoramic coast and vistas of beautiful beaches, majestic mountains, and lush valleys, with the breathtaking Hawaiians sunset in the background. Truly an experience that will make you appreciate nature's wonder and beauty, live in the moment, and forget all that needs to be ignored, even just for a while.
Ko Olina Ocean Adventures' Sunset Sail starts at 5:00 in the afternoon and lasts for just around two hours, just the perfect tour duration for you and your companions to enjoy and marvel at the day's gorgeous sunset. Apart from the on-board facilities mentioned above, guests on the Holole' A Kai will also get to feast on a scrumptious special appetizer refreshments to compliment the entire sunset sail experience. This special appetizer menu includes shrimp cocktails, chicken skewers, fresh tropical fruits, and a platter of crisp vegetables, delicious cheeses, and some fresh crackers on the side. Of course, complimentary beverages will also be served! Two pours of some bubbly champagne are available for free for each guest, and should you wish to avail of other bar drinks, you may do so at the sailboat's bar for only $5 each. Ko Olina Ocean Adventures' Sunset Sail's complimentary refreshments are certainly perfect while relishing the lovely ocean views and the sky's gorgeous golden hues, and also just the perfect light meals to snack on before whatever dinner plans you have right after the trip.
Ko Olina Ocean Adventures' Sunset Sail is available only on Wednesdays, Fridays, and Saturdays, so make sure to plan your trip accordingly. There are no age restrictions for this activity, so everyone, even your little ones, is welcome and free to join this fun and absolutely safe sunset sailing tour. In fact, if you wish to bring children with you, they enjoy a more affordable tour rate! If, however, you are willing to splurge a bit more, you may opt to book a private charter, which is also an available option for you. At Ko Olina Ocean Adventures' Sunset Sail, the staff and crew will try their best to accommodate all your requests and preferences, as the guests' utmost comfort and enjoyment are their top priority. Thus, for the private charter option or any other requests, all you have to do is communicate them to us upon booking!
What are you waiting for? Grab this opportunity to enjoy the breathtakingly beautiful sunset on a fine sailing catamaran with Ko Olina Ocean Adventures' Sunset Sail! This is certainly a unique experience to enjoy Hawaii's famous sunset, so don't pass up on such a great tour opportunity. Slots get full easily so go and reserve yours now!