f you have ever dreamed of swimming with wild dolphins in Hawaii, this is the tour for you!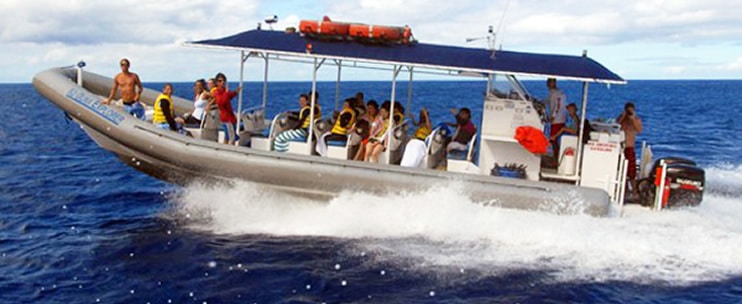 Experience Oahu's spinner dolphins in the Hawaiian tradition of respect for these beautiful animals. We recommend that snorkelers assume a passive float position in a safe, non-intrusive manner. Snorkel at a pristine reef teeming with coral gardens among schools of brilliantly colored reef fish.
This cruise also takes you to Oahu's Turtle Town, where sea turtles like to hang out. It is a natural turtle cleaning station. Here, the turtles gather to get their shells and skin cleaned by algae-eating reef fish. This amazing process of nature happens right in front of you!
Seasonal bonus: During whale watching season (December 15 – April 1) this tour includes whale watching and hydrophones to hear whales. Watch these majestic mammals, often accompanied by their newborn calves, play in and cruise the waters of west Oahu.
Tour Highlights
Snorkeling at two locations on Oahu's leeward (west) coast
Water is so clear that you can easily see the amazing coral reef and a variety of colorful tropical fish
See Hawaiian spinner dolphins in their natural environment
Watch sea turtles up close at Oahu's "Turtle Town"
Whale watching during whale season (December through March) – listen to whale songs with a hydrophone
Tour Inclusions
All snorkel gear and life vests provided
Coffee, tea, cocoa and muffins for breakfast
Delicious Hawaiian-style lunch
Roundtrip transportation from Waikiki
Bathroom on board
Special Instructions
Where and When
Morning Tour: 7:00 am – 10:30 am. Check in at 6:15 am or Waikiki pick-up is at approx. 5:15 am, with return to Waikiki at approx. 11:30 am.
Mid-Day Tour: 11:30 am – 3:00 pm. Check in at 10:45 am or Waikiki pick-up is at approx. 9:15 am, with return to Waikiki at approx. 4:30 pm.
Check in location is at 92-100 Waipahe Place, Kapolei, HI 96707. View Map
If you plan to drive out to Ko Olina yourself: Take the H1 Freeway West. Once the H1 Freeway turns into a two-lane highway (Hwy. 93), you are about 3 miles away from the Ko Olina exit. After entering Ko Olina Resort, proceed to the marina located next to Lagoon 4. Parking is $10.00 with validation. Pay at check-in. The check-in desk is located inside the Marina Store.
Restrictions
There are no specific restrictions for this activity.
Special Notes
Bottled water is provided on board. Feel free to bring additional beverages or snacks. There is an ice chest on the boat.
Operation Days
Daily
Duration
3.5 hours