For a scenic sail and snorkel adventure experience to remember, come and join Ko Olina Ocean Adventures' Oahu Snorkeling and Sail.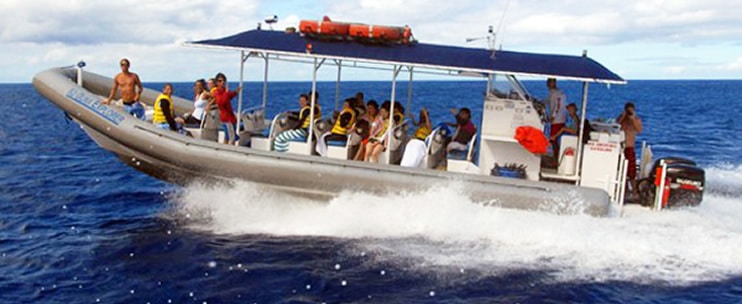 Featuring a relaxing sail along Oahu's scenic west coast, followed by an underwater adventure at two top-rated snorkel sites on Oahu's leeward coast, this tour package is what you need for that ultimate Hawaiian getaway experience. Whether you are travelling alone, with a partner or with friends, or as a family, you will, without a doubt, take pleasure in joining Ko Olina Ocean Adventures in this unforgettable tour!
Ko Olina Ocean Adventures' Oahu Snorkeling and Sail operates at two times per day. If you are one of those travellers who opt to start the day immediately with some action, go for the morning tour that kicks off at 8:00. On the other hand, if you are the type to laze around and the morning and would rather enjoy the afternoon weather and views, the 12:30 tour is perfect for you. Certainly, whichever among the two tours you book, you are guaranteed awe-inspiring above and below water views, and, of course, a damn good time!
As mentioned, this tour package features an underwater exploration at two prime snorkel spots on Oahu's west shore–double the fun, indeed! With waters so clear and well-preserved, you and fellow snorkelers will get to have an easy and spectacular time viewing the coral reefs, rock formations, and the wide variety of reef fish and other marine organisms swimming down under. If you visit during the whale season, which is from December to March, you might even catch sight of humpback whales, too! 
What's great about booking the Ko Olina Ocean Adventures' Oahu Snorkeling and Sail is that it's got everything covered. Upon checking in, you will already be welcomed with light local refreshments, just to give you a taste of the scrumptious Hawaiian feast on-board. That's right, even lunch is included in this tour! During the sail, you and the other passengers are surely going to have an equally great time, with Ko Olina Ocean Adventures' warm and friendly professional crew and, of course, its sailing catamaran complete with top-of-the-line equipment and amenities. Now that's an adventure to remember!
Tour Highlights:
Snorkel at two prime spots on Oahu's west coast, both of which feature warm and pristine waters, untainted coral and rock formations, and abundant marine life

Catch sight of humpback whales during the whale season (from December to March)

Go SNUBA (a combination of snorkeling and scuba) all-year round!
Tour Inclusions:
Ko Olina Ocean Adventures' Oahu Snorkeling and Sail is inclusive of the following:
Safety vests and snorkel gear

Light snacks upon check-in

A mouthwatering Hawaiian lunch on-board

Round-trip transportation from select points in Waikiki

A relaxing sail on a 53' sailing catamaran complete with freshwater showers, flat screen monitors, sunbathing cushions, bathrooms, and a neat teak interior!
Special Instructions:
Choose from the following tour times:

Morning tour: 8:00 AM to 11:30 AM

Afternoon tour: 12:30 PM to 4:00 PM

Check-in location is at 92-100 Waipahe Place, Kapolei, HI 96707. The check-in desk is located inside the Marina Store.

Check-in is at 7:25 AM for the morning tour and 12:00 PM for the afternoon tour. 

If you are availing of the Waikiki pick-up service, pick-up will start at around 6:05 AM for the morning tour and 10:20 AM for the afternoon tour. 

If you choose to drive to Ko Olina yourself, make sure to enter Ko Olina Resort, proceed to the marina by Lagoon 4, and pay the necessary parking fee with validation.

Tour duration is approximately 4 hours. The morning tour will return to Waikiki at approximately 12:30 PM, while the afternoon tour will return at around 5:00 PM.

This tour operates daily.