Experience a genuine Aloha and get up close and personal with Big Island as you explore one of its beautiful bays, while discovering bright pink-walled sea caves with crystal clear blue waters!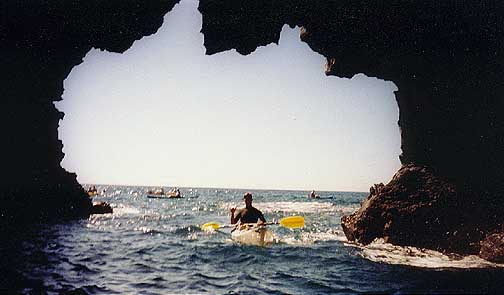 Plus, you get to encounter marine life as you snorkel reefs and enjoy swimming on tranquil protected spots.
Are you up for a unique adventure? Why don't you invite your loved ones and create beautiful memories as you join Ocean Safaris with its Keauhou Sea Cave Kayak Tour. If you are a kayak beginner or worry about your small children, rest assured that their CPR-certified, licensed, and expert guides will take care of you all the way. 
After checking-in and outfitted with a stable solo or tandem kayak, your guide will lead you to Keauhou Bay, where you will start your journey. Did you know that the Hawaiian terms ke au hou mean the "the new era?" Keauhou Bay is a historic site in the Kona District, where King Kamehameha III was born. It is home to rugged sea caves and pristine seas, making it a perfect spot to kayak and swim, while discovering its underwater paradise. As you continue paddling, you will head towards south along sea cliffs in Kuamo'o Bay. Your guide will also tell you interesting stories, myths, and history about the place.
Here, you will try to look for dolphins, manta rays, and turtles. During the winter months, humpback whales migrate from the freezing cold waters of Alaska to the warmer Hawaiian waters to breed and give birth. If you get lucky, you can see some of them here, too. In the same spot is where you could see a spectacular sea cave or lava tube, which you are allowed to explore if the ocean gets generous with its calmer waves. Heading south, you will follow the coastline and paddle over bright coral gardens and underwater lava tubes until you reach the next sea cave, more serene and cooler most of the time than the first one. Depending on the weather and wave conditions, you will continue paddling towards your snorkeling destination.
You spend more time here snorkeling gorgeous reefs, as well as swimming. Bring out your cameras and start capturing those postcard-like scenery. Catch a glimpse of various tropical fish that inhabit the area, including octopus, yellow tang, uhu (parrotfish), butterflies, wrasse, and a crown of thorns. After some time, you will exit the water and climb up to a vantage point above the cove where you will enjoy your delicious snacks and drinks. Looking down at the crystal clear water 12 to 25 feet below, you may not resist jumping off. Though it's deep, it is safe as long as you can swim. Besides, your guide will be there to help you in any way. Make sure to visit the tide pools nearby and observe the eels hunting for crabs. You can also capture this perfect moment. After an hour or so, you will now pack up and paddle back to the launch area.
TOUR HIGHLIGHTS
Paddle along sea cliffs

Encounter marine life, including sea turtles and spinner dolphins (sometimes humpback whales during winter)

Enjoy swimming and snorkeling on coral gardens

See underwater lava tubes and gorgeous sea caves

Visit a tide pool and observe eels hunting for crabs

Jump off from 12 to 25-foot cliffs to deep, clear waters

Lots of great photo opportunities
TOUR INCLUSIONS
Beverages, Bottled water

Life jacket

Delicious snacks, fruits

Snorkel, snorkel mask

Kayak

CPR, certified and kayaking expert guide(s)
SPECIAL INSTRUCTIONS
Check-in time and location:

9:00 am at  6 miles south of Kailua-Kona. Tour starts at 9:30 am.
DIRECTIONS: Coming from the highway (HW19/HW11) or from Alii Drive, turn onto Kamehameha III Road, heading toward the coast. Follow Kamehameha III Road until it dead-ends at the cul-de-sac at Keauhou Bay. The group meets at the picnic table near the restrooms across from Akule. Departure is from the Keauhou Bay boat ramp.
Note: Please call 808-326-4699 if you need assistance on the directions. Complimentary parking is available.
➤Participants must weigh below 265 lbs (120kg).
➤Participants must be 5 years old and above.
➤For children below 5, it is up to the parents' discretion.
Note: Tour includes is not recommended for individuals with back issues due to the required turning and twisting to get into and out of the kayaks.
Operations:

Daily

Duration:

3.5 hours
Capacity:

Maximum of 12 participants in group
Equipment:

Kayak, paddles, and life jackets