Get a taste of Big Island locals' ocean lifestyle through traversing the splendid Kona coast in your kayaks, and explore the pristine and crystal clear waters of Keauhou Bay!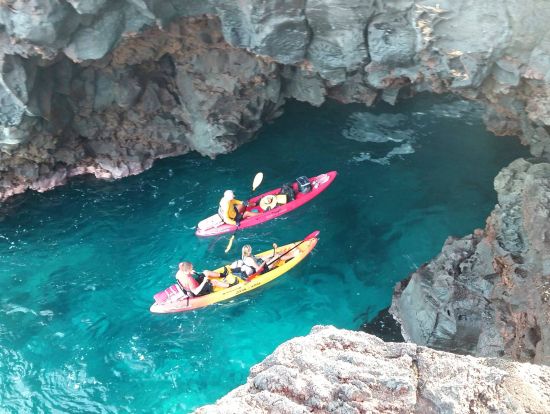 What's more? Discover unique sea caves, lava tubes, and snorkel on colorful coral gardens, while getting up close and personal with the famous Hawaiian green sea turtles, dolphins, variety of fish, and other wildlife. If you booked during winter months, chances are you also get to see humpback whales! 
Are you new to kayaking and doubt that you can? Are you travelling with your small children and looking for something new for them? Come join Anelakai Adventures for a guided Keauhou Bay kayak tour and create memories that last a lifetime. They customize each tour accordingly to ensure your satisfaction. Don't forget your underwater or waterproof camera, because you don't want to miss capturing every moment you will experience ahead of you. To fully enjoy this trip, bring a swimsuit, too. Better yet, wear it under your clothes like other guests do. Also, the sun outdoors gets too damaging to the skin, so bring reef-safe sunscreen for protection. At the same time, you protect the ocean and its inhabitants. You may also want to bring sunglasses, a hat, towels, and extra clothes to have something dry to change into after your trip.
After checking-in, you will be briefed shortly on safety measures and basic instructions on kayaking. You will also be outfitted with necessary gear and then you're heading towards the launch location. You will begin paddling at the Kona Coast traversing towards the Keauhou Bay, where you will spend most of your time exploring. 
Keauhou Bay is a historic site, where King Kamehameha III was born. Along the way, you will see spectacular sea caves and lava tubes while your expert guide narrates interesting stories about the place and its marine life. Look out for dolphins, manta rays, and green sea turtles that Hawaii is famous for. During the winter season when humpback whales travel from the cold waters of Alaska to the warm waters of the Hawaiian islands to breed and give birth, you might see mothers playing with their babies.
You will then head towards the southern part, where the water is calmer and cooler to snorkel and swim. Snorkel along beautiful coral gardens and watch out for octopus, yellow tang, uhu (parrotfish), butterflies, wrasse, and sometimes even a crown of thorns. Are you up for a short climb up cliffs? There is a viewpoint above the cove, where you will feast on your delicious snacks and cold tropical beverages, while enjoying the moment and savoring the fresh ocean scent. This is also a great opportunity to take pictures of the scenery, or maybe a selfie with the beautiful background. If you love a plunge, it's safe to jump right into the crystal clear water 12-25 feet below. Also, there is a tide pool nearby where you can observe eels hunting for crabs. This tour, indeed, is not only perfect for adventurers but also for photography enthusiasts!
When it's time to go back, you will pack up and paddle back to the launch site.
TOUR HIGHLIGHTS
Paddle along sea cliffs

Encounter marine life, including sea turtles and spinner dolphins (sometimes humpback whales during winter)

Enjoy swimming and snorkeling on coral gardens

See underwater lava tubes and gorgeous sea caves

Visit a tide pool and observe eels hunting for crabs

Jump off from 12 to 25-foot cliffs to deep, clear waters

Lots of great photo opportunities
TOUR INCLUSIONS:
Beverages, Bottled water

Delicious snacks, fruits

Snorkel gear

Kayak

CPR, certified and kayaking expert guide(s)
SPECIAL INSTRUCTIONS
Check-in time and location:

8:30 am at Keauhou Bay Boat Ramp just past the entrance to the Sheraton Keauhou Resort at the end of Kaleiopapa Street. Tour starts at 9:00 am.
Address: 78-7138 Kaleiopapa St Kailua-Kona, HI 96740
➤Participants must weigh below 250 lbs.
➤Participants must be 4 years old and above. Guests below 4 may be allowed, depending on the adult to child ratio in each tour. Please call them for further discussions on possible options.
➤Participants must be able to physically climb into the canoe from the dock, climb over the floor of the canoe if sitting on the far side of the vessel and be able to pull their own body weight up the ladder to get back into the canoe from the water. Please call if there are physical hindrances for possible options, but still 250 lbs and above individuals are not allowed.
Note: There is an easy paddle out to the viewing site. While all guests are expected to participate in paddling, there are exceptions for younger children or physical limitations of any guests.
Operations:

Monday to Friday

Duration:

2 hours
Capacity:

4 guests (larger groups are allowed upon request)
Equipment:

Kayaks and snorkel gear