Our lesson instructors are all very experienced in stand-up paddling and will have your whole family hooked before the day is done.
 For a full-body workout that improves balance, coordination, and endurance at the same time as providing an absolute blast of a time, call to schedule your lesson today!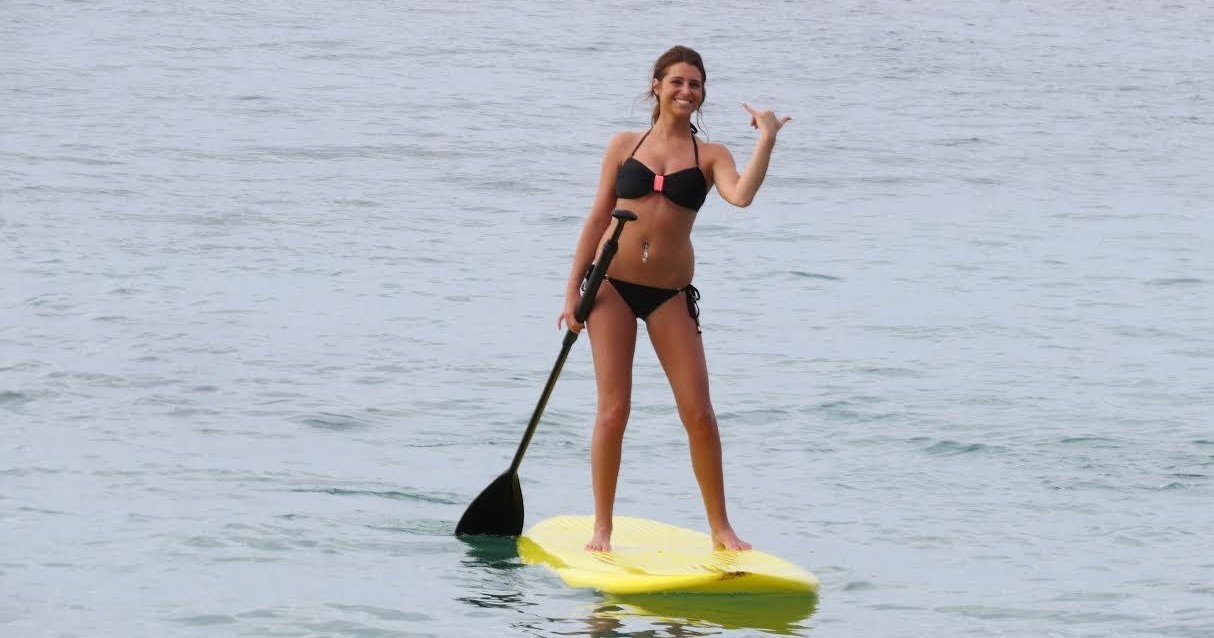 The Stand-Up Paddle Lesson is a great way to get out there and try something new.
With the opportunity to take both Group Lessons or private lessons, this is perfect for beginners of any age! Enjoy all that stand-up paddling has to offer through instruction provided by our friendly instructors while wearing a UV surfer shirt/ rash guard. Take your lesson at one of our times during the day. 
Do you have the next vacation planned?
Oh good. Now pack your sunscreen (Hawaii has a generous amount of sun!) and get ready to take on our Stand Up Paddle Lesson! You'll learn basic paddling techniques, how to turn, return safely if you fall in, and all the other fun things that go along with stand-up paddleboarding. We recommend booking during the off-season as it is dependent on light wind conditions. Still, we promise you'll leave feeling refreshed regardless of when you visit us for this 1.5-hour lesson with one of our professional instructors! Don't forget your rash guard, so a day at the beach doesn't leave more than just memories behind, too; not that we're looking forward to it either way. 
Experience the delight of a Stand-Up Paddle lesson in Hawaii. Experience what it is like to explore paradise on the water with personalized paddle instruction for all levels – from beginners, intermediates, and experts alike. Explore guided coastline tours that provide the perfect formula for balance and relaxation. Soar through clear turquoise waters as you take in the sights of dolphins frolicking, crystal-clear waves crashing against rocks, or hiking up a local hidden beach. Beginners can learn various stand-up paddling strokes, including forwarding Strokes (different types), Draw Strokes (also known as sweep stroke), and Side Strokes. At the same time, more advanced users will enjoy refining their skills at our summer camp Half Moon Bay Outrigger Canoe Club, on Sundays at 9 am.
Come for an afternoon Stand Up Paddle adventure! You will get to meet up with your instructor, learn the basics of this fun and an active new sport, and spend some time on one of our beautiful beaches. You might even be able to see a few turtles if they can hang out in just the right spot! So what are you waiting for? Seize the day as you take part as a Beginner Stand Up Paddle Adventure package at Sea Life Park Hawaii. Who knows – today could be your lucky day. What is the best way to spend a beautiful 3-hour session of your vacation? Stand up paddling! With stand-up paddleboards being called one of the top 5 water sports in America and called "the future of surfing," there has never been a better time to embrace this sport as it becomes more mainstream. Join us for a 1.5-hour introductory lesson held at 10 am, 12 pm, and 2 pm – it's an incredible experience that can turn into.