Picturesque views of the most photographed waterfalls in Hawaiʻi, lush indigenous rainforest, rare plants and animals, cultural significance, and an easy, mostly shaded trail for the whole family to enjoy making this a must-do.
Kailua Ridge Jungle Trail offers opportunities for majestic panoramic views of Kauaʻi's rich biological diversity with stunning sights that include Waipoo Falls- Hawaii's tallest waterfall- as well as some of the only remaining coastal freshwater wetlands in Hawai'i.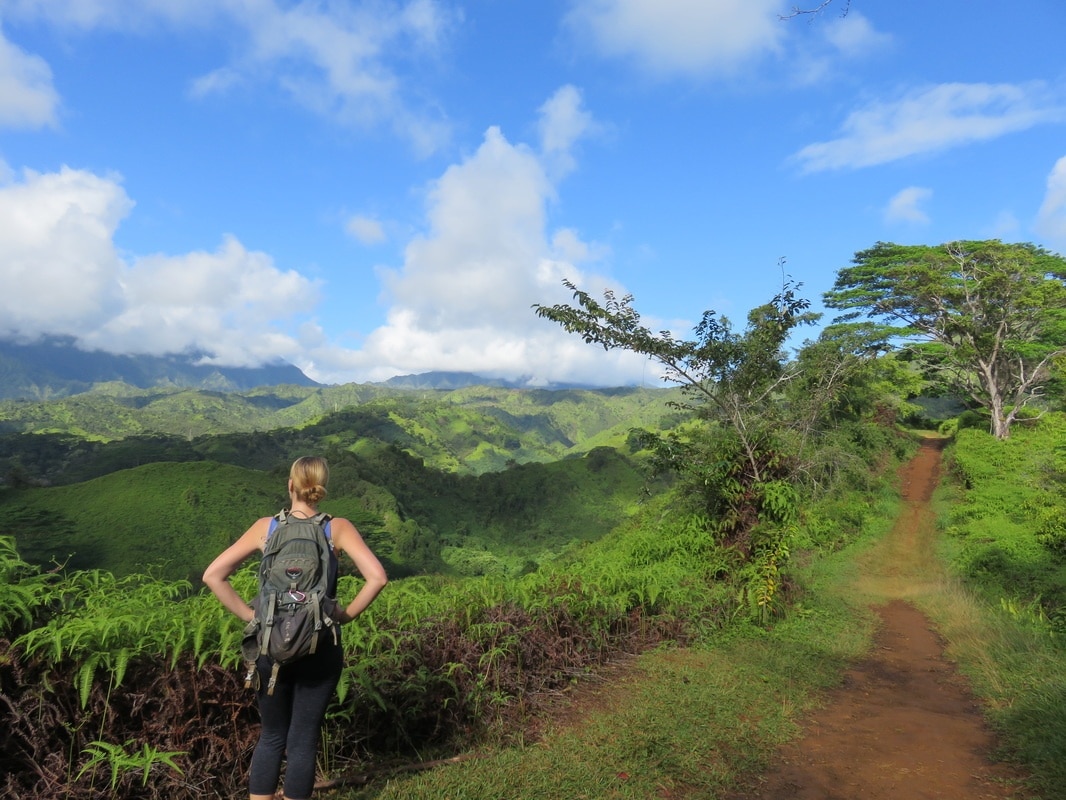 To reach Kuilau Ridge is to trek through one of the last semi-intact watershed systems of East Oahu – replete with diverse habitats sustaining native species found nowhere else on earth.
 This trail is a great way to get introduced to the various plants and other natural treasures of Kaua'i, including an ancient lichen that has inhabited the island for over 10,000 years. Your friendly KHT guide will lead you through a near-to-modern work-in-progress masterpiece with beautiful shady pockets and overlook points, as well as high stretches created by lava flow 20,000 years ago! It's always nice to be reminded how small we are in comparison to Mother Nature! This hike is suitable for all levels of fitness.
 Kailua Ridge in the Kokee area of Kauai is a great place to go for a viewing. It's one of the prime hikes on the island! The trail will lead you through some 240 acres of spectacular virgin forest and up, up, up into 922-ft Mount Wai'ale'ale Viewpoint. Along your hike, there will be opportunities to view waterfalls, pick auspicious items from their namesake Kuilau Tree (the 'immortality tree') or experience a thrilling rappel down our Costa Rica Zipline from 100 feet off the ground before continuing along this awe-inspiring natural pathway. It's the perfect mixture of active and relaxing. Venture to Kuilau Ridge, a sheer mountain that rises over 3,000 feet on Kauai's north shore, for your chance to see Mount Wailae ae – an ancient volcano crater and top educational spot for geologists. From there, you will be close enough to Kauai's tallest waterfall 'Opaeka'a Falls (1,200 ft). This is one of Hawaii's most popular hiking paths with three waterfalls along the way: 'Alpazia Fall,' Akahala Falls, and Rainbow Falls!
 What's not to love about climbing Kuilau Ridge Trail in search of a magnificent Mt. Wai'ale'ale Viewpoint? Our comprehensive, well-maintained trail begins as an easy uphill climb through dense rainforest, and expansive views on the horizon reveal themselves by our third switchback. Keep your eye out for endangered birds like the Palila (Loxioides bailout) while admiring native tree species such as the beautiful Sydney Blue Gums that are endemic only to Kauai! If you want a break from the sunshine, take in some greenery instead, from shades of light green to darker tones of dark forest green during overcast days. 
 One of the unique features of this hike is its beautiful diversity. It has something for everyone from lush jungle to dry arid climates and small streams to giant mountains. One thing you don't want to miss, though? At the end of your trek, the cascading waterfall is where you go for a refreshing swim in a natural pool. Fun on its own or as an extension of Kuilau Ridge, this trip will take you higher than any other tour option out there, with jaw-dropping views that are worth every minute spent climbing the mountain.
 A vigorous electric tour of some of the most exotic, ancient, and jaw-dropping landscapes you'll find in North America. You will encounter lush valleys, subtropical rainforest peaks, iconic pathways like the Road to Hana (mauka), towering waterfalls, huge ocean waves crashing on eroded black rocks so profoundly embedded with lava that you can see old Hawaii inside them–a trip back in time to for an unforgettable experience.