Relax, refresh and have a blast with our Kauai's Ultimate Private Surf Lesson.
With hours to spare to learn all the essentials of surfing from Hawaii's seasoned pros, we make it easy for you and your family to get up on the board and ride that wave in no time. All lessons start with a short land lesson on surf basics as well as ocean safety. Attending this lesson has never been easier! Without the big crowds at any of our beaches, we can give each guest individualized attention, perfect for young children getting their first taste of surfing on Kauai's shores.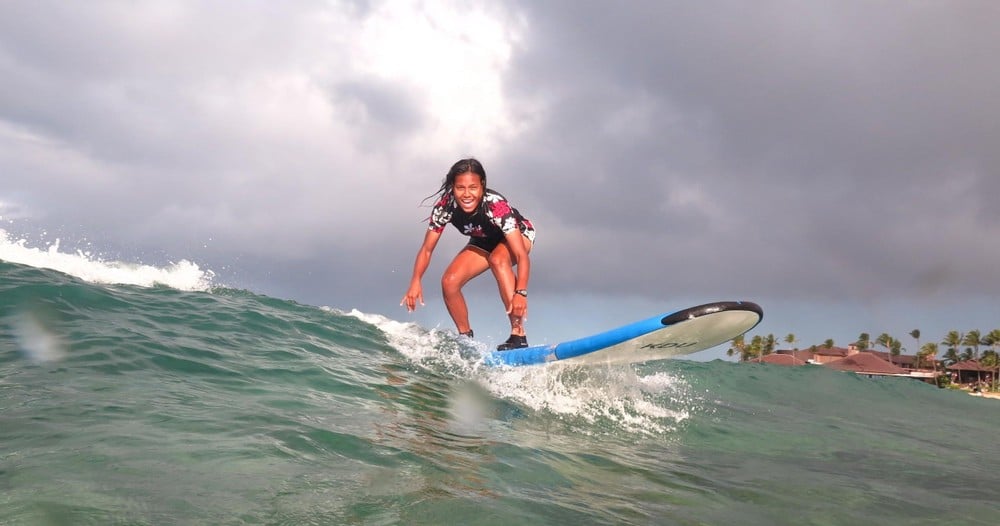 Kauai's Ultimate Private Surf Lesson at the Sheraton Kauai Resort is your chance to have a surf lesson personalized for you.
The focus is on getting up and riding waves in no time with our instructors' help! Are you young? Check out our Kids' Lesson, which focuses on the basics of surf safety, beginner surfing skills, and ocean awareness. Lessons are offered seven days per week, 9 am-3 pm. Be sure to book ahead; spots are filling up fast!
So, you're at Kauai's most beautiful beaches and want to get in on the waves! You may be at any experience level but have never done it before. Fear not! Our surf instructors are here for you with complete individualized attention. They'll help get your first wave up and riding- great for young children too.
Start your Kauai surfing today.
Our lessons are tailored to be just the right fit for you, no matter what age or skill level. We offer private and semi-private lessons with personalized instructions from a certified instructor that will help you get up and riding waves in no time!
This lesson is perfect for surfers who want complete individualized attention. Great for young children. Bring the family and experience Kauai's Ultimate Private Surf Lesson today–we can accommodate up to 8 members per private lesson by booking two classes at once or reserve just one session on your own time. The Sheraton Resort guarantees our exclusive, personalized instruction will have you surfing in no time!
For surfers of all ages and abilities, this lesson is perfect for getting the hang of surfing. It includes a detailed land-based introduction to the sport and ocean safety, followed by individualized attention from one instructor in the water. Are you ready for the ultimate surf experience? We provide everything you'll need to learn surfing with our Private sessions. With 1 and 1/2 hours of instruction, there's no better way to make memories and create a little bit of luck on Kauai! Each lesson starts with a land lesson on how to use your equipment before we get into the water, ensuring everyone has a fantastic time while not sacrificing safety. No matter your age or skill level, we are here for YOU!
This Kauai surfing lesson is what your vacation dreams are made of. Details like reserving the timeslot and picking up gear, breakfast buffet, ground instruction before you start in the water with our professional surf instructors, ready to help at a moment's notice- it's perfect if you need some time to yourself but also want knowledgeable locals on hand for questions! Explore Hawaii from here!