Our Kauai Guided Shore Snorkel takes you on a 2 hour guided snorkel with a certified dive instructor.
This adventure will have you snorkeling Kauai's pristine south shore reefs and have you learning about our tropical fish, sea urchins, and sea mammals. A turtle nesting often greets us on the beach or a Hawaiian monk seal basking in the sun. What a wonderful experience from afar. It is the law to keep within 50 feet of our endangered species. Learn more about our Hawaii ecosystem and identify an array of tropical fish. Beginners Welcome!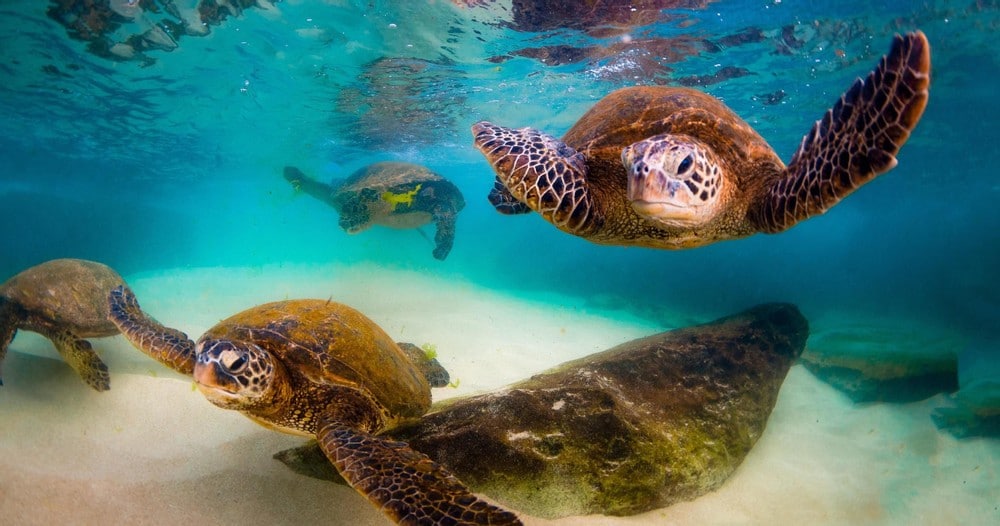 Visit the pristine south shore Kauai and explore its beautiful reef, sea urchin colonies, and tropical fish.
This guided snorkel tour is perfect for beginners since it's taught by a certified dive instructor who takes you to depths of 8 feet for viewing in crystal clear water with rich corals and tropical fish. Besides exploring each other's environment, participants are also educated about marine life conservation laws during this fun-filled adventure!
Tropical waters, sandy beaches, and simple pleasures comprise Kauai. If you enjoy snorkeling or love being in the ocean, this Kauai Guided Shore Snorkel is a must-do! Our 2-hour shore snorkel tour takes you on an adventure along our pristine south shores with a certified dive instructor. This tour provides plenty of opportunities to admire the sea life below water and from on top, making it perfect for all underwater enthusiasts, including beginners! Along your journey, we will be able to witness everything from sea urchin beds to Hawaiian monk seals basking in the sun.
Whether a beginner or an expert, Kauai's Guided Shore Snorkel is the ultimate guided experience, it takes you on 2 hours of prime snorkeling time where you will see tropical fish and sea mammals in their natural habitat. Beginner-friendly!
So if you are a first-time snorkeler, our Kauai Guided Shore Tour is perfect for you!
We go out about 50 feet from shore to stay away from our endangered species like seals and turtles that happily call the beach home.
What's more exhilarating than exploring tropical reefs? The thrill of matching colorful fish, the adrenaline rush when you spy a sea turtle in the surf or figuring out that elusive hermit crab hiding behind a rock. All this and then some awaits our Kauai Guided Shore Snorkel Adventure tour, where we learn about Hawaii's ecosystem and identify all kinds of exotic marine life (none dangerous). It's the perfect way to spend your day in Kauai!
We want to invite you to Kauai's ultimate guided shore snorkeling adventure. We ask you to submerge yourself and explore beautiful waters filled with tropical fish, sea urchins, and abundant sea life as we lead you along our unforgettable south shores. You will learn about Hawaii's ecosystem while encountering turtles nesting on the beach or Hawaiian monk seals basking in the sun during this 2 hours guided tour. Beginners welcome! The experience of a lifetime is waiting for me; don't miss it!