Climb up to the top of one of Kauai's most famous landmarks, Sleeping Giant.
Earn spectacular panoramic views and a new perspective on this small island with this intense but short 3-hour trek. With majestic cliffs, flowing waterfalls, and turquoise pools all around, you will ask yourself why you didn't sign up for this sooner! You may be what you think – so explore!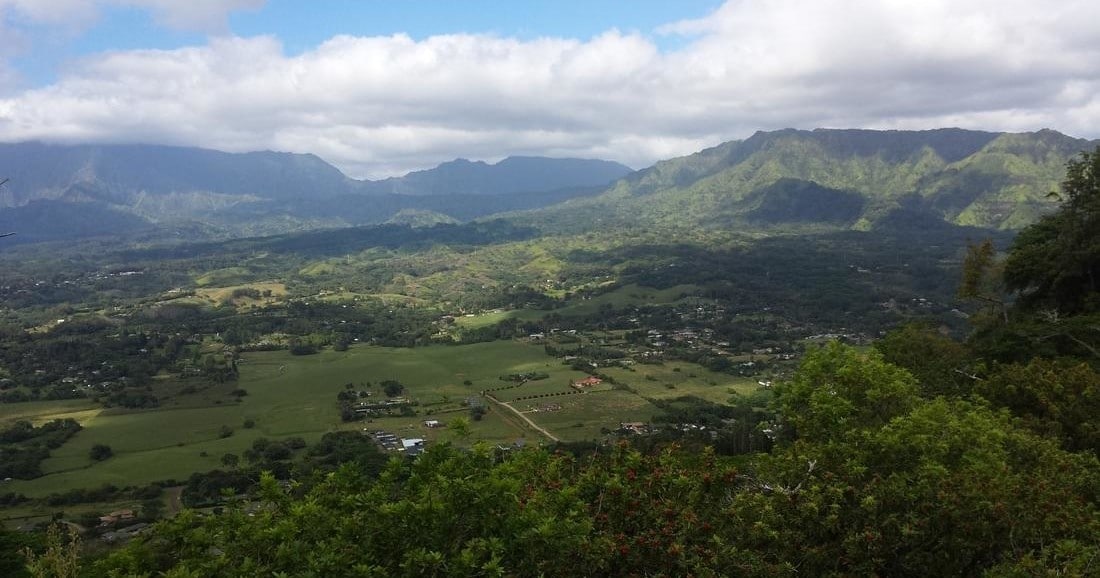 Your feet will feel like concrete while they sink in crazy soft sand along your way. Yes, these are some magical moments that only can happen thanks to our tour! 
So, you're thinking of Kauaʻi exploration, yes? We know that Kauaʻi hiking tours don't fully encompass your desires. You want the perfect mix of sweet, serene vistas while tucked into a cool shady forest and having some hola banana cake on our private beach – all in one day! Well, we've got it for you. This is a little-known secret drink from an ancient recipe handed down from long ago Hawaiians to their beloved children: "The Sleeping Giant." 
ALL OF OUR TOURS ARE PRIVATE – WE HIKE AT YOUR PACE AND CATER TO YOUR INTERESTS. WHAT YOU WANT, EXPERIENCE KAUAʻI YOUR WAY!! 
Every day we tour the island of Kauaʻi to explore every angle and attraction of "The Garden Island." From exploring deep rainforest valleys in raw jungle terrain or scaling majestic waterfalls on a steep cliffside, your guide will help you get some real-life experience as you go off-trail and challenge yourself alongside our hikers, sharing their knowledge, the knowledge you can only gain from living on Mama Gaia's most stunning island paradise! 
When you're exploring Kauai, there's no better way to spend a few hours than hiking with the giant! This hike takes travelers on an adventurous 2-3 hour climb up one of the most identifiable and well-known points in Kaua'i. You'll get energized for your next stop by conquering this 960 ft elevation gain; Afterwards, take a moment to explore the crumbling ruins near its summit before descending that vista that locals call The Sleeping Giant.
If you're on Kaua'i and want a quick hike, then Nounou Mountain is your friend! This hike will take you to the top of Sleeping Giant, where gorgeous views and myths about how it got its name. There is an option for adding in a little more time through caves when booking. If you do that option, there is no need to hire for transportation back as we leave from the tour!
After a grueling hike/climb up the giant mountain, you've reached her head with sweeping views of our stunning coastline. Your reward for conquering the steep ascent is a refreshing dip in one (or more!) of her many waterfalls. This small dose of aloha will punctuate the adventure and invigorate weary travelers before continuing down to sea level; however, if this isn't enough to entice your adventurous side or just a little too much for you, after all, that climbing – no worries! You don't have to partake, but it adds about 4 hours onto the tour times, so be sure you're famished beforehand as we stop at one of several tasty local restaurants to refuel! Take a hike, marvel at the scenery, and take it all in with a refreshing dip beneath a cascading waterfall. This tour is not for beginners but offers sweeping views of the majestic landscapes you've come to know on Kauai! And trust us, it's worth every step.