Kauai, also known as the "Garden Island", is home to many breathtaking natural sights you never knew existed.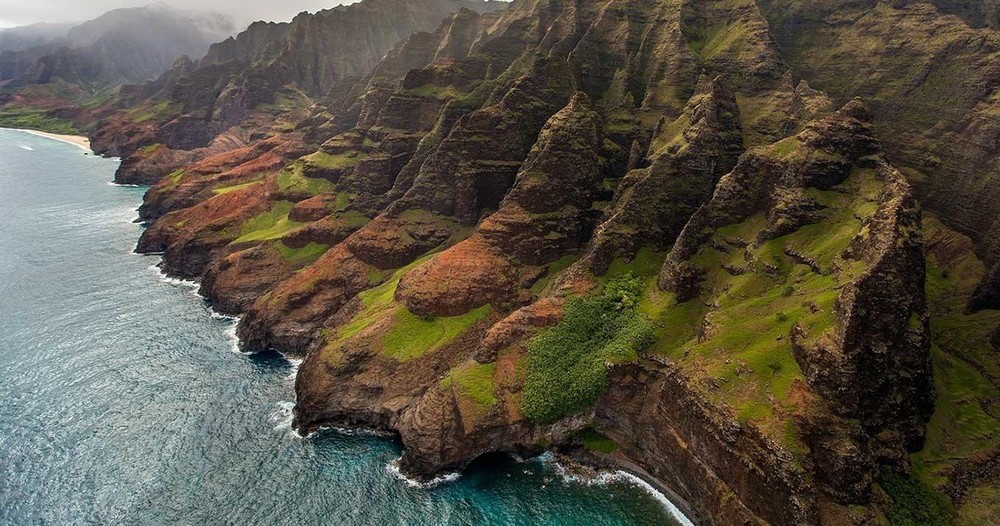 On this beautiful island are emerald green valleys, lush mountains, tropical rainforests, and, of course, long stretches of white, golden, and even black beaches alongside pristine, crystal clear waters. Some of these sights, however, are only accessible by air. Lucky for you, Ali'i Air Tours and Charters can make viewing these undiscovered spots entirely possible! Fly away and explore these awesome sights with Ali'i Air Tours and Charters' Kauai Helicopter Tour!
Ali'i Air Tours and Charters is the only Hawaiian owned and operated air tour company on Kauai, so if it's an authentic Hawaiian excursion you're looking for, Ali'i Air Tours and Charters is your best bet. Its captain and crew know the island more than those of other air tour operators, owing also to the fact that Ali'i Air Tours and Charters has been touring above the Island for more than 30 years now.
Apart from getting to go on an extraordinary sightseeing trip up in the air, Ali'i Air Tours and Charters' crew will also treat you to fun bits of trivia about Hawaiian history, culture, and the tourist spots that you will get to see. Thus, after this Kauai Helicopter Tour, you are left amazed with all the stunning sights and enlightened with all the information the crew has shared with you!
Ali'i Air Tours and Charters' Kauai Helicopter Tour operates daily at different times of the day, depending on your schedule and preference. What's great about joining this helicopter tour is that while each trip runs for only 60 minutes, you would nonetheless be able to see most of Kauai's charm and wonders within that tour time. Within an hour, some of the sights that you can explore are the secret valleys of Nualolo and Kalalau, the blue waters of Hanalei Bay, a prime surfing location on the island, the Alakai Swamp, known as the highest swamp in North America, and the beautiful Manawaiopuna Falls, the waterfalls featured in the famous film Jurassic Park. Another movie location that you will get to visit on Ali'i Air Tours and Charters' Kauai Helicopter Tour is the Lumahai Beach, where the film South Pacific was shot. Also on the itinerary, which some actually find as the most exciting and the best way to finish off this tour, is flying over the crater of Mt. Wai'ale'ale Volcano! Here, you will see a lush mist-covered mountain, with 3,000-foot high waterfalls filling its crevices. Truly an amazing sight that is beyond words–something you just can't not grab the chance to see!
For this tour, Ali'i Air Tours and Charters utilizes a Robinson R44, one of the world's best-selling general aviation helicopters for years now. It features safe and high-powered engines and hydraulically assisted flight controls to ensure everyone's utmost safety and comfort during the trip. Of course, the captain is professionally trained, too, so you and your companions are guaranteed to get back on land safe and sound. While the aircraft can carry more, it will accommodate only up to three guests per tour (middle seats will be unoccupied), so that each of the guests have a window all to themselves–perfect for taking pictures of the breathtaking views! Make sure your camera's battery and memory storage are ready; with all the amazing sights, you will not be able to resist taking lots of photos to remember the trip by.
Those who have tried Ali'i Air Tours and Charters' Kauai Helicopter Tour would agree that this is easily the highlight of their trip to the Hawaiian Islands. In fact, it has been touted as the ultimate Kauai experience, and it really is no surprise, with all that this tour can offer its guests. Explore undiscovered areas, hidden and the not-so hidden gems, and just plain beautiful sights of Kauai that you can only imagine, or probably just read in books and see in movies. For just a little over $300 per passenger, the Ali'i Air Tours and Charters' Kauai Helicopter Tour is definitely worth every buck. There are, of course, optional add-ons that you can avail of for an even greater experience. If you have a Go-Pro or any passable action camera, you may pay an additional fee and the crew will mount your action camera on the exterior of the helicopter for better photos and videos during the trip. Another possible add-on are phone lanyards, so that your gadgets are secure while you are up in the air. At Ali'i Air Tours and Charters' Kauai Helicopter Tour, your utmost enjoyment is the top priority!
Come and join the ultimate Kauai experience! Book your slots to the Ali'i Air Tours and Charters' Kauai Helicopter Tour now!