Are you a kayak enthusiast looking for a perfect destination while in Oahu?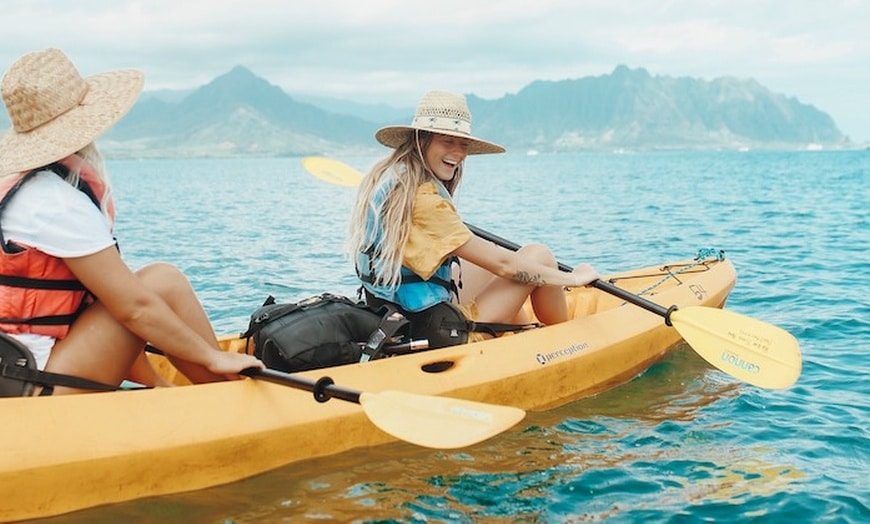 Or perhaps a family with kids who wants to experience watching beautiful coral reefs and sea life? Then, this one-of-a-kind kayaking and snorkeling combo is a must-try! 
Offering professional-guided and self-guided kayak and snorkel adventures, Kama'aina Kayak and Snorkel Eco-Ventures provides you with options, whichever makes you comfortable. If you prefer to explore Kane'ohe Bay on your own and kayak at your desired pace to get more intimate with the Hawaiian waters, try the self-guided kayak and snorkel discovery!
After checking-in at the He'eia State Park, you will be given a map of the bay while their knowledgeable and expert guide will brief you on safety, so you will enjoy a fun-filled sea escapade with ease. Before kicking off your adventure, you will notice that your kayaking gears are already set up right on the edge of the water so you are ready to go! But before that, you need to fit the gears you need, including paddles, fins, masks, and life jackets.
Your first stop would be the world renowned Kane'ohe Sandbar or the Sunken Island or the Disappearing Island, which is one of the most desired destinations for kayakers and beach bums in Hawaii. Here's a little trivia for you: It obtained its nicknames because it disappears during high tide and appears at low tide. This phenomenon is also the reason why the sandbar has been known as the Atlantis of Hawaii.
As you paddle, you will also see some other unique patch reefs near the sandbar like the Horseshoe Reef. Did you know that patch reefs resemble underwater smokestacks, which rise from the lagoon floor to almost sea level? According to experts, these patch reefs in Kane'ohe Bay are different and concentrated near the two channels that separate the barrier reef, which may be the result of strong currents and water activity in the vicinity of the channels.
Here, you will begin your snorkeling where you will see the most vibrant and healthiest coral reefs in the island of Oahu. You will also encounter some marine life, including sea turtles, manta rays and gorgeous, colorful fish. If you are touring with your children, just remember to practice the safety guidelines your guides have instructed and you will be fine. Remember: Kane'ohe Bay is protected from the open ocean current and swell by the barrier reef that is why this bay is an ideal destination for paddling and snorkeling for all levels and ages.
As you paddle going back to He'eia State Park, ensure to take advantage of the jaw-dropping scenery. Upon arriving, a mouthwatering Hawaiian-style barbecue lunch awaits you!
TOUR HIGHLIGHTS
Visit the Horseshoe Reef

Paddle and snorkel in multiple reefs in Kane'ohe Bay

Visit the Coral Island

Get a chance to witness vibrant coral reefs and marine life, including sea turtles, manta rays, and colorful fish

See other remote, pristine patch reefs
TOUR INCLUSIONS
Pick-up and drop-off from and to Waikiki

Equipment such as kayak, backrests, life jacket, waterproof dry bag, reef anchor and snorkel gear

Safety briefing and paddling orientation from experts

Kaneohe Bay map

Freshwater showers, restrooms, and changing rooms

Hawaiian BBQ lunch (vegetarian options available)
ADDITIONAL INSTRUCTIONS
Tour time is from 9 am to 1 pm. If you are driving, check in at Kama'aina Kayak and Snorkel Eco-Ventures, 46-465 Kamehameha Hwy, Kaneohe, HI 96744 at 8:45 am. If you are taking the complimentary transportation, pick-up time is from 7:30 am to 8:00 am, depending on your hotel location. Return to Waikiki is from 1:30 pm to 2:00 pm.
No participants below 5 years old are allowed, and all participants should fit in a 30 to 50-pound life jacket.

Operation: Monday-Saturday

Duration: 4 hours (3 hours in the water, 1 hour for lunch)