Did you know that Kane'ohe Bay is one of the perfect places in the land of Aloha to kayak with its pristine waters and spectacular views?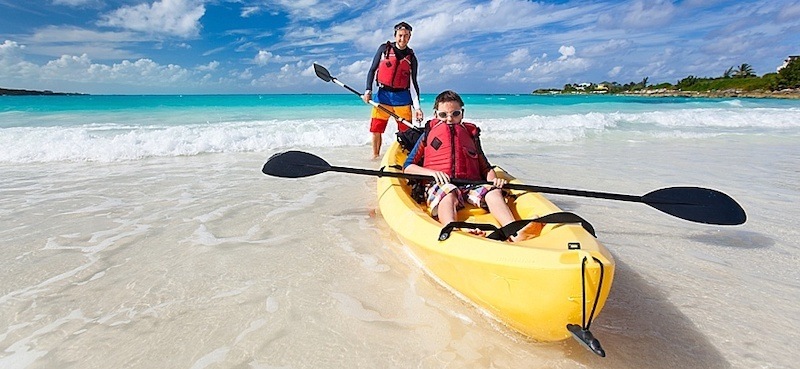 Whether you are a beginner or a pro, head over to Heʻeia State Park in Oahu to experience a fun-filled day in the Hawaiian waters!
Here's a fun fact for you: Kane'ohe Bay played a vital role during World War II. You might not have heard of it, but it was actually the first Hawaiian shore to be bombed before the world-famous Pearl Harbor. After the war, the Kane'ohe town nearby the bay, had to be rebuilt into its beautiful condition now. Up to these days, it has been a significant agricultural area due to its abundant rainfall. Moreover, its name Kane'ohe was derived from a Hawaiian term that means "bamboo man."
If you are travelling with your small children on the island, kayaking is one of the best ways to explore Kane'ohe Bay, apart from snorkeling. Kama'aina Kayak and Snorkel Eco-Ventures, which offers eco adventures, donates its profits from these activities to a non-profit child care organization called Kama'aina Kids for the beautification and restoration of the spectacular He'eia State Park.
If you worry about your kids' safety, as long as you practice basic safety guidelines, which their knowledgeable and professional staff will be providing before you get into the waters, then you will be fine. Also, they strongly suggest that all members from your group must know how to swim and are comfortable being in the ocean. Remember that the bay is protected by the barrier reef from open ocean current and swell, hence its calm waters.
Kayak rental is only one of their packages. So, if you wish to enjoy the bay with your loved ones without a guide, simply rent some of their high-quality kayaking gears, including kayak (single or tandem) and life jackets. You can have them for half a day (four hours) or whole day (eight hours).
So, what are the interesting sites that you can see? We recommend Coconut Island or Moku o Loʻe! If you have seen the TV series "Gilligan's Island," then it might look familiar to you because it was where they filmed their pilot episode. You will definitely see many coconut trees, which explains its name. The island is also used for marine research by the Hawaii Institute of Marine Biology (HIMB). Next is the Sunken Island or the Kane'ohe Sandbar, a raised strip of land in the middle of the bay. It is also known as Disappearing Island because it appears during low tide and disappears at high tide. Another is the Keyhole and many more!
After hours of enjoying the waters, you will head back to the State Park and eat your lunch if you brought some foods and beverages. Otherwise, you can find some good restaurants and cafes nearby, which serve various cuisines, including Hawaiian style foods.
TOUR INCLUSIONS
Single or double kayaks rental

Life jacket and paddles
ADDITIONAL INSTRUCTIONS
Check-in time:

Between 8:00 am to 4:00 pm, and you can get your kayak rentals at those times. The shop closes at 4:00 pm, so they must be returned by then. 
Address: Kama'aina Kayak and Snorkel Eco-Ventures, 46-465 Kamehameha Hwy, Kaneohe, HI 96744
Restrictions:

It is highly recommended that kayakers know how to swim and are comfortable being in the ocean. Damaged kayak rentals will be charged to you. Other equipment available for rent at an additional cost are waterproof dry bags, coolers, and snorkel gear. 

Operations:

Daily
Duration: Up to 4 hours and 8 hours
Equipment: Single or tandem kayak, life jacket & paddles