Located right on beautiful Kaneohe Bay on Oahu's east shore, Kama'aina Kayak and Snorkel Eco-Ventures is dedicated to providing fun, safe, educational and eco-friendly experiences of Kaneohe Bay, with all proceeds benefiting Kama'aina Kids and He'eia State Park.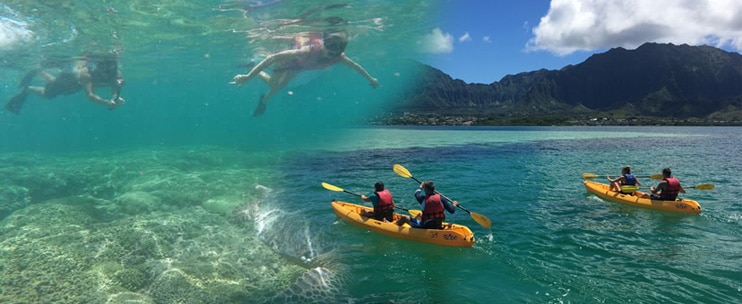 Kaneohe Bay is one of the most beautiful locations on the island, home to Oahu's only barrier reef as well as numerous sandbars and small offshore islands. Enjoy a guided kayak tour to a beautiful patch reef, known as "Horseshoe Reef," where you can stand and swim around in a shallow sandy area. The reef ledge drops off to deeper water with beautiful, healthy coral reefs and resident marine life, including sea turtles and plenty of fish.
The reef is in the vicinity of Coconut Island (visible in the distance), where the television show Gilligan's Island was filmed. Your guide will also point out cultural sites, such as the traditional Hawaiian fishpond at He'eia, and will also explain some of the challenges facing the ecosystem of the bay.
The protected waters of Kaneohe Bay make it a perfect place for kayakers of all skill levels. It's the perfect tour for families with children and guests of all ages and experience levels!
Special Instructions
Where and When:

Tour time: 9 am to 1 pm
If you're driving out yourself, check in at 8:45 am at Kama'aina Kayak and Snorkel Eco-Ventures, 46-465 Kamehameha Hwy, Kaneohe, HI 96744 USING A GPS: Enter Heʻeia State Park in the GPS.

Complimentary roundtrip transportation from Waikiki is available. Pick-up from Waikiki hotels is between 7:30 am and 8:00 am depending on your hotel. If you request roundtrip transportation, the exact hotel pick-up time and location will be emailed to you.
Return to Waikiki is between 1:30 pm and 2:00 pm.
Requirements:
Restrictions:

Participants must be at least 5 years old. No infants or children under the age of 5.
All participants must be able to fit into at least a 30-50 pound life jacket.
Special Notes:

In 2010, Kama'aina Kids, a local non-profit organization was granted a 25 year lease of He'eia State Park, an 18 acre waterfront peninsula in Kaneohe Bay. In turn, Kama'aina Kayak and Snorkel Eco-Ventures was created to operate through the state park offering educational eco-adventures. 100% of the proceeds benefit Kama'aina Kids and the beautification and restoration of He'eia State Park.
Operation Days:

Monday – Saturday
Duration:

4 hours (3 hours on the water + 1 hour lunch)
Capacity:
Equipment:

All kayak, safety and snorkel gear is provided.